To compare the best web hosts, we hosted the same WordPress website on each one and tested performance, customer service, and value for money.
Check out the results here.
Tier.Net is a U.S.-based website hosting vendor established in 2013 to provide hosting solutions to individuals and businesses. Tier.Net gives users web hosting solutions that can stand the test of time. The hosting vendor's support center is located in Florida and has its offices in New York. Data centers are located in several states across the U.S. Its hosting solutions are available for business enterprises of all shapes and sizes.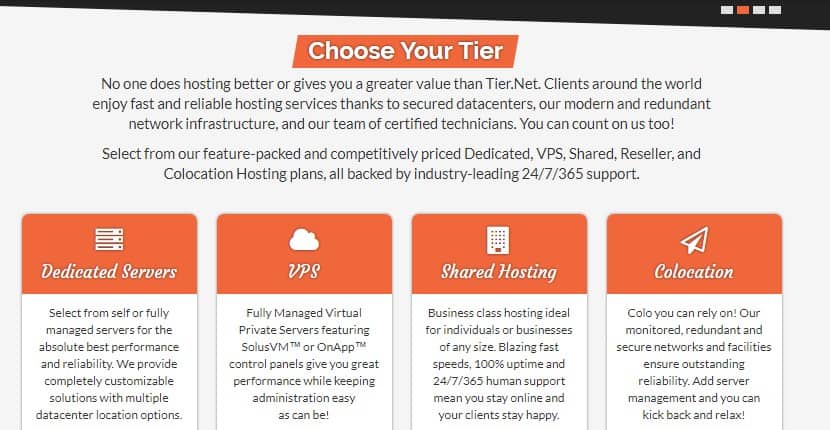 Features and Ease of Use
Tier.Net uses its resources to create the most forward-looking website hosting solutions. It provides competitively priced solutions, including VPS, Dedicated, Shared, Collocation, and Reseller hosting plans. The following are some of the features you will find as part of these plans:
Unmetered storage
Unmetered bandwidth
Unlimited subdomains
Free Cloudflare support
Free 256bit secure SSL cert
Unlimited email
Site builder software
Other features that make Tier.Net a cut above other U.S. hosting providers include:
Network security and blazing speed – Tier.Net delivers reliable and fast hosting solutions powered by its powerful and secure data centers, its network infrastructure that uses state-of-the-art redundancy protocols, and an expert team that ensures everything runs smoothly every minute of every day.
100% uptime SLA – Tier.Net has invested significantly in cutting edge technology, and highly trained and experienced staff so that it can deliver 100% uptime guarantee all
Custom build – Tier.Net specializes in custom builds, catering particularly to sophisticated websites that demand ample storage, bandwidth, and high-powered support.
Pricing and Support
Compared to other hosting vendors, Tier.Net is relatively expensive. But of course, if you pay for longer term hosting solutions via Tier.Net, the price will drop. However, given the myriad of features included in the hosting packages, I can say that it is worth the price tag. In addition, its price freeze guarantee ensures that you can rest easy in the knowledge that the company won't arbitrarily hike the charges at some point in the future. Its 30-day money-back guarantee is the surest way for anyone considering its hosting solutions to try them out before making a permanent decision.
Tier.Net has a responsive support team available 24/7 all year round. You can reach someone from this support team via social media, email, live chat, phone, or via its ticketing system. Tier.Net claims to have industry-leading customer support services helping users navigate any hosting challenge effectively and fast. That said, the absence of a knowledge base on its website can be frustrating to users who prefer doing it themselves. I could also not find Tier.Net FAQ section on its website. I was satisfied with the conversation I had with the company's support team via the website's live chat. The person I spoke to was patient, polite, and came across as extremely capable.
How much does Tier.net cost?
Tier.net offers plans from $3.49 to $7.78. The price depends on which type of hosting plan you choose. You can see the updated pricing table (updated weekly) below.

Which Tier.net plan should I get?
My recommendation is to start with a cheaper plan. You can always upgrade later on. Tier.net can help you with the migration to a more expensive plan. The increase in visitors many times takes longer than expected and you shouldn't pay a lot of money until the need arises. Of course, your needs may vary, and you can consult with a hosting expert from Tier.net here.

How good is Tier.net's customer support?
Tier.net is not ranked as one of our top web hosts. But that can also be a result of Tier.net being a small, under the radar, hosting provider. There are advantages to a small hosting company – as a customer, you are more important to them. You can also check out our comparison of the most popular web hosting services here.