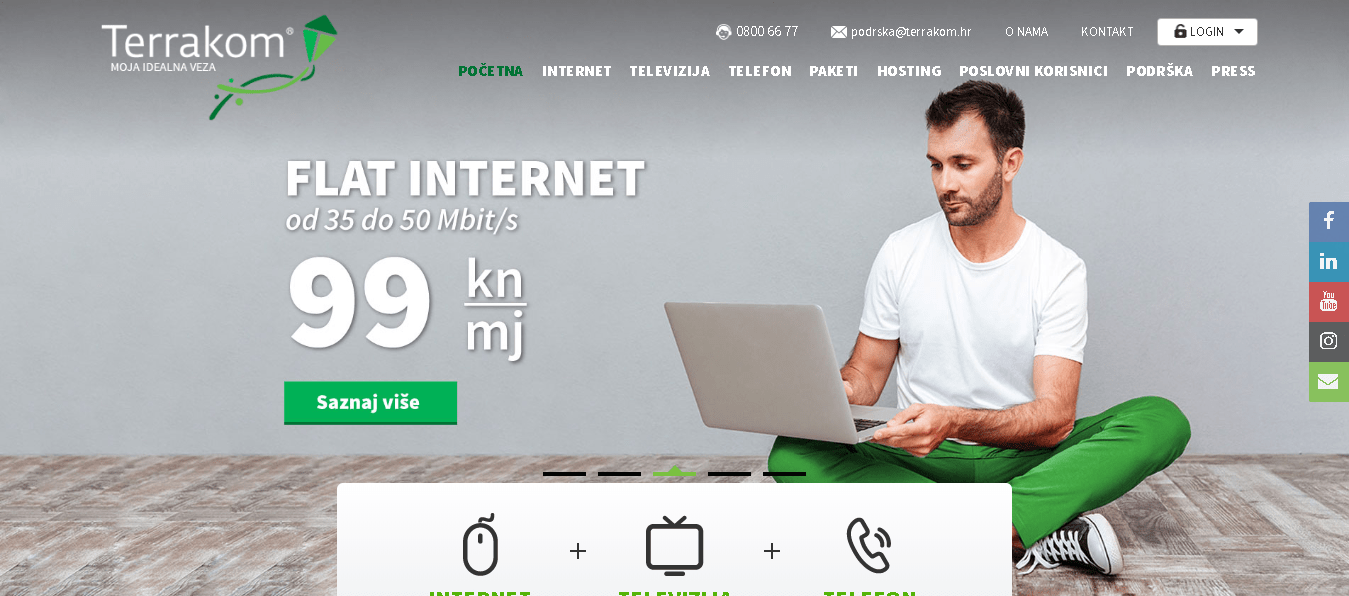 Croatian hosting provider Terrakom was founded in 2003 under a different name. In 2010 they rebranded to become Terrakom, and have since acquired several smaller I.T. companies. They've worked with more than 10,000 customers, they employ over fifty people, and they own their own data center in Zagreb. By default, the Terrakom website is in Croatian.
Features and Ease of Use
Terrakom specializes in cloud hosting and cloud virtual private servers. To give you an idea, their cloud hosting plans enjoy the following core features:
99.7% uptime service level agreement
Free domain registration
One, five or ten add-on domains
Croatian data center
From 1GB to 5GB disk space
Unlimited traffic
They own their data center in Zagreb, Croatia, and as such can commit to a 99.7% uptime SLA. They use robust Cisco and IBM hardware, and – due to their use of the cloud – they offer resources that scale as required.
Terrakom has four cloud web hosting packages called Hosting 1, Hosting 2, Hosting 5 and Hosting 10. They all come with unlimited traffic, email accounts and subdomains, as well as a free domain for one year. As the names might suggest, Hosting 1 comes with 1GB, Hosting 2 with 2GB, Hosting 5 with 5GB, and Hosting 10 with 10GB of storage. You can choose from Windows or Linux operating systems.
As well as their cloud web hosting, Terrakom also offers three VPS packages called Server 2, Server 4 and Server 6. These come with 1 CPU, 2 CPUs, and 4 CPUs, plus (as per their names) 2GB, 4GB, and 6GB of RAM respectively. All virtual private servers come with unlimited traffic and guaranteed exclusive resources.
VPS plans come with a control panel that provides reboot, reinstallation, statistics, load balancing, on-demand scalable resources, and two levels of firewalls. The good base packages are fully customizable via the website.
Pricing and Support
The prices are pretty good when compared to other companies providing a similar service, both locally or internationally. SSL certificates are not included, but domain registration is free for one year for the following extensions: .com.hr, .com, .net, .org, .info, .biz, .eu.
It's a little frustrating that they don't offer monthly pricing, and although they do provide one, two and three-year terms, there is no discount for purchasing a long term. However, they do offer a generous 30-day free trial, so you have an opportunity to try before you buy.
Terrakom offers 24-hour help, and you can contact them by email, telephone, and fax (yes, really!). They also have a fairly active Facebook page, and their website includes a small FAQ section that unfortunately doesn't cover hosting-related queries. Ideally, I'd like to see a larger knowledge base and some form of live chat on their website.