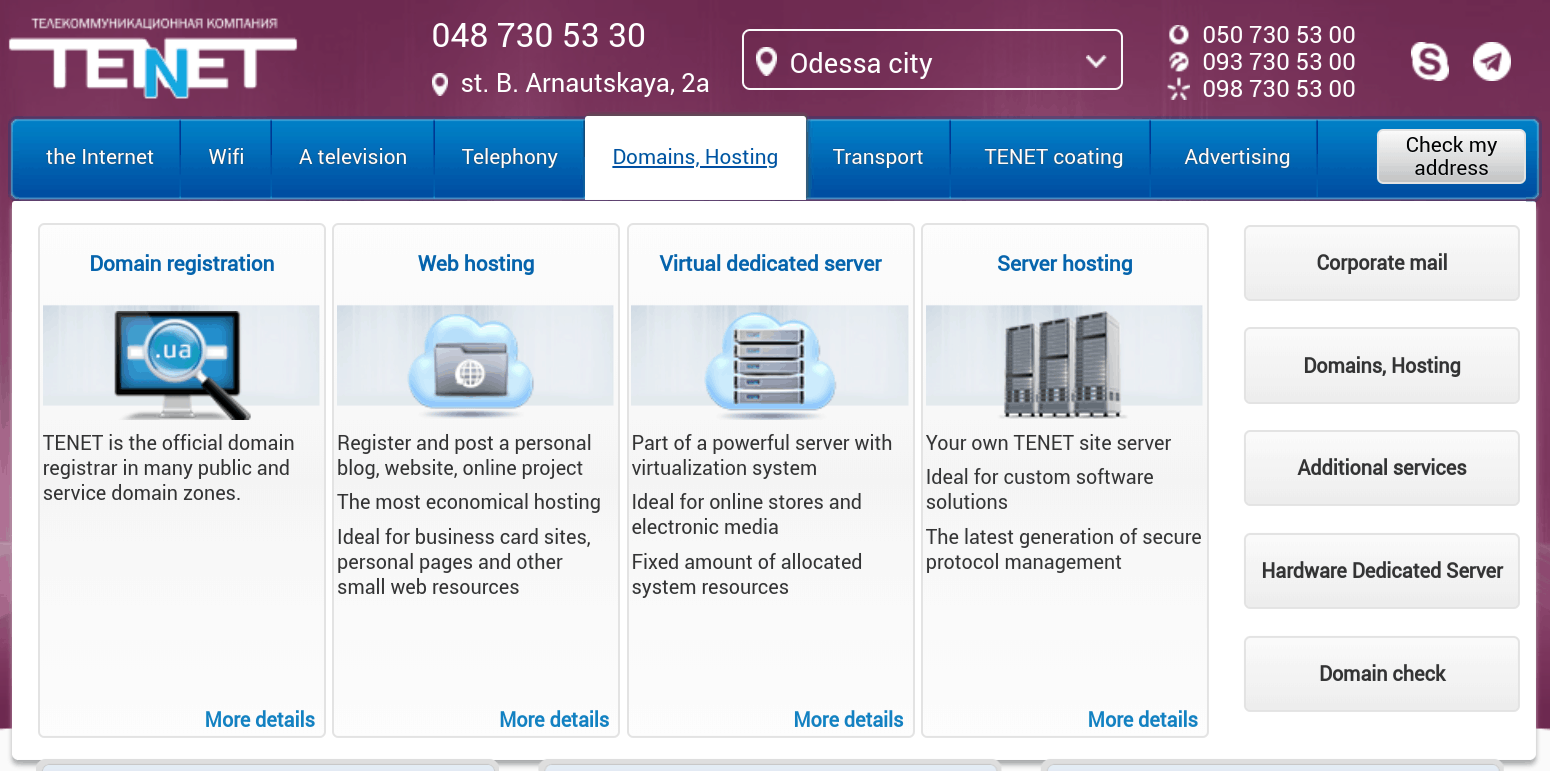 Ukrainian company TENET is an all-round telecommunications, internet service, and hosting provider that was founded in 1992. Among its achievements, it claims to have made the first Ukrainian Wi-Fi zone available in 2004.
TENET's website is in Russian.
Features and Ease of Use
TENET's economical hosting packages come with ample storage and are suitable for hosting CMS-backed websites such as Joomla, WordPress, phpBB, Magento, Bitrix, or Drupal. Via the ISPmanager control panel, you have access to these features:
Domains/subdomains
MySQL databases
FTP accounts
CGI, Perl, SSI, and PHP
POP3, SMTP, IMAP
Joomla and other CMS systems
Remote connections
Free mailboxes
TENET understands the inconvenience (to put it mildly) of losing your critical files, so it regularly backs up your websites, databases, and emails, and stores them in a secure remote location.
As an alternative to shared hosting, TENET's colocation can provide a secure home for your server. You'll enjoy greater privacy and server security since the data center is monitored 24/7. You have the freedom to install your preferred operating system and applications, including non-standard ones, and customize your hardware configuration to suit your needs. Secure remote connections allow you to access your servers with ease.
Pricing and Support
With TENET, you can sign up for a hosting package or rent a dedicated server for one month, three months, six months, or an entire year. The longer you commit, the less you pay. You can even try before you buy, by filling out an online form to ask the customer service team to sign you up for a 7-day free trial.
Besides the online contact form, you can also make contact with the Russian-speaking 24/7 technical support team via telephone (five support numbers) or email. For self-support, you can refer to the community forum or the FAQ page: