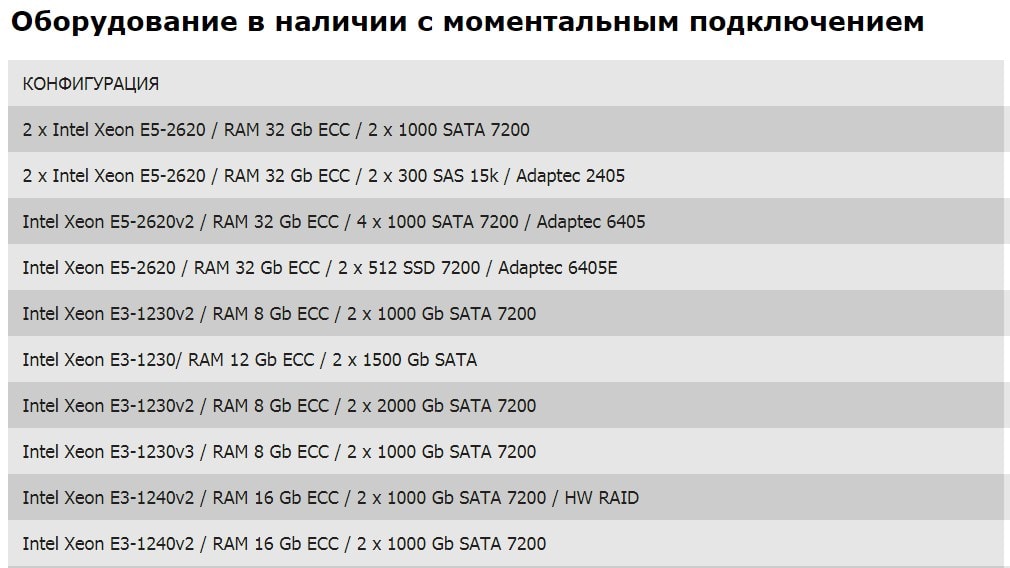 TEL Hosting is a web hosting vendor based in Russia. The firm has 15 years of experience in offering dedicated servers, server rental, domain name registration services, and server colocation services. It is a subsidiary of TEL Telecommunications Company, and one of the top 30 leading companies in Moscow. It targets startups, individuals, and large corporations. Its data center is located in Moscow and it was launched in 2010. The Tel Hosting website is only available in Russian.
Features and Ease of Use
Some of the standard features found in TEL Hosting hosting packages include:
Linux operating system

Free IP address

Guaranteed bandwidth

Rack servers

24/7 support

Dedicated servers

Antivirus, antispam

MySQL databases
TEL Hosting servers are hosted in its tier III data center located in Moscow, Russia. The vendor offers dedicated servers and colocation data center solutions. It doesn't offer VDS and VPS servers. This enables it to offer to deliver superior quality server equipment and also to provide a website for accommodation.
The firm's servers are hosted in its data center which includes four plans. The basic plan includes is connected to 100Mbit/s full-duplex network portal and it includes 100 Mbit, 5TB bandwidth, and 5GB disk space. The advanced package, on the other hand, is linked to a 1000Mbit/s duplex internet connection. It includes unlimited bandwidth, 50GB disk space, and allows eight hours of use free of charge. It provides guaranteed Mbit/s bandwidth in all its hosting plans from 100Mbps to 1000Mbps.
TEL Hosting's colocation data center is connected to nine major internet providers. The firm uses enterprise hardware from top manufacturers from Europe, including Generic-diesel generator and UPS-Socomic.
Furthermore, this hosting company provides server rental solutions to its users. It offers powerful processors for its rental servers, including Intel Xeon E3 and Intel Xeon E5. This ensures stable and high performance of its hosting solutions.
In addition, each TEL Hosting server is connected to 5TB bandwidth and powered by 100Mbit Ethernet guaranteed network connection which makes sure that its client's websites are always up and running. The vendor provides one IP address for all its rental servers plans. Its basic plan allows four hours of free monthly use while its advanced plan allows for eight hours of use every month. 
Other services offered by TEL Hosting include data center rack rental services. Its rental rack includes three plans. Its advanced plan comes with unlimited internet channel 100Mbps, 42 free IP addresses, up to 4000 power, and unlimited usage. Its basic plan includes 100Mbps unlimited internet channel, 10 free IP addresses, up to 1000 power, 10 hours of free monthly use.
Pricing and Support
TEL Hosting's hosting solutions are competitively priced and its prices are listed in Russian ruble. The vendor offers a flexible billing cycle which includes monthly and semi-annual subscriptions. It applies an open payment policy where you pay what you see without any hidden or extra fees. It has no money-back guarantee.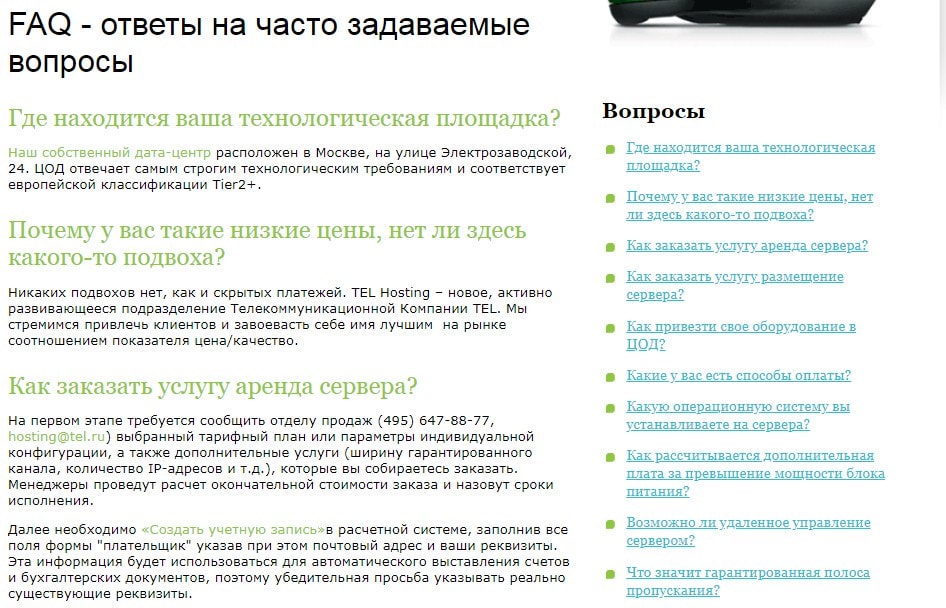 If you need technical assistance, you can contact the TEL Hosting technical support team via telephone or email. Unfortunately, these are the only two channels of communication which the hosting provider has availed. It does not have live chat or a ticketing system. Its technical team is available round the clock, 365 days a year. 
That said, my support email to this vendor's support team went unanswered.
TEL Hosting supplements its support team with a detailed FAQ section, but they do not have a knowledge base available.