SpaceDedicated wanted to venture into the online business with a goal to tap into the U.S. market and beyond. Its famous slogan "we guarantee that you'll experience the good quality" suggests that the vendor's aim is not only to be a reliable host, but also to build a good relationship with its customers.
Its English website sells a range of server services, including dedicated servers, cloud servers, storage servers, and smart servers.
Features and Ease of Use
SpaceDedicated's server solutions are offered with the following basic features:
Intel Xeon core processors
Pure SSD hard disks
Usable IP addresses
Either Linux or Windows OS
Supports cPanel, WHM, or Plesk control panel
Depending on the hosting service of your choice, you can get your server up and running in just 60 seconds or about two hours for dedicated and storage servers. The server solutions are hosted in multiple locations: Turkey, the United States, the Netherlands, and Germany.
Moreover, the vendor utilizes cloud resources with the latest-gen Intel Xeon processors, and besides using SSD storage systems, users also get a share of hosting their servers with SAS or SATA hard disks.
Unlike other vendors, this hosting firm does not provide backup services for its hosting servers. Additionally, although they encrypt all online transactions with 256-bit SSL certificates, they do not extend the option of SSL certificates to their customers, not even as an add-on..
Pricing and Support
SpaceDedicated server solutions are standard priced but for most, you get quoted per your server demands, meaning that you only pay for what you use. Prices are in U.S. dollars and you can choose your preferred billing cycle, including monthly, quarterly, semi-annual, and annual subscriptions.
Since its hosting services are prepared per user's request, the hosting solutions do not include a refund policy. Unfortunately, while the vendor boasts of highly available cloud resources, it shies away from committing to an uptime guarantee.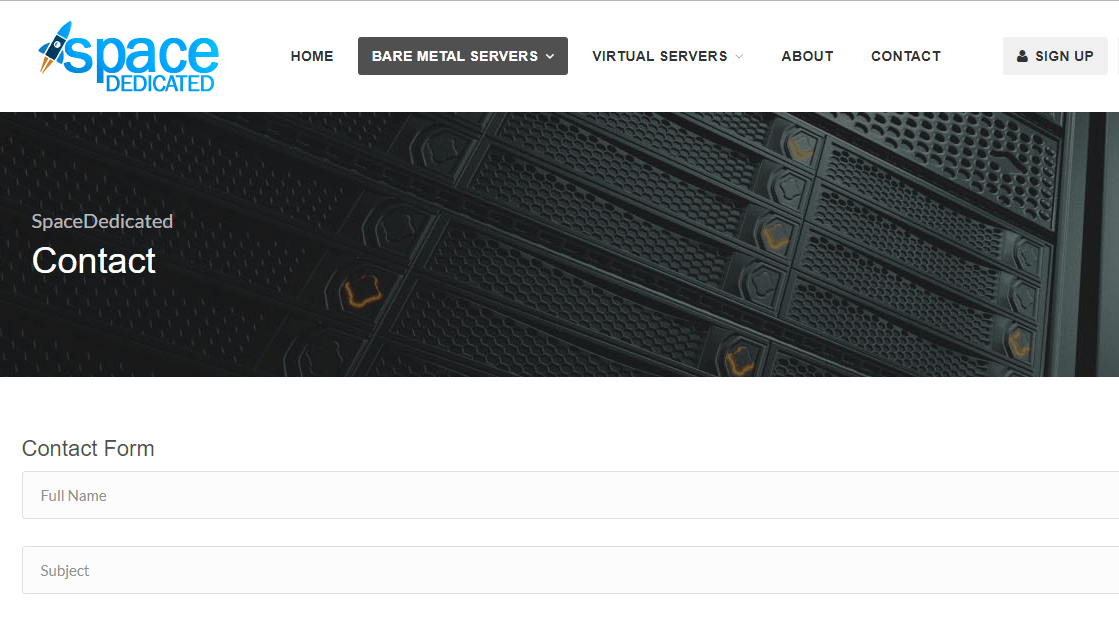 If you need assistance, you can send them a message via the contact form or chat with them online.
All the same, the vendor does not have any other support channels like telephone, ticketing system, or email services and self-support resources like a knowledge base seem non-existent.