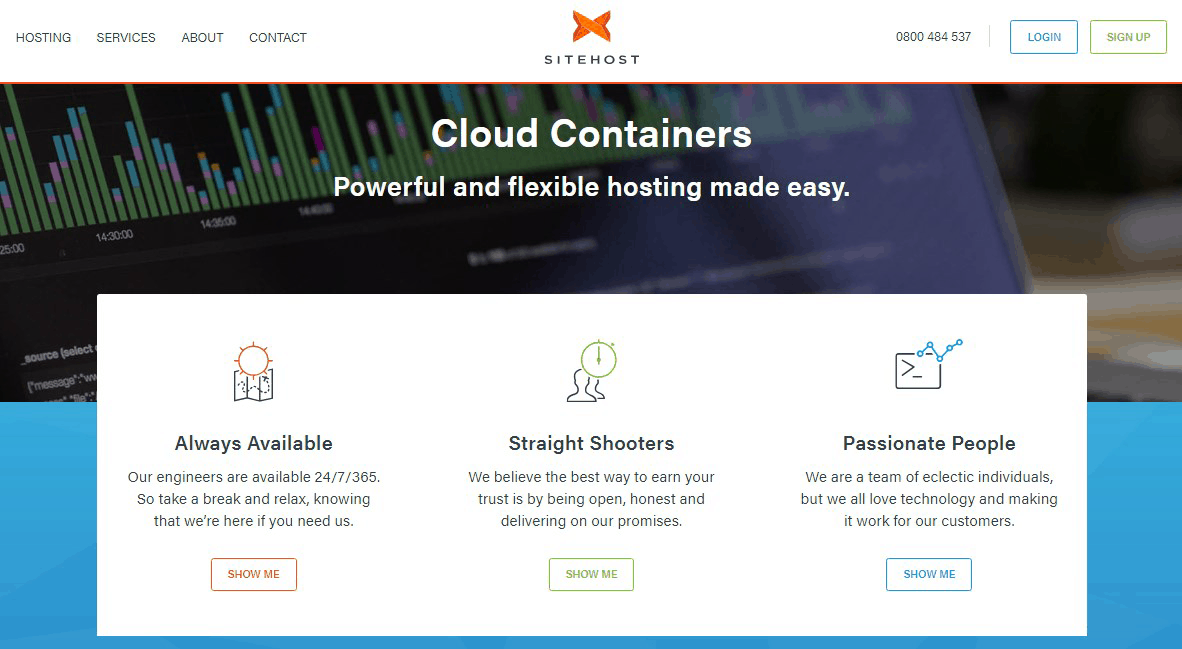 To compare the best web hosts, we hosted the same WordPress website on each one and tested performance, customer service, and value for money.
Check out the results here.
SiteHost is an Auckland-based hosting company that offers Linux and Windows VPS in addition to physical servers and cloud storage solutions. With few hardware problems and top-level support for customers, SiteHost delivers a service that's second to none.
Features and Ease of Use
With their VPS, cloud hosting, and dedicated servers, SiteHost serves mid- to large-sized organizations with unparalleled reliability and continually-improving operational efficiency. Note that since they're a premium hosting provider, they're not for beginners. You'll likely need a degree of technical knowledge to effectively handle their solutions, although they do have managed hosting plans to take the headache out of these enterprise-grade hosting solutions as well.
Their VPS hosting option affords users a nice upgrade from shared hosting: you can choose either managed or unmanaged hosting plans and customize your VPS packages however you wish. SiteHost will deliver a server with full root access, guaranteed resources, and no downtime issues at all. Upon making payment, your servers are instantly provisioned and can be up and running within minutes.
If you outgrow your VPS, I highly recommend that you switch to their virtual dedicated servers. These mesh aspects of their virtual and physical dedicated servers for a happy medium, both performance-wise and price-wise. Slightly larger than bare metal servers, they come with dedicated SSD or HDD drives and powerful CPU cores. Their servers not only ensure security but also provide increased privacy and dedicated processing power. With this option, you'll have a machine that's designed for speed, all at the cost of a virtual server.
What I like about SiteHost is that they give you a simple and user-friendly control panel to manage your websites, databases, and storage drives. You can run Apache and Nginx on different drives, schedule daily automatic backups, view resource usage and performance metrics, and even transfer your files via SFTP.
Aside from VPS and dedicated servers, SiteHost also offers enterprise solutions such as Azure and premium server management services. You can order them separately or along with your hosting plan. Key services include:
CMS maintenance and patching
Website and app maintenance
Plugin updates and maintenance
Bug investigation and patching
General server tweaks
Website and app security monitoring
Malware and virus clean up
DDoS attack mitigation
Pricing and Support
Though not cheap, SiteHost gives you extremely reliable VPS hosting and bare metal dedicated servers at reasonable prices. Their servers are powerful and easy to configure. Note that there'll be a separate GST charged, so you'll need to factor that into your final costs.
Support is another area in which SiteHost excels. They've got phone numbers listed for both New Zealand and Australia, along with real-time server status updates and an enquiry form through which you can email them. It's rare that you'll need to contact them since they're proactive about maintaining their servers and facilities, but in the off chance you have to, they've got a proven track record of responding to support tickets in under an hour.
How much does SiteHost cost?
SiteHost offers multiple plans priced highest to lowest. The price depends on which type of hosting plan you choose. You can see the updated pricing table (updated weekly) below.

Which SiteHost plan should I get?
My recommendation is to start with a cheaper plan. You can always upgrade later on. SiteHost can help you with the migration to a more expensive plan. The increase in visitors many times takes longer than expected and you shouldn't pay a lot of money until the need arises. Of course, your needs may vary, and you can consult with a hosting expert from SiteHost here.

How good is SiteHost's customer support?
SiteHost is not ranked as one of our top web hosts. But that can also be a result of SiteHost being a small, under the radar, hosting provider. There are advantages to a small hosting company – as a customer, you are more important to them. You can also check out our comparison of the most popular web hosting services here.