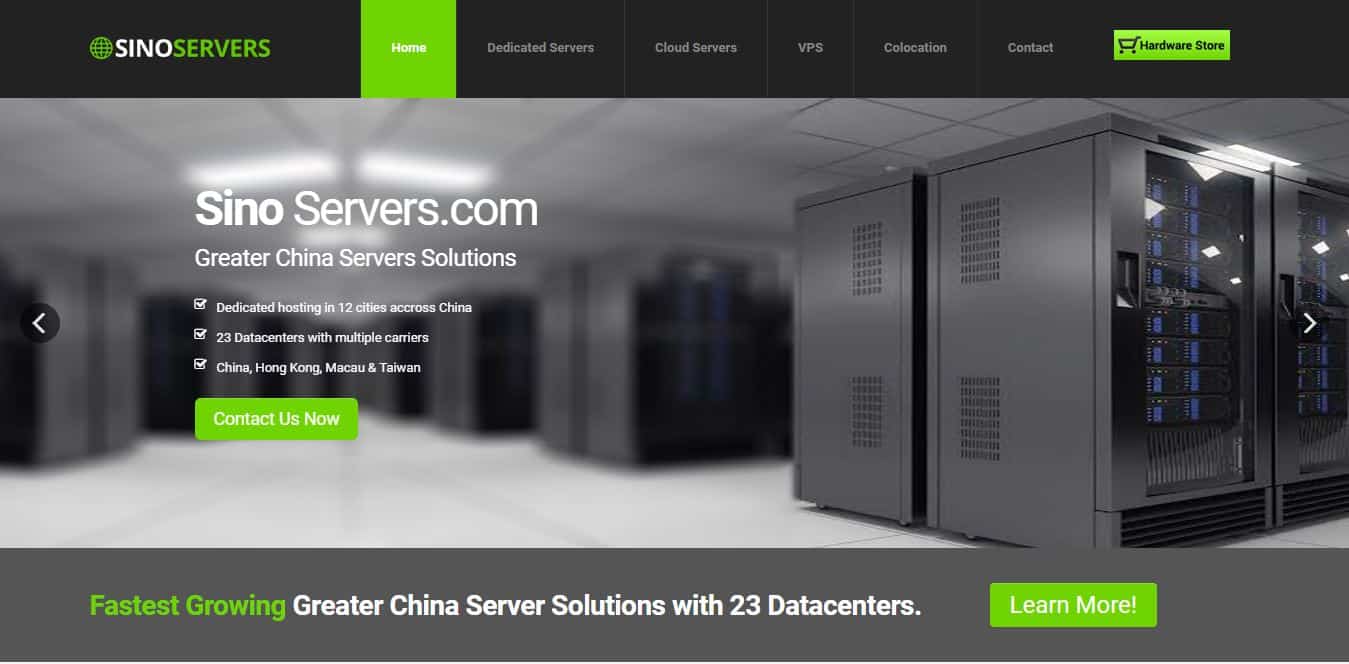 SinoServers is a Hong Kong-based hosting provider that was established in 2009. Their aim is to provide server hosting from data centers throughout China and make this massive country accessible to the West. As such, you can choose from over 20 locations throughout China and the surrounding region, including major population centers like Macau, Taiwan, Hong Kong, Shanghai, and so on. Their products focus on providing modern, high-end cloud, VPS, and dedicated servers and they operate mainly in English and Chinese.
Features and Ease of Use
SinoServers focuses on providing simple yet effective server solutions in multiple locations throughout China. Their packages feature the following:
Manual backups with upgradeable storage space and FTP access
SSH access available
40 to 250GB HDD storage for cloud, 40 to 510GB for VPS, and 500GB to 2TB for dedicated servers
Unlimited traffic available
Fast or same day activation
As they provide a huge range of dedicated server, cloud, and VPS products from multiple data centers, you can find almost any configuration to suit your needs. That said, despite providing enterprise-grade SSD storage and ECC RAM, it's a bit disappointing that many products provide low bandwidth of between 1 to 5 Mbps, even though there are certain solutions with 100 Mbps connections. Furthermore, they don't seem to provide a clear uptime guarantee.
With all their products – particularly dedicated servers – you get a good selection of operating systems and control panels. You can choose from 12 locations for dedicated servers, six for cloud servers, and four for VPS.
They also provide a number of extra services such as upgradeable backup storage, colocation, disaster recovery services, enterprise VPN solutions, and server management. You can even purchase additional hardware for your solution via their hardware store.
It's very easy to use SinoServers as they provide a modern and user-friendly interface. It also helps that they have extra support services such as managed server options for VPS and proactive uptime monitoring for dedicated servers. They even provide server testing services, though these come at an extra cost.
Pricing and Support
Their prices vary dramatically depending on the server location you select. However, they're a bit on the expensive side compared to similar products elsewhere. They also don't offer any refunds or money back guarantees, though this is fairly common with VPS and dedicated server providers.
Different locations also have different billing options with most sticking to yearly billing; a few, however, do have shorter, monthly billing options. Unfortunately, their add-ons are extremely expensive: a single IP address can cost you more than your basic hosting package. Their cPanel and CentOS combination as well as the cPanel and WHM duo seem equally pricey. However, their proactive uptime monitoring services are priced reasonably.
On the upside, their cloud servers and VPS products come with more billing variety with monthly, quarterly, semi-annual, and annual options. However, monthly billing comes with a one-off setup fee. The cPanel licenses are also half the price of those that come with dedicated servers. However, with these two hosting categories, you can't purchase extra IP addresses, and choosing a Windows-based server will cost you extra.
SinoServers offers 24/7 support with all of their hosting products. Although you can contact them via email or phone, all support queries will ultimately be handled via their ticketing system. They also provide a number of premium support services: if you're willing to pay extra, you're entitled to priority support, which affords you quicker response times as well as proactive uptime monitoring. Just like their website, support is available in English and their support staff are excellent in all aspects.