To compare the best web hosts, we hosted the same WordPress website on each one and tested performance, customer service, and value for money. Check out the results here.
Serviot is a hosting provider based in Delaware, in the United States. The company focuses on the provisioning of server services such as dedicated servers, storage servers, cloud servers, and smart servers to its customers worldwide. It has a significant market share not only in the U.S., but also in other countries, including Turkey, Germany, and the Netherlands.
Features and Ease of Use
Serviot server solutions come with the following standard features:
cPanel/WHM/Plesk Onyx control panel

IP addresses

Both Linux/Windows OS platforms

SSD, SAS, and SATA disks

Unlimited monthly bandwidth
Serviot servers are housed in multiple locations across the world, including in the U.S., Germany, the Netherlands, and Turkey. Its servers are powered by several hard drives such as SSD, SAS, and SATA. SSD -based servers use an electronic interface which offers lightning-fast page loading speeds and is 150 times faster than HDD.
SAS drive servers cost more than SATA drives because they can rotate much faster, resulting in significantly quicker seek times (usually twice as fast). This ensures that the vendor provides fast and dependable hosting services.
Serviot hosting solutions are tailor-made according to different requirements by users. Its bare metal server solutions are offered according to the series of core-processors, including single-processor servers, dual processor, and quad processor servers. This is to offer a wide scale of server solutions to meet the different needs of its customers.
Serviot server solutions run on either Linux or Windows OS platforms. Customers can choose the operating systems of their liking, including CentOS, Ubuntu, Debian, Windows Server 2012, and Windows Server 2016. Although its hosting solutions come with a variety of control panels like cPanel, WHM, and Plesk Onyx these control panels are offered at an extra cost.
Pricing and Support
Serviot server solutions are priced based on the type of hard drive customers wish to use for hosting their websites. With that in mind, SSD-based server plans seem a bit more expensive than SATA-based hosting plans. The plans come with flexible billing cycles, including monthly, quarterly, semi-annually, and annual subscriptions. Prices are listed in U.S. dollars.
Since Serviot server solutions are prepared according to custom orders, the solutions are non-refundable. Moreover, the hosting firm does not seem to offer a server uptime guarantee.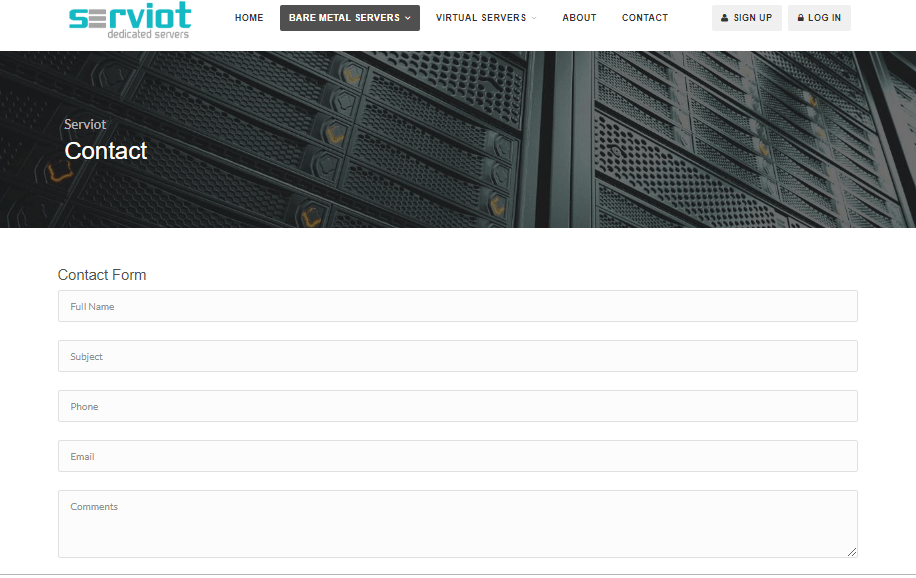 Customers can get in touch with the Serviot technical support team via live chat or through a contact form. Although the vendor has a support ticketing system, it is only available to registered customers. That said, the hosting company does not seem to have a telephone number or email support. I sent them an inquiry via the contact form on its website but my query was left unanswered.
The Serviot website does not have a knowledge base section.