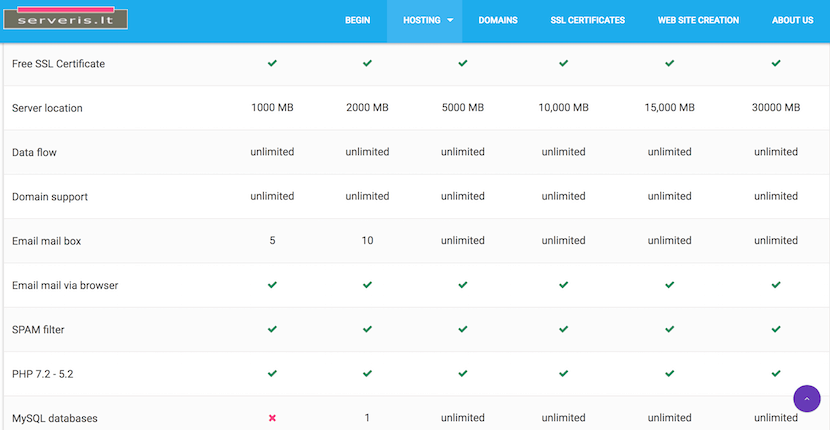 Started in 2002, Lithuania-based Serveris, provides hosting, website development, SSL, and domain registration services. cPanel is employed for hosting plans and a 14-day money-back guarantee is offered as well.
Its servers are located in Lithuania, and its website is mostly in Lithuanian, with some information available in 27 different languages.
Features and Ease of Use
Serveris offers shared and dedicated website hosting. Its entry-level Start1 plan includes 1,000MB disk space, five email mailboxes, and no databases. Stepping up to the P1 plan, users will get 5,000MB of disk space, unlimited mailboxes, and unlimited domains. All shared hosting plans include:
cPanel control panel
Unlimited bandwidth
Unlimited domains
PHP
RAID hard drive storage
14-day money-back guarantee
Free SSL certificate
For customers needing a virtual private server plan, Serveris offers four levels of VPS hosting. The VPS1+ plan includes: one 2GHz CPU, 2GB of RAM, 100GB storage, 100Mbps bandwidth, unlimited data traffic, and one IP address. VPS plans have the option of adding a DirectAdmin control panel license for an additional fee. More than six operating systems are available to choose from for VPS plans.
The primary language of the Serveris website is Lithuanian. From within the customer area, there is the option to choose between 27 different languages, however this only changes the menu text and not the content language.
A basic SSL certificate is included with shared hosting plans, but users can upgrade their SSL certificate for an additional fee. These SSL certificates provide insurance for $10,000, $250,000, or $500,000. The SSL certificates available through Serveris are:
Comodo Positive SSL
Comodo Positive SSL SAN
Comodo Positive SSL Wildcard
Comodo SSL
Comodo SSL Wildcard
RapidSSL
RapidSSL Wildcard
Quick SSL Premium
The website shows an option for website design services, however, this link goes to a mostly blank page which simply states: "Updating information …"
Pricing and support
Pricing for Serveris' shared hosting plans is affordable and in line with competitors' pricing. The P1 plan costs around the price of a fast food kid's meal per month and includes unlimited traffic, domains, mailboxes, and databases. Along with the free SSL certificate, this plan offers a very appealing value. Add in the discounts mentioned below, and the value increases to an even higher degree.
For an even cheaper plan, the Start1 option is incredibly affordable, although it doesn't include any databases. This may be adequate for a simple static website.
Compared to other high-ranking Lithuanian web hosts, Serveris' prices for are 50%-70% less.
Shared plans come in one-month, three-month, six-month, 12-month, 24-month, and 36-month terms. Discounts for longer plan lengths are given and at the time of writing this review, are as follows: 10% off for quarterly payment, 20% off for semi-annual, 40% off for annual, and 50% off for biennial and triennial.
Serveris handles customer support through telephone and email during their local business hours from 8:00 a.m. to 5:00 p.m. I received a response to my sales query email within one hour.