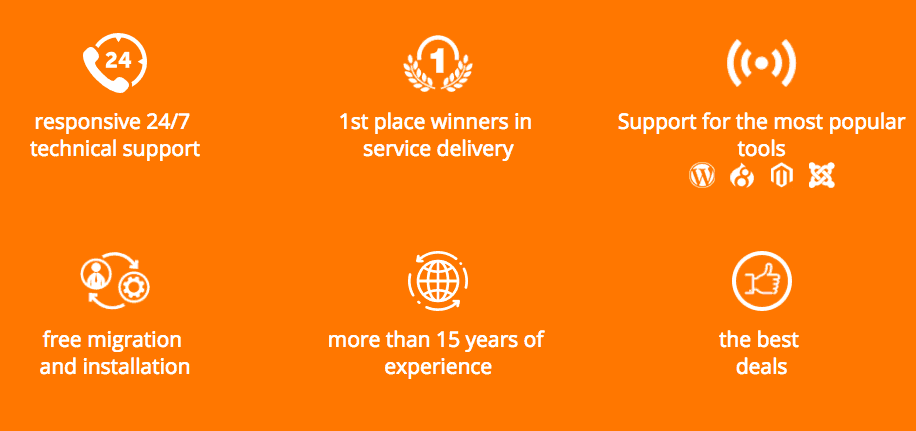 Serveris.lv claims to be "one of the largest hosting providers in Latvia" and has been providing hosting services since 2002. Its Facebook page is relatively inactive, but it has a few positive reviews, and its main website is available in Russian, English, and Latvian.
Features and Ease of Use
This is a full-service host offering all the usual services such as shared hosting, VPS, and domain registration. As standard, its shared hosting plans include:
Weekly automatic backups (and more upon request)
Domain registration available
Up to 25 add-on domains
SSL certificates available
Up to 200 GB disk space
Unlimited bandwidth
This provider offers a plethora of beginner-friendly features. A "Constructor free" website creation tool comes with more than 80 design options and is available in English, Russian, and Latvian languages. Alternatively, you can use the more comprehensive SiteBuilder website building tool.
Although there is support for popular programs such as WordPress and Drupal, there doesn't appear to be (and support didn't confirm the existence of) a one-click installer for such setup scripts. To help your website on its way, you get a one-hour free consultation with an SEO Consultant.
Advanced webmasters will see support for PHP (various versions), CGI, and Tomcat, as well as FTP accounts, MySQL and PostgreSQL databases. You'll need to pick a Windows hosting plan if you want support for Python, Perl, ASP, and ASP.NET.
The robust Dell servers are connected at a rate of 1 Gbps, but there is no uptime guarantee as far as I can see (and I couldn't get a contrary answer from customer services).
Finally, whilst once-a-week backups are included, you can request more frequent backups if you require them.
Pricing and Support
The prices start off low but soon go higher. Except for the base plan, all packages offer the exact same features, albeit with varying resource levels. So, when choosing your plan, keep this in mind.
Plans can be bought on one, three, six, twelve, and twenty-four-month terms, with discounts ranging from 5% to 15% for longer-term commitments. On all plans, domain names and SSL certificates cost extra.
You can contact customer service 24/7 by phone, email or Skype for technical, payment, and contract queries. I attempted to contact customer service by email as a non-customer and had not heard back a few days later. The Server.ls website does include a limited set of FAQs in the Latvian language only, but in any case, not sufficient for you to save having to summon support.