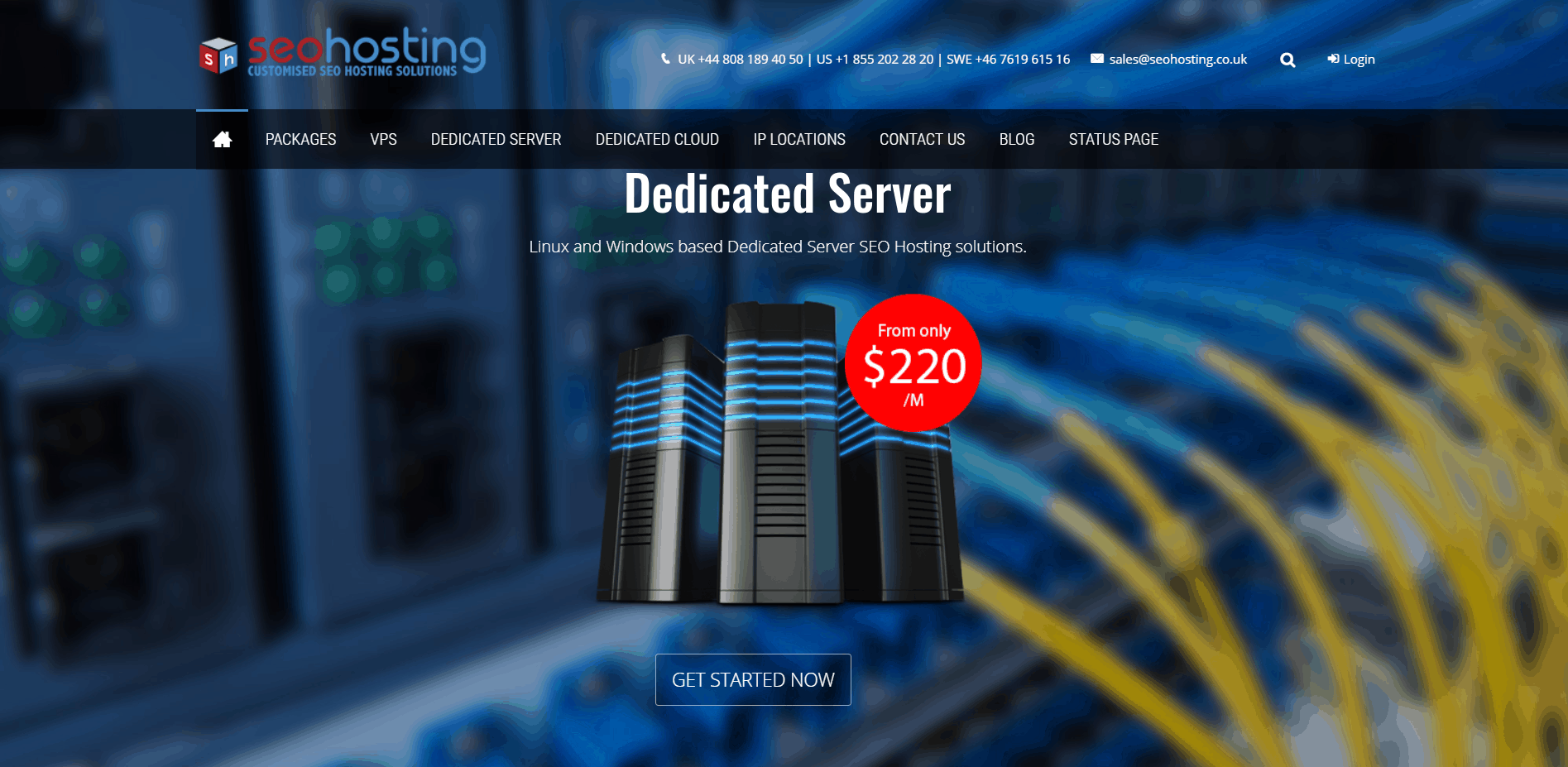 SEO Hosting is a U.K. based provider that has been in business since 1997. They have a focus on SEO hosting and as such have over
380 unique class-c IP addresses in eighteen countries around the world.
Their website and support are available in English.
Features and Ease of Use
SEO Hosting UK offers a range of hosting services including virtual private servers, dedicated servers, and dedicated clouds. Some of their core features include:
Choose from over 380 unique c-classes from 18 countries
Windows or Linux operating systems
Backups available at additional cost
Additional IPs available
From 8GB to 48GB (dedicated cloud), 2GB to 6GB (virtual private servers)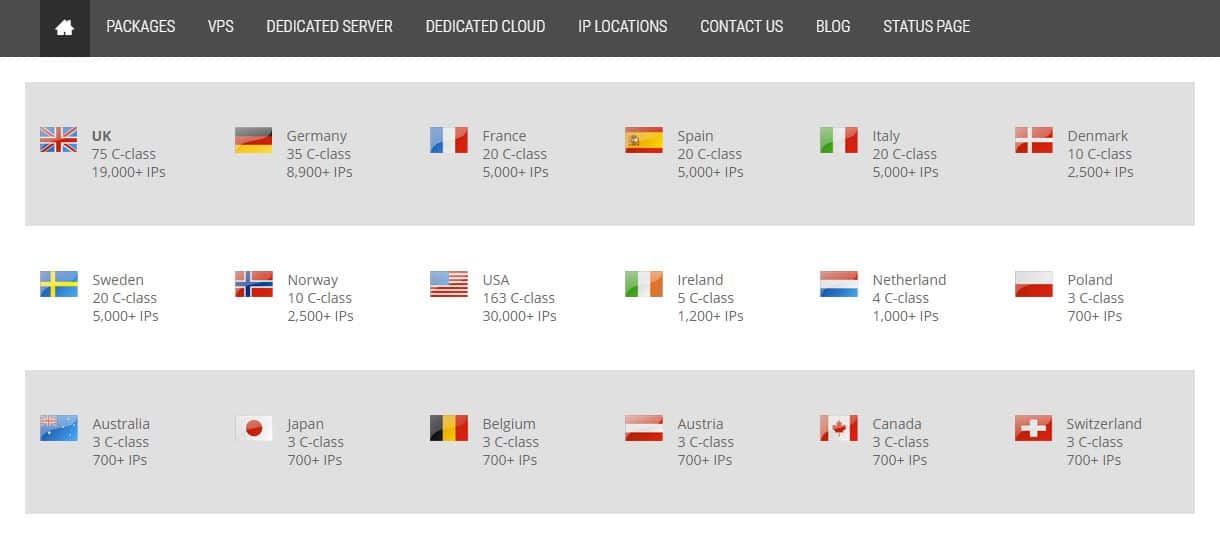 The most notable feature is this company's focus on SEO Hosting via dedicated servers and virtual private servers. According to their website, they have combined the most reliable and affordable European web hosts and provide one contact point for all your hosting needs. Then, by hosting all of your websites on one server but with multiple IPs, search engines view all of the websites as different and pass on the link juice when connecting them all together, which can increase your rankings in search engines. A small caveat, the technique is a little controversial and not all SEOs are in agreement of the value.
SEO Hosting UK certainly has a large network of IPs. They have 380 unique IPs in eighteen countries: U.K., Germany, France, Sweden, Norway, U.S., Australia, Japan, Belgium, Spain, Italy, Denmark, Ireland, Netherland, Poland, Austria, Canada, and Switzerland. Customers can select which countries and the number of IPs required upon checkout, for a small extra monthly fee per IP.
They have quite a wide range of services. Dedicated Cloud Server, Virtual Private Server, and Dedicated Server. Each package is further split into levels of resources. Firstly, the Dedicated Cloud comes in three packages, aptly named: Cirrus, Cumulus, and Nimbus. They come with 8GB, 32GB, and 43GB of RAM and 2 x 300GB SAS, 4 x 300GB SAS, and 6 x 300GB SAS disk space respectively.
Secondly, the Dedicated Server comes in Standard, Business, and Enterprise packages with 16GB, 32GB and 48GB, as well as 2 x 300GB SAS, 4 x 300GB SAS and 6 x 300GB SAS disk space. Finally, their virtual private server packages include Standard (2GB RAM and 50GB SSD (SAN) disk space), Business (4GB RAM and 100GB SSD (SAN) disk space) and Enterprise (6GB RAM and 150GB SSD (SAN) disk space).
All plans can be customized before checking out, which unusually for dedicated servers, can be done 100% online. They do have base configurations, although you can customize them by adding IPs, firewall, reverse DNS, or choosing between service level agreements, operating systems, and optional backups.
Pricing and Support
Their exact service is quite specialized, making it difficult to directly compare it with other companies. However, when it comes to dedicated server rentals and virtual private servers, their prices are in line with other providers.
What's nice is they also offer a "Start Up" package bundle which is relatively cheap and definitely includes enough resources (2GB RAM, 50GB SSD (SAN), and twenty-five IPs) to get you started. They only offer month-to-month pricing, so it's pretty low-risk to get setup, and makes up for the fact they don't offer a money-back guarantee.
You can get in touch by email, phone (U.K., U.S., and Sweden local numbers), and 24/7 ticket support. When I visited their website, I couldn't open the support ticket link however, potentially this 24 hour support is only available to existing customers. They also make reference to three tiers of service level agreements in their checkout flow, though I couldn't find specific details on the inclusions. They have a client zone, which requires login, as well.