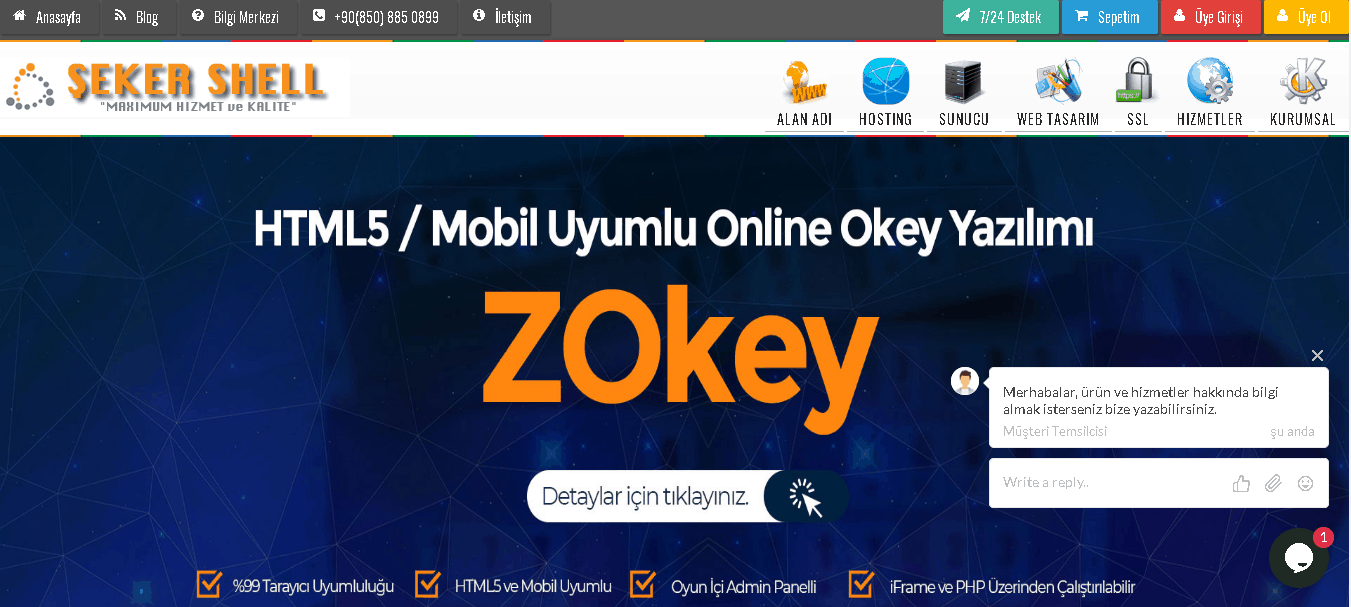 Sekershell is a Turkey-based web, VPS, dedicated server, and web hosting services provider. They have been providing hosting in Turkey since February 2006, with a vision of providing resources and services to help both individuals and corporate clients realize their hosting needs. They don't provide too much information on their actual infrastructure, but they work with top industry brands such as Intel, AMD, Dell, and HP.
As a Turkish company, Sekershell communicates only in Turkish.
Features and Ease of Use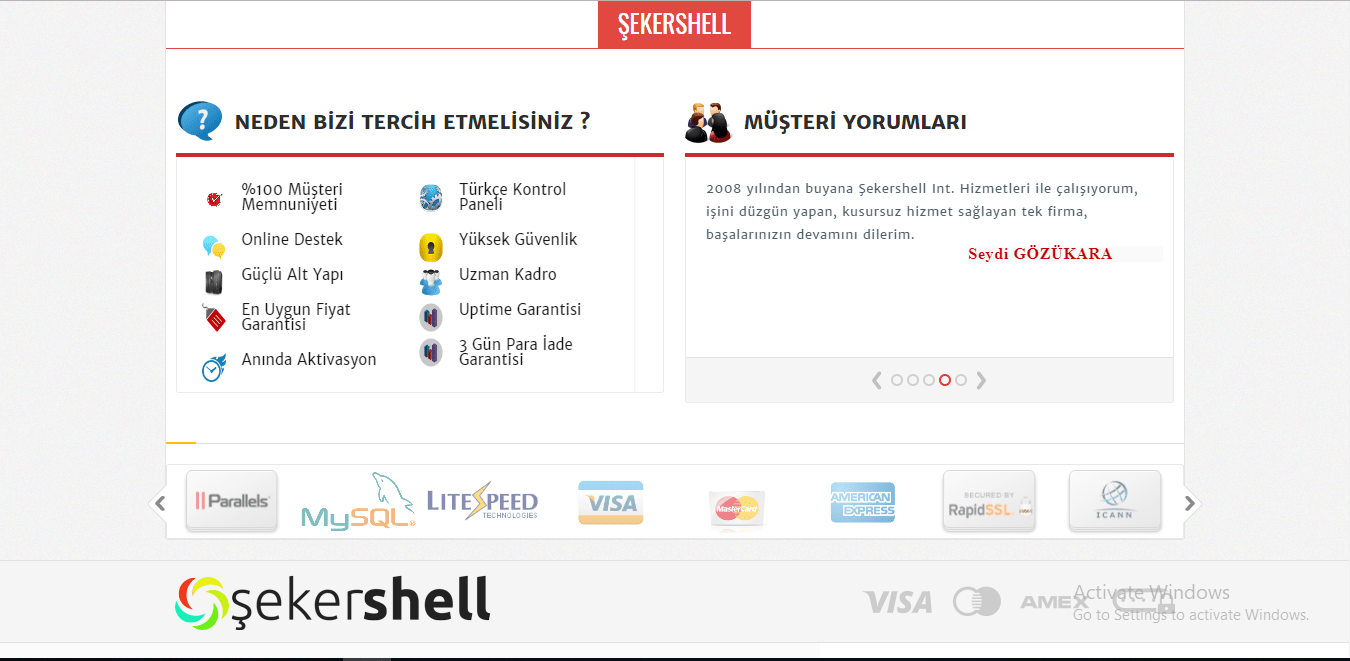 Sekershell is a provider of extensive web hosting features and services. Here is a selection of what they offer with their hosting plans:
98% uptime guarantee with all plans

Backups via cPanel

Full domain registration (not included in pricing)

Up to 210 additional domains

Shared free and purchasable SSL certificates by RapidSSL, PositiveSSL, and others

From 15 MB storage (with basic web hosting) to unspecified storage limits (with dedicated servers)

From 2 GB to 500 GB traffic with shared web hosting, and unlimited with VPS and dedicated servers
What's great about Sekershell's dedicated server and VPS options is how many configuration options you have. You can specify the number of IP addresses, the number of CPU cores, how much SSD/regular storage, and the amount of backup storage. You can also select from a large list of Windows or Linux OS distributions plus your choice of control panel (cPanel or WHM). This means you can put together whatever setup you want. You access and manage your server using VMware Cloud, and upgrade or downgrade instantly. These servers also come with 100 Mbit connections.
All plans come with extensive software support for PHP, Perl, cURL, and .htaccess, and you also get email hosting, free DNS management, website statistics, and spam protection.
Sekershell can design you a website to be hosted on one of their plans. They also provide some unique hosting solutions such as radio hosting and Internet Relay Chat (IRC) for instant messaging platforms.
Although they don't offer any CMS-specific hosting, cPanel and Softaculous allow you to install pretty much any software you need for your hosting solution. If your time and resources are limited, you can also opt for extra management and technical support services to help you manage your solution.
Pricing and Support
They offer web hosting plans for both individual and corporate websites with billing options of semi-annual, annual, biennial, and triennial. You receive a free cPanel with both standard and reseller web hosting. The standard plans come with limited resources, which are more suitable for small personal websites with minimal media. However, they do offer multi-domain hosting and higher resources for an additional fee.
VPS and dedicated server packages offer monthly, quarterly, semi-annual, annual, biennial, and triennial billing. You can choose your resources, control panel, operating system, level of support, and LiteSpeed at the checkout to come up with your total cost of hosting. You can also upgrade or downgrade your resources or plan at any time via your control panel.
With so many options, Sekershell's website and pricing structures can be a bit overwhelming.
Unfortunately, Sekershell offers only a 3-day refund period, which is hardly any time to decide if their services really are for you. DNS management is free for the first year but you'll need to pay extra for your domain privacy. In fact, the biggest problem with the pricing is that you get very little resources for the amount you pay, especially when it comes to storage. Put simply, the prices are good but the value-for-money is not so great.
Sekershell provides 24/7 technical customer support with all hosting plans, but this is limited to Turkish telephone, email, and Skype contact channels. There is no live chat, and the tutorial and knowledgebase sections of their website also seem to be empty. Despite these shortcomings, you can expect decent response times from the knowledgeable support staff.