To compare the best web hosts, we hosted the same WordPress website on each one and tested performance, customer service, and value for money. Check out the results here.
SeedVPS was founded in the Netherlands relatively recently in 2013. They do not advertise how many customers they have or where their customers are located. Their website and support are in English only.
Features and Ease of Use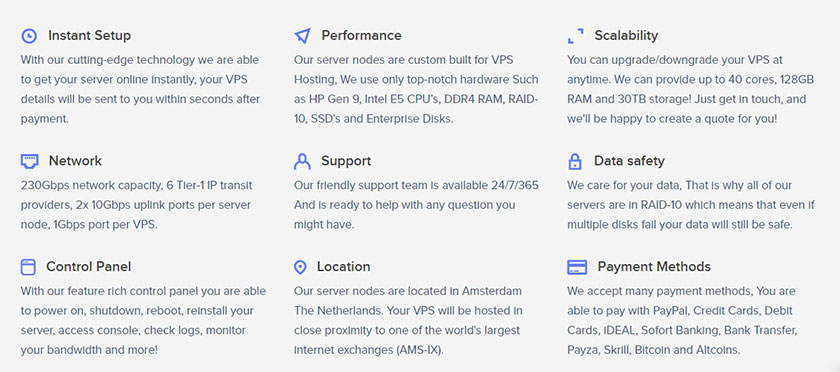 SeedVPS provides a selection of website hosting services including Linux and Windows virtual private servers (VPS), SSD VPS, and shared website hosting. They do not offer domain registration.
Some of the features included in the shared hosting packages are:
99.99% uptime guarantee
Daily off-site backups with 7 days retention
Free DDoS protection
Free SSL certificates
Free Malware protection, IPS, Advanced Firewall
RAID-10 servers
SeedVPS is a great provider for beginners, offering tons of tools that are perfect for a new website owner. Their shared website hosting packages include a one-click installer with over 300 scripts for installing a blog, CMS, e-commerce integration, and much more. They also offer to do free cPanel migrations for you, which is a nice added extra for newcomers.
I really like their commitment to security. As standard, their shared hosting comes with excellent security features free-of-charge including DDoS protection, SSL certificates, malware protection, IPS, and advanced firewall. I know that most providers offer exactly the same set of security features, but usually not bundled with basic packages for free.
The SeedVPS website has a clean design, with jargon-free wording. Very easy for newbies to navigate.
Pricing and Support
Unfortunately, the pricing is relatively high for a European or international company. Whilst the base package is affordable, it is likely that most users will need to upgrade relatively quickly. You may, however, think it's worth paying a slightly higher price for top-notch service, RAID 10 servers, and SSL already included for free.
Just like their clean and simple website, SeedVPS's pricing is simple and straightforward. They offer two pricing terms, monthly and annually, and you get a 15% discount if you pay upfront for a year.
They do not offer a free version, but they do offer a seven-day money-back guarantee. Whilst not as long as the 30- or 45-day trials offered by other companies, it does at least give you a little time to test their services before making a major commitment. And don't forget that you could instead make the more minor commitment of opting for monthly billing.
SeedVPS does not provide telephone support, but they do provide 24/7/365 customer service via email. I've emailed them at different times of the day and night, and have always received a prompt response within an hour or so from someone who speaks (or in this case writes) excellent English. And my questions were answered in full.
I'm a bit of a fan of live chat, but I was disappointed to find their live chat offline at 8:30 PM BST when I wanted to have a chat. I couldn't get immediate help via Facebook Messenger either. It would be great if their live chat was available 24/7 and provided instant assistance. However, I did receive prompt responses to my live chat "left messages" via email, so that worked out quite well.
Like the rest of the SeedVPS website, the FAQ section and the knowledge base are kept quite simple. However, the pages succeeded in succinctly answering many of my questions without me needing to contact support.