Sagenext Infotech was established in November 2008. It specializes in the hosting of accounting and tax web applications such as Sage, QuickBooks, UltraTax, and TaxWise for accounting professionals and small businesses. This Augusta, Georgia-based company has partnered with some of the leading datacenters in Dallas, New York, and Phoenix, and it has won several awards in its field.
Sagenext Infotech's website is in English.
Features and Ease of Use
Sagenext Infotech has positioned itself as a leading tax and accounting software hosting provider in the U.K. and North America. However, in the "Store" section of this host's client portal, you can also find three shared hosting plans, one semi-dedicated cloud server plan, and five dedicated server plans.
The shared hosting plans provide you with:
5 GB per user to 10 GB per user storage
Free backups and data migration
Free set-up
While there is no information about bandwidth or the number of websites you can host (and I couldn't clarify with support staff), I can tell you that you can add more users and extra disk space.
Hosting sits on super-fast SSD storage, which is also more reliable than traditional HDD storage. The redundant network, 24-hour network monitoring, and 256-bit encryption should allow you to enjoy high availability and top-notch security. Automatic nightly backups safeguard your data and are retained for 30 days.
Sagenext's dedicated hosting plans allow admin access for complete control.
Pricing and Support
Sagenext's cloud-based shared hosting plans are extremely pricey at almost eleven times the average industry rates, but this host is predominantly aiming its services at a particular set of accounting and tax professionals.
We offer hosting payment options in seven different currencies, allowing you to pay via PayPal, credit/debit card, or BluePay eCheck, on monthly, half-yearly, or annual terms. However, before signing up, we encourage you to take a test drive with our 15-day free trial.
You can summon 24/7 customer support via a toll-free telephone number, support ticket (if logged in), email, or live chat. Remote support is also available via Zoho Assist and TeamViewer. Although I engaged successfully via live chat, I was disappointed that this didn't answer my questions: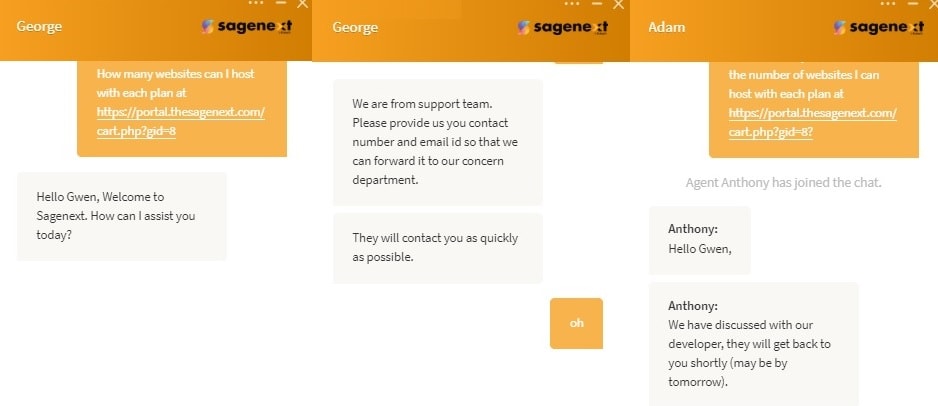 Self-support resources are available in the form of a knowledge base, blog, and F.A.Q. section.
How much does Sagenext Infotech cost?
Sagenext Infotech offers plans from $33 to $49. The price depends on which type of hosting plan you choose. You can see the updated pricing table (updated weekly) below.

Which Sagenext Infotech plan should I get?
My recommendation is to start with a cheaper plan. You can always upgrade later on. Sagenext Infotech can help you with the migration to a more expensive plan. The increase in visitors many times takes longer than expected and you shouldn't pay a lot of money until the need arises. Of course, your needs may vary, and you can consult with a hosting expert from Sagenext Infotech here.

How good is Sagenext Infotech's customer support?
Sagenext Infotech is not ranked as one of our top web hosts. But that can also be a result of Sagenext Infotech being a small, under the radar, hosting provider. There are advantages to a small hosting company – as a customer, you are more important to them. You can also check out our comparison of the most popular web hosting services here.