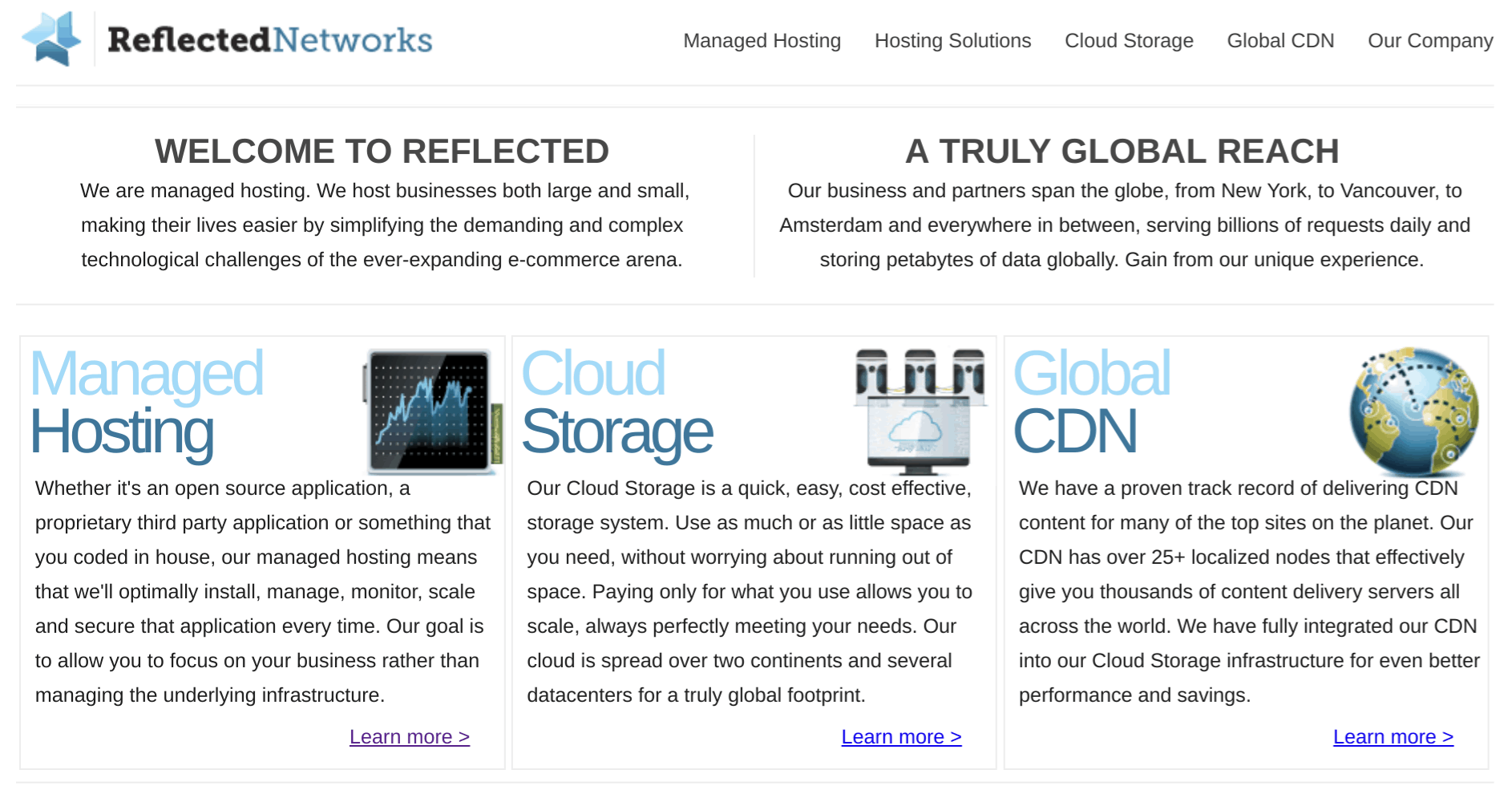 To compare the best web hosts, we hosted the same WordPress website on each one and tested performance, customer service, and value for money.
Check out the results here.
Reflected Networks is a managed hosting and CDN content delivery company that was founded in 2001. This is not a traditional shared web hosting provider, it operates at a lower level than that, so be prepared for a pretty technical ride in this review.
Based on the toll-free telephone number, I'd say that this company is located in the United States, but this is not entirely clear from its website. I can, however, tell you that there are four data centers – in the U.S.A. and the Netherlands – which provide managed hosting, dedicated hosting, and cloud storage solutions to businesses in the United States and around the world.
Features and Ease of Use
Reflected Networks' managed hosting solutions include the following standard features:
Linux and Solaris OS
MySQL databases
PostgreSQL databases
Apache, lighttpd, NGINX, Varnish web servers
Firewall, managed IDs/IPs, code audit, app scan
Cloudflare CDN
Backup and restoration management
Cloud storage
Reflected Networks has implemented cloud storage infrastructure in data centers located in two countries: the United States and the Netherlands. These data centers are based on the Dell EMC Isilon scale-out network-attached storage platform that provides storage, backup, and archiving of unstructured data. What's more, the two data centers are equipped with redundant load balancers so that your cloud storage can be replicated in both data centers.
The managed hosting solution helps keep your servers running and performing optimally. Reflected Networks takes responsibility for the installation, management, monitoring, scaling, and security of your server infrastructure at all times. And, to better facilitate high content delivery, this company has deployed a fully-redundant cloud-to-CDN system.
Reflected Networks offers an impressive hosting solution, highlighted by its powerful load balancing feature. This feature utilizes commercial off-the-shelf hardware products and allows the vendor to optimize performance through tuning its Linux kernel.
Pricing and Support
Since Reflected Networks offers managed hosting, dedicated servers, and backup solutions to big businesses (rather than simple shared hosting for retail customers), its website displays no prices. So, you'll have to contact the company to get a quote.
This company claims to guarantee 100% connectivity with zero chance for downtime for customers that have two or more network connections in the vendor's data center facilities. It also provides a 99% uptime guarantee for content delivery services, with appropriate compensation. There is no advertised money-back guarantee, but this is typical for managed hosting and dedicated server offerings.
There is no public ticketing system or live chat support, but there is a toll-free telephone number. 24/7 support is provided to signed-up customers, but I tested the support team's responses as far as I could as a non-customer. I sent an email, received an automated response promising to get back to me soon, and then… nothing.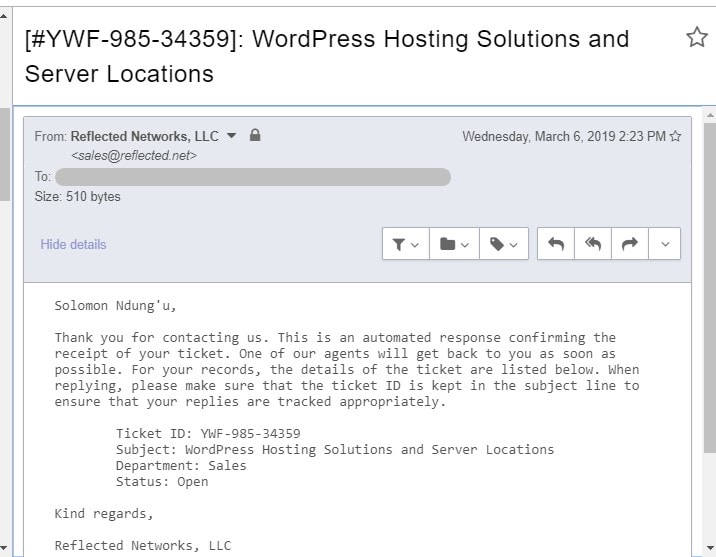 There is no knowledge base for self-support, which is understandable since this is not a self-service hosting provider.
How much does Reflected Networks cost?
Reflected Networks offers multiple plans priced highest to lowest. The price depends on which type of hosting plan you choose. You can see the updated pricing table (updated weekly) below.

Which Reflected Networks plan should I get?
My recommendation is to start with a cheaper plan. You can always upgrade later on. Reflected Networks can help you with the migration to a more expensive plan. The increase in visitors many times takes longer than expected and you shouldn't pay a lot of money until the need arises. Of course, your needs may vary, and you can consult with a hosting expert from Reflected Networks here.

How good is Reflected Networks's customer support?
Reflected Networks is not ranked as one of our top web hosts. But that can also be a result of Reflected Networks being a small, under the radar, hosting provider. There are advantages to a small hosting company – as a customer, you are more important to them. You can also check out our comparison of the most popular web hosting services here.