Founded in 2002, Redehost is a Brazilian-based website hosting provider that currently hosts 129,000 websites and has more than 430,000 registered domains. Their professional looking website is in Portuguese but can be translated into English by your browser.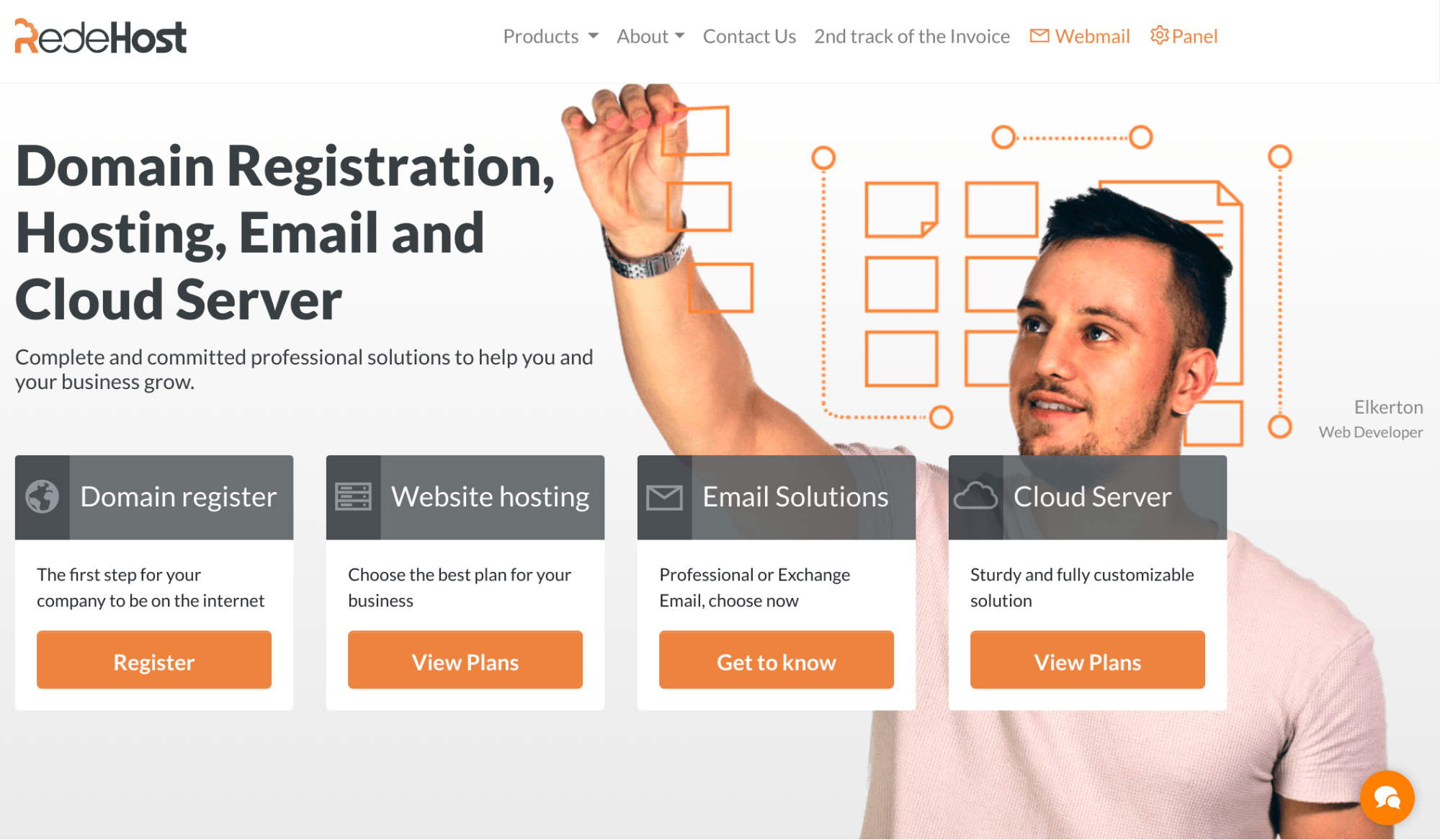 Features and Ease of Use
Redehost offers a complete suite of website hosting and cloud computing options including website hosting, WordPress hosting, email exchange, professional email, domain register, email marketing, marketing automation, and cloud servers. In fact, Redehost claims to be the only Brazilian company that is 100% into cloud computing.
As standard, their plans include:
98.9% uptime for shared website hosting; 99.9% for cloud server hosting
Optional domain registration
Unlimited subdomains in all plans except for the basic plan
Free SSL certificates
Free website migration
Unlimited traffic allowance
I really like Redehost because they're so beginner-friendly. For example, their cPanel control panel is clean, minimal, and easy to navigate for even the newest website owner.
Also great for beginners, Redehost offers one-click installers for WordPress, Joomla, Moodle or Drupal. And they also offer an online website builder tool with ready-made templates, which makes it so easy for beginners to create and edit a website without any special technical knowledge or coding skills.
The initial set-up is equally easy. Via Redehost's website I was easily able to purchase a domain and hosting plan, then follow the step-by-step instructions to whip up a website within minutes. But more advanced users need not fear, because this web host is not only for beginners like me.
Pricing and Support
The simplicity starts with Redehost's pricing plans that are as easy as 1-2-3. Literally! They're called Professional Hosting 1, Professional Hosting 2, and Professional Hosting 3.
Now the bad news. Compared to other big providers in Brazil, Redehost is quite expensive. But their added extras – such as ease-of-use and a choice between Linux or Windows – definitely adds value compared with their competitors.
They offer monthly, quarterly, semi-annual and annual plans, each with a discount applied. This sounds good, but beware that the discount is applied only on your first purchase. Renewals are charged at full price.
There are no free plans, free trials, or money-back guarantees. So your best bet if you want to try them out is to purchase a monthly rolling plan, which you can upgrade, downgrade, or cancel at any time. Of course, you'll pay a bit more for this privilege.
The customer service options, when compared to other website hosting providers, are slightly limited. Customer support is Monday to Friday, 9 am to 8 am (GMT-3), which might be enough for a beginner like me, but not for a reseller or larger business with higher traffic and higher support needs. That said, I've contacted them several times during their online hours and always hooked up promptly with a helpful operator whose English was perfectly acceptable if not 100% fluent. It did not affect the quality of the service and all, and my questions were answered well.