Philwebservices is a web hosting provider based in the Philippines. The hosting vendor was founded in 2003. It boasts of more than 5,000 customers in the Philippines. The vendor also claims to have a presence in several other countries, including the U.S., Canada, Australia, France, Denmark, United Arab Emirates, Hong Kong, Iraq, and Saudi Arabia. The Philwebservices website is only available in English.
Features and Ease of Use
Philwebservices hosting solutions include cloud web hosting, dedicated servers, and email hosting. Some of the standard features you should expect to see included in this vendor's hosting solutions are:
Unlimited databases
PHP support
Firewall service
Load balancing
cPanel
Windows/Linux operating system
Philwebservices uses highly scalable and dynamic cloud servers, which give room for expansion to customers. The vendor's decision to use CloudLinux operating system as well as advanced isolation protocols ensures that resource hungry websites do not affect other websites hosted on the same server. What's more, CloudLinux separates the vendor's clients from each other, thereby limiting security breaches as well as the spread of viruses and malware.
Philwebservices cloud web hosting solutions use both Linux and Windows OS platforms. These cloud hosting services are subdivided into three: SuperSaver Plan, Enterprise Plan, and Reseller Plan.
The SuperSaver plan is designed for small and medium-sized businesses while the Enterprise plan is designed for larger enterprises with more demanding websites. The Reseller plan caters to people who want to run their own web hosting businesses. 
While the vendor seems to offer a backup hosting solution, there is practically no information on its website to further explain what this solution looks like. That said, the vendor talks in great detail about the need for users to maintain their own backups while distancing itself from any liability in the event that a customer loses their website data.
Philwebservices allows its customers to add SSL certificates to their cart when purchasing its hosting solutions. But just like its backup solutions, there is no other information on its website about these SSL certificates.
While the Philwebservices website is organized in a way that makes it easy to navigate, the vendor's failure to give detailed information about the features included in its hosting plans does not paint a clear picture of its hosting solutions.
You only get to understand this by calling the vendor. Those who do so are often frustrated to discover that its hosting solutions have notable restrictions. To some users, this can come across as deceptive.
Pricing and Support
Philwebservices hosting solutions are extremely cheap. However, the hosting plans have very few features, which also have notable restrictions, and is perhaps why they are so cheap. The hosting plans are listed on the vendor's website in Philippine pesos.
Customers of this hosting firm pay for these hosting solutions in flexible monthly and annual billing cycles. Philwebservices also offers a 30-day money-back guarantee but has no uptime network guarantee.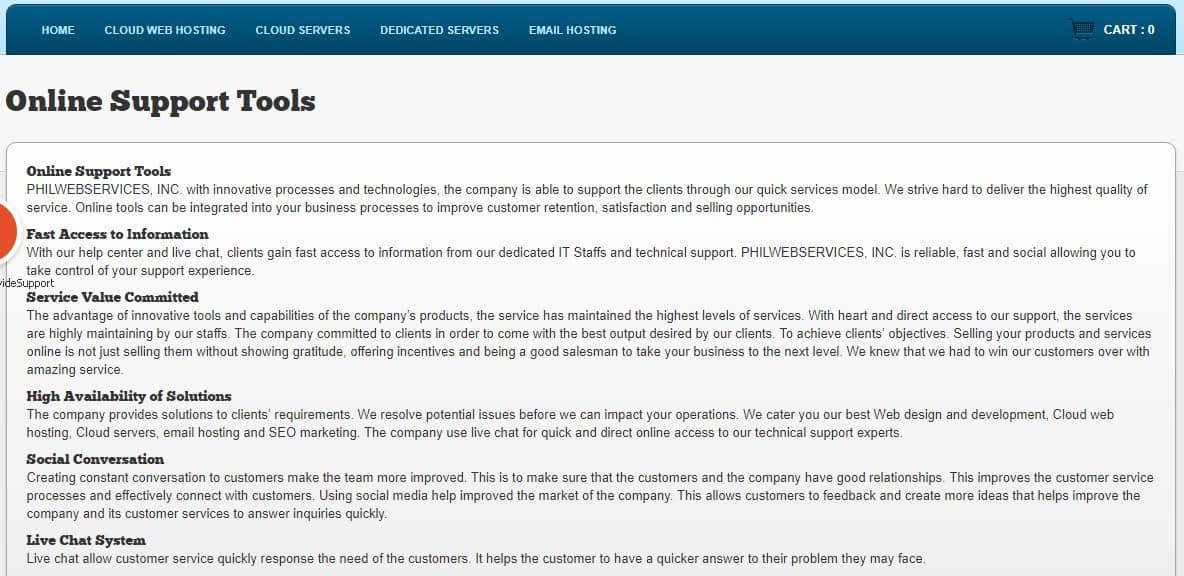 Philwebservices has a help center on its website with four channels through which customers can contact support; telephone, email, live chat, and a ticketing system. The vendor's support team takes long to respond to customer queries. I sent them a support email and it took them three days to finally send me a reply.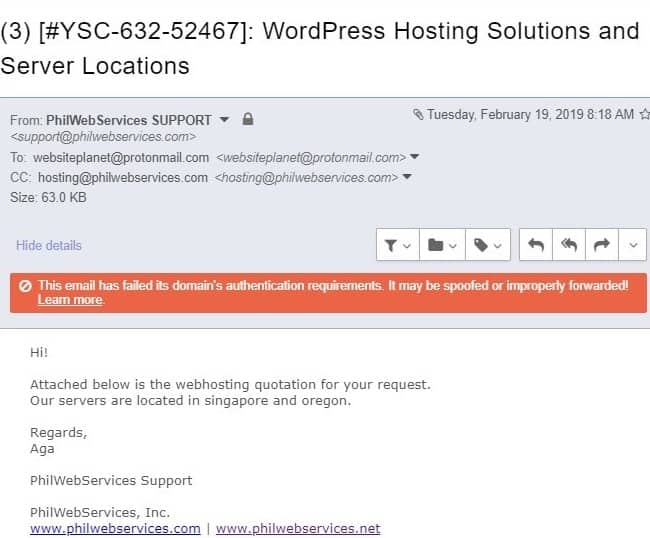 Though the vendor has a knowledge base section on its website, there are no articles or tutorials available.