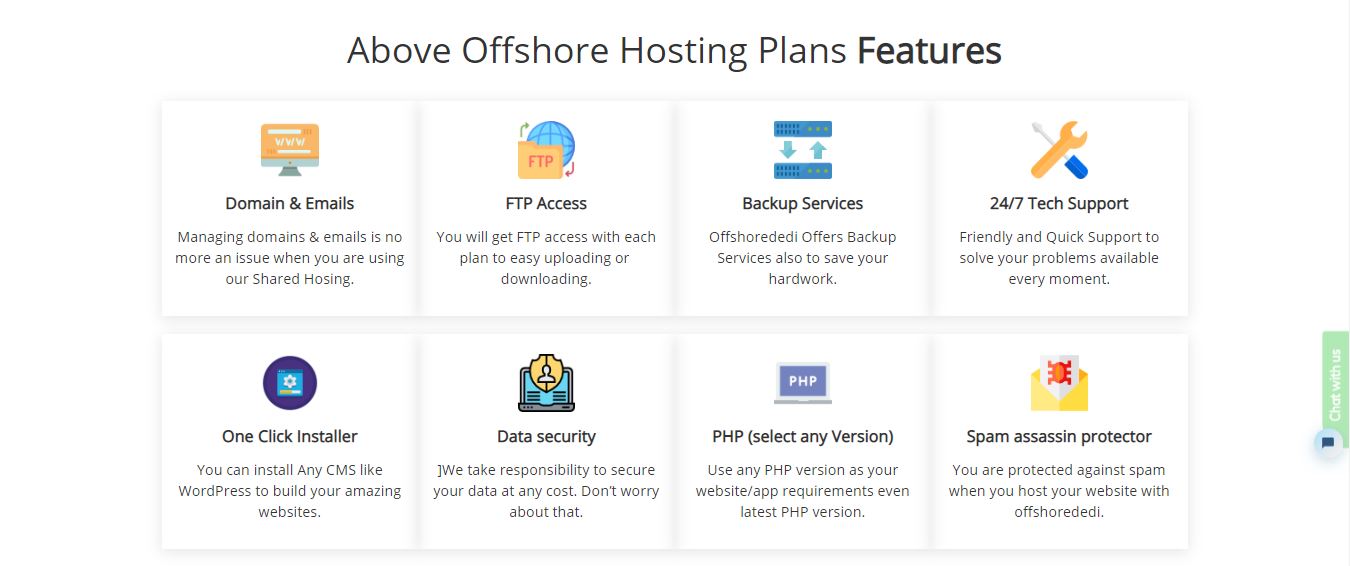 To compare the best web hosts, we hosted the same WordPress website on each one and tested performance, customer service, and value for money. Check out the results here.

OffshoreDedi is a unique web hosting provider with a focus on DMCA Ignore hosting services and internet privacy. Since their inception, they've served more than 900 websites and have reportedly ignored more than 33,000 DMCA complaints. They have servers located in Bulgaria, Russia, the Netherlands, and Ukraine. Their website and support are available in English only.
Features and Ease of Use
OffshoreDedi provides shared hosting, virtual private servers, dedicated servers, WordPress hosting, and streaming servers. As standard, their shared hosting plans come with the following core features: 
99.99% uptime

 

Between 5GB and 20GB storage space

 

From one to ten add-on domains

 

DMCA Ignore

 

Unmetered website traffic
The most unique feature of OffshoreDedi is, of course, their DMCA Ignore policy. In short, DMCA Ignored hosting means that your web host will ignore all DMCA takedown and copyright infringement notices it receives. OffshoreDedi will only comply with the laws of the countries in which their servers are located rather than U.S. copyright laws. While this isn't foolproof and you'll still have to abide by their Terms of Use, this could be a viable option for those looking for greater freedom of speech. OffshoreDedi claims that they will keep your identity anonymous as well.
They state a 99.99% uptime guarantee, though there doesn't seem to be a Service Level Agreement backing this up anywhere on their website. Furthermore, while shared hosting clients do enjoy unlimited traffic, note that each account is restricted to a maximum of 25% of the server's system resources for no longer than two minutes. This is pretty standard for shared servers to be fair to all the other users on the server.
All this aside, they do have some good features. For one, they have four offshore locations available for selection. They also support PHP 7.1, IPv6 addresses, and advanced scripting languages such as Ruby on Rails, Python and Perl. On top of that, they provide the Softaculous app installer and Attracta SEO tools with their packages.
Pricing and Support
They offer four shared hosting plans named Ninja, Ronin, Samurai, and Shogan. The plans range from a base package with 5GB storage and one add-on domain to the highest-tier package with 20GB storage and ten add-on domains. The prices are well within the market average, which is a plus considering that they come with the extra perk of anonymity.
Contract lengths range from monthly, quarterly, semi-annual, and annual plans. The prices are steeply discounted for users who purchase a longer term. Domain registration, SSL certificates and dedicated IPs are all optional extras available at checkout. They have a price freeze guarantee but a strict no-refunds policy.
In terms of customer service, they have email, live chat, telephone and Skype support. They advertise 24/7 support for server-related and CMS issues. It all sounds great on the surface, but on the multiple occasions I tried, I was never able to get through to them on live chat, which is a pity. Unfortunately, while they do have a few tutorials available, overall their customer support was lackluster.
How much does OffshoreDedi cost?
OffshoreDedi offers plans from $2 to $11. The price depends on which type of hosting plan you choose. You can see the updated pricing table (updated weekly) below.

Which OffshoreDedi plan should I get?
My recommendation is to start with a cheaper plan. You can always upgrade later on. OffshoreDedi can help you with the migration to a more expensive plan. The increase in visitors many times takes longer than expected and you shouldn't pay a lot of money until the need arises. Of course, your needs may vary, and you can consult with a hosting expert from OffshoreDedi here.

How good is OffshoreDedi's customer support?
OffshoreDedi is not ranked as one of our top web hosts. But that can also be a result of OffshoreDedi being a small, under the radar, hosting provider. There are advantages to a small hosting company – as a customer, you are more important to them. You can also check out our comparison of the most popular web hosting services here.