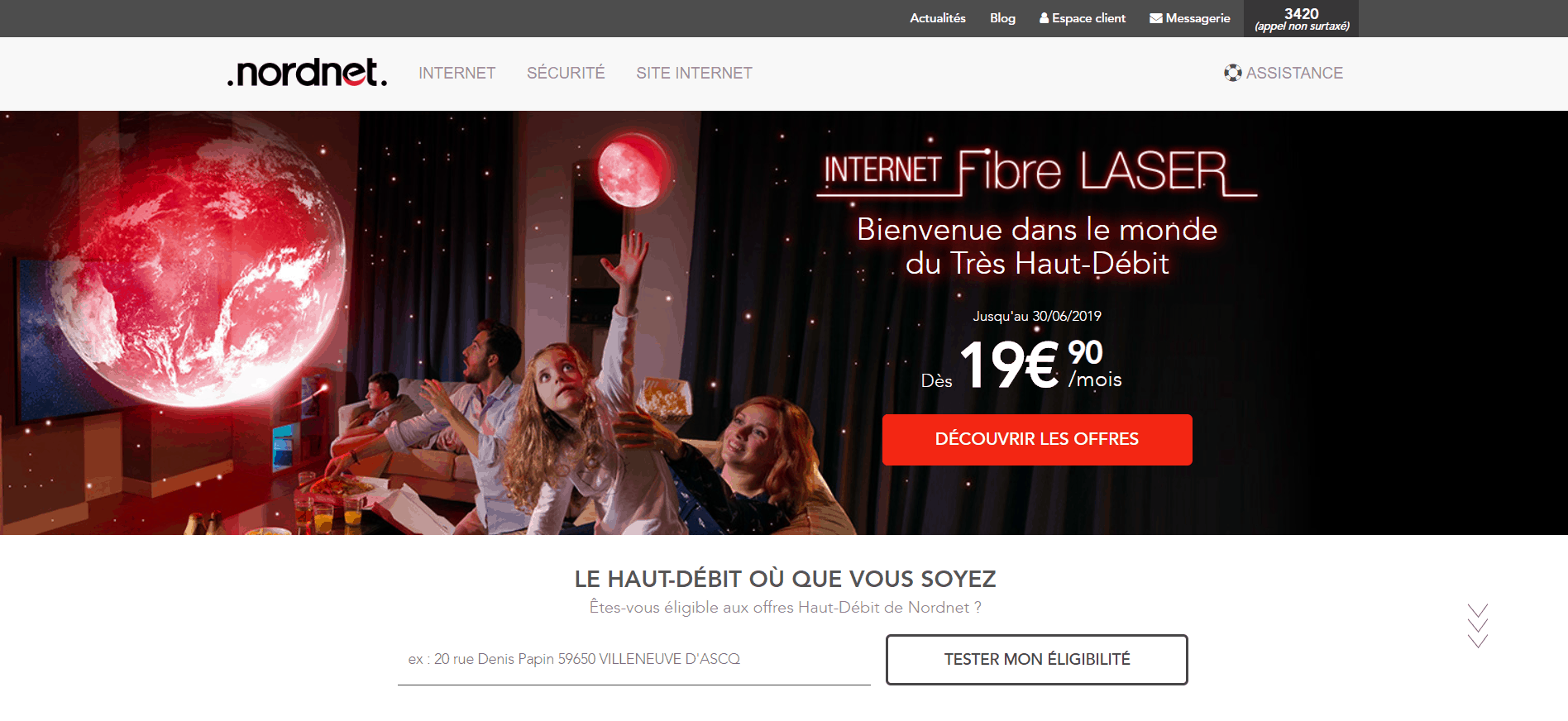 To compare the best web hosts, we hosted the same WordPress website on each one and tested performance, customer service, and value for money.
Check out the results here.
Nordnet is a Paris-based company that has been providing various internet services since 1995. Web hosting is one of their newest products and their offerings are still in their infancy. However, they provide fantastic auxiliary services like home internet, search engine optimization, domain name registration, email security, and web security.
Features and Ease of Use
Although website hosting is not the primary concern of Nordnet, they do provide some interesting features that one would usually only expect of premium hosting services. They also cover all the basics you need for any hosting solution:
Extensive domain name registration, including special domains like .paris, .corsica, etc.
Email security
Here are some of the premium features/services they offer:
Traffic Pack: This pack enhances your website's search engine rankings by making sure it's indexed by the leading search engines, identifying and injecting keywords, providing professional SEO advice, and providing detailed reports on your performance.
Compoz website creator: This is a free website creation tool offered by Nordnet. It's easy to use and allows you to extend your site's functionality using installable modules with specific features, such as blogging tools, templates, multimedia content embed tools, newsletters, e-commerce tools, etc.
Cybersquatting blocking: This service allows you to block people registering a domain name with a similar name to yours with the sole purpose of tricking internet users.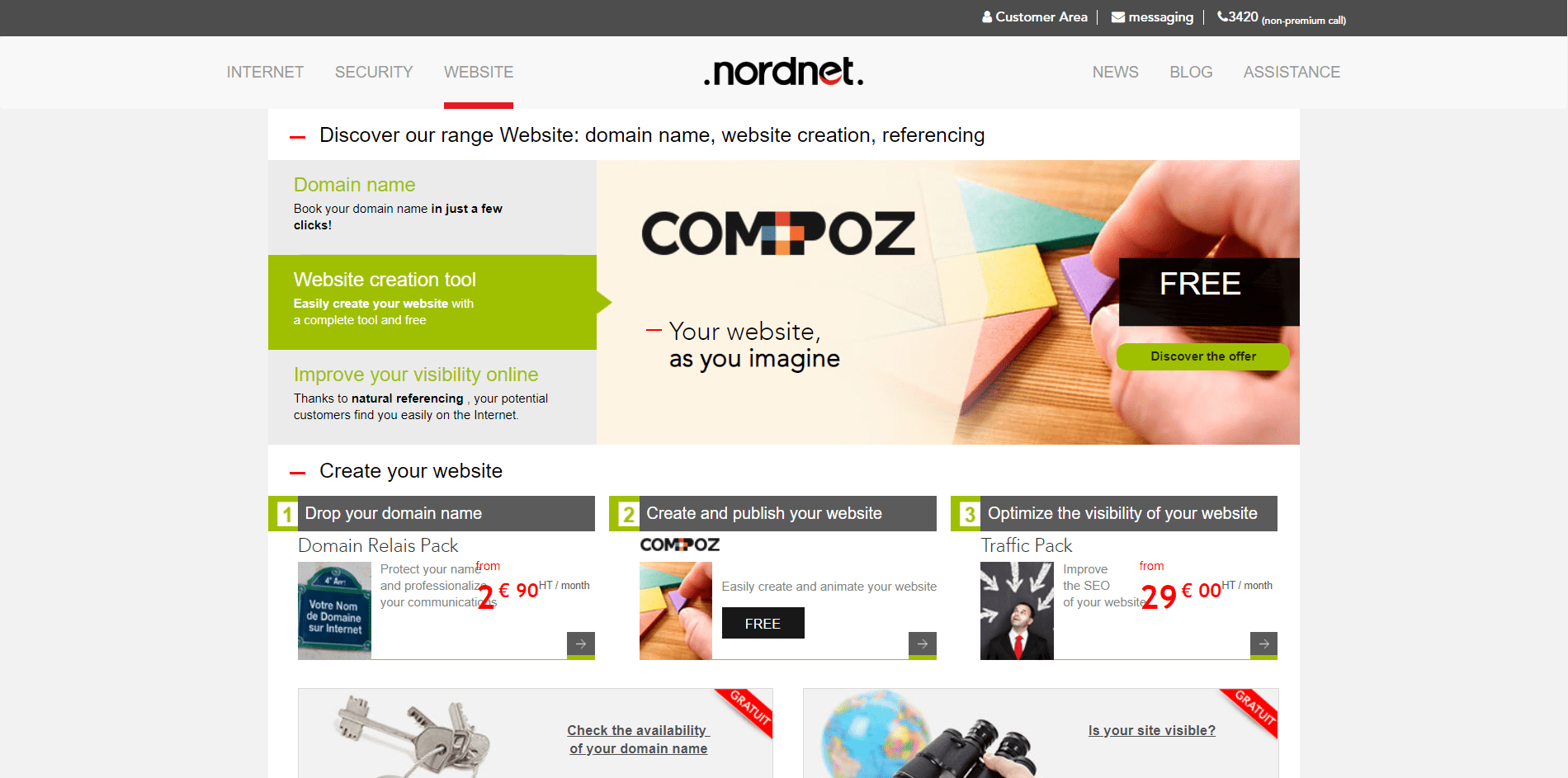 Although slightly limited in features and customization capabilities, the Nordnet website creation tool is extremely easy to use. The ability to effortlessly slot in extra functionality using modules is also a fantastic feature for beginners. However, their actual business website is quite confusing and it can be hard to understand how to use their products.
Pricing and Support
As website hosting isn't exactly one of their primary functions, pricing works slightly different on Nordnet. Of their pricing plans, only the one includes hosting as part of the package:
Basic: This is basically just registering a domain as well as receiving one email referral.
Essential: Domain registration, 10 email referrals, and email anti-spam filter.
Comfort: Domain registration, 100 email referrals, email anti-spam filter, and email antivirus filter.
Prestige: With this plan, you get all of the above, 400 email referrals, and 400 MB storage Linux hosting.
As domain registration is one of their chief services, pricing plans depending on the specific domain extension you want. Another feature of their pricing is that you can choose from one to ten-year terms with tiered discounts.
The most unique thing about Nordnet is that you can build and host a website for free using their Website Creation tool. This hosting is free because they will use your site to place their own adds. You can then purchase modules with additional features, one of which is to remove the advertising. These modules can add a wide range of functionality from e-commerce to social media marketing.
The biggest problem with Nordnet's customer support is that it's limited to French. While you might find an English representative, that's not always going to be the case. They have a free customer and sales service line but you have to pay for technical support calls. Other channels include email or actually seeing a representative in person in their offices.
How much does Nordnet cost?
Nordnet offers multiple plans priced highest to lowest. The price depends on which type of hosting plan you choose. You can see the updated pricing table (updated weekly) below.

Which Nordnet plan should I get?
My recommendation is to start with a cheaper plan. You can always upgrade later on. Nordnet can help you with the migration to a more expensive plan. The increase in visitors many times takes longer than expected and you shouldn't pay a lot of money until the need arises. Of course, your needs may vary, and you can consult with a hosting expert from Nordnet here.

How good is Nordnet's customer support?
Nordnet is not ranked as one of our top web hosts. But that can also be a result of Nordnet being a small, under the radar, hosting provider. There are advantages to a small hosting company – as a customer, you are more important to them. You can also check out our comparison of the most popular web hosting services here.