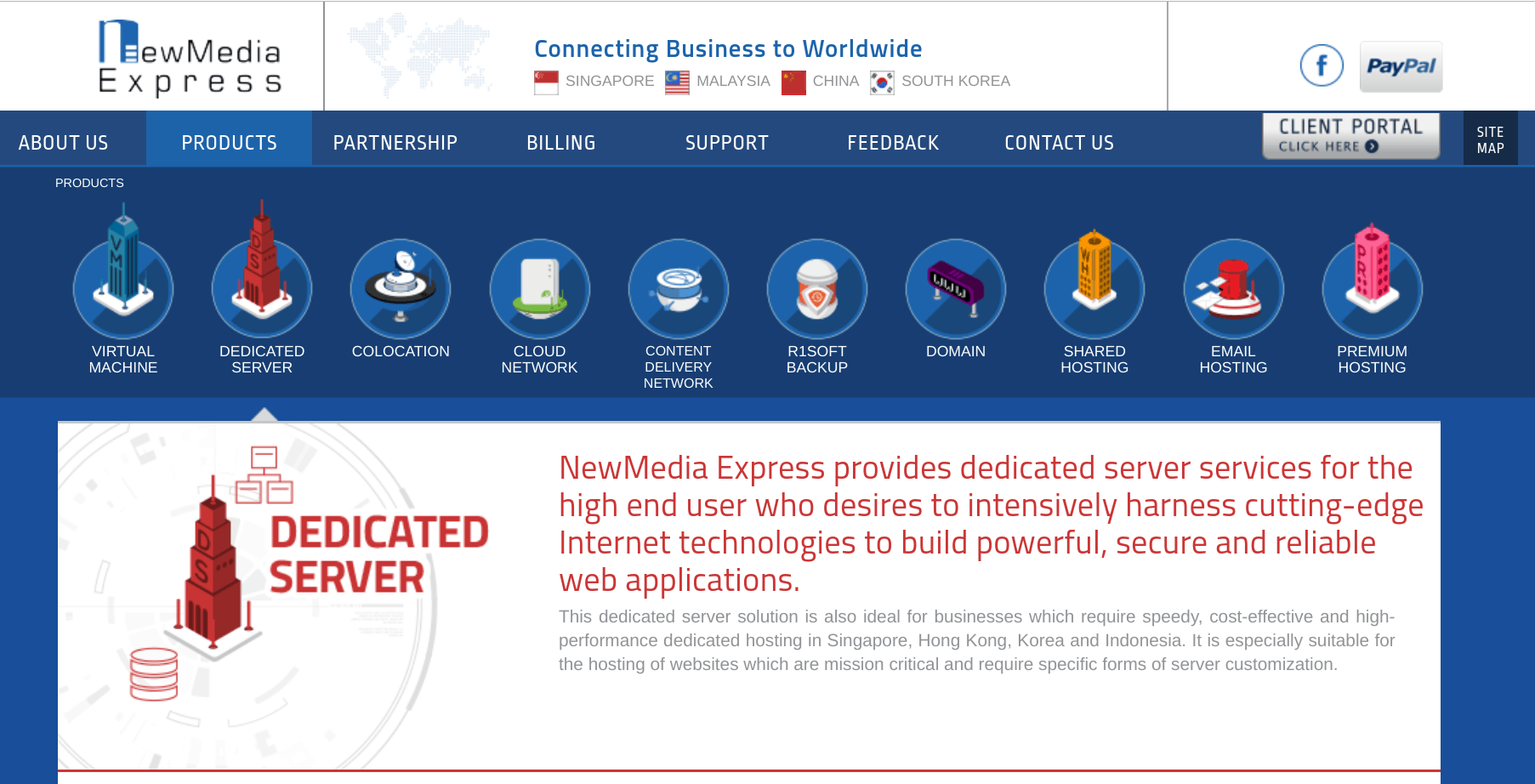 High-tech Singaporean company NewMedia Express was established in 2003, since when it has been providing value-for-money internet solutions to thousands of North Pacific and U.S. customers including government agencies, international food chains, local polytechnics, and universities.
This company's website is available in English.
Features and Ease of Use
Although NewMedia Express used to provide web hosting solutions, it now focuses on dedicated servers, colocation, network services, and data center solutions. Dedicated server solutions come with features including:
4 GB to 16 GB RAM
99.9% uptime guarantee
Remote server access
1620W fully redundant platinum-level power supplies
From 500 GB to 2 TB disk storage
MRTG usage graph
Supermicro server
The four dedicated server packages have 5 Mbps dedicated bandwidth, 100 Mbps shared bandwidth, and disk storage varying from 500 GB SATA to 2 TB SATA (RAID 1). These plans also include Intelligent Platform Management Interface (IPMI) remote server management that gives you access to the remote console and helps you monitor your platform status. You will also be able to control the system power, install the server operating system, and reset the operating system root password.
NewMedia Express improves its performance and boosts interdomain routing by utilizing the Noction Intelligent Routing Protocol (IRP). This protocol helps minimize outages and network congestion, reduces latency, and prevents packet loss to ensure a smoother network experience.
Pricing and Support
Each of the NewMedia Express services – virtual machine, dedicated servers, colocation, CDN, and R1Soft backups – has its own price plans that seem to be averagely priced. Payments can be made by PayPal or credit/debit card, and there is a 30-day money-back guarantee.
You can contact this company via a contact form, email, or phone. But first, you might like to check the extensive knowledge base that contains some useful tutorials as well as a set of FAQs. I made contact by submitting a support ticket, and I received a reply within 24 hours: