Net24 is a New Zealand-founded and based internet hosting company that has been providing services since 1999. This makes it a highly reliable, experienced, and proven hosting platform. In 2009, they opened their own high-density data center in Christchurch that now serves over 750 users. Net24 has also acquired the brand 1st Domains to provide their domain registration services which is another massive company that manages over 62,000 domains.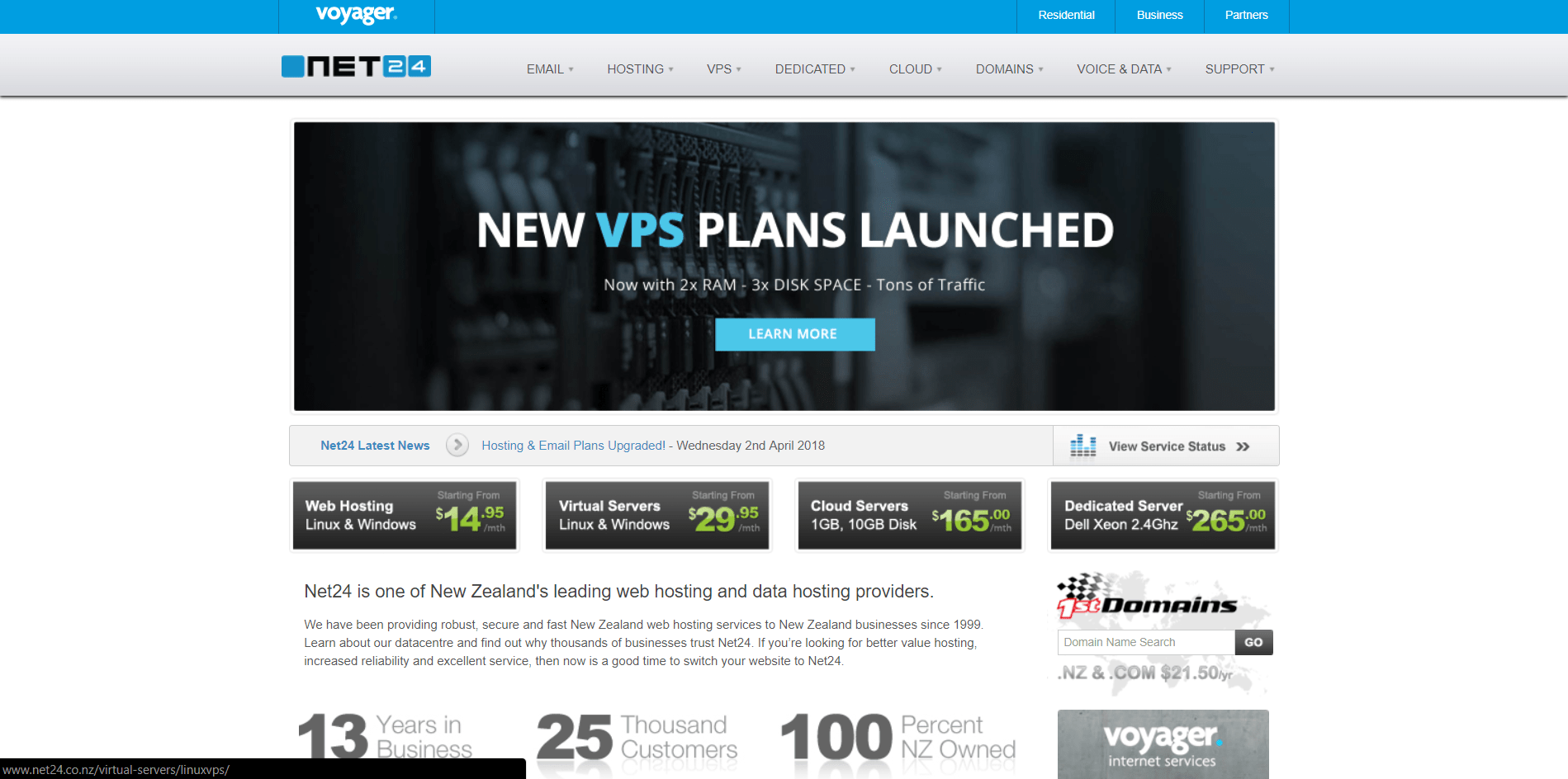 Features and Ease of Use
Net24 provides all the essentials when it comes to successfully hosting a site on the internet, such as:
Domain registration
Email accounts and management
Free SSL certificates
Backups
They also provide a number of more valuable services and features:
Daily Off-site Backups: All solutions are backed up daily and the data sent off-site to protect it and maintain high-availability and redundancy.
Choice of OS: Most products allow you to choose between a Linux or Windows installation on your machine.
Plesk Control Panel: Plesk is one of the finest hosting control panels and is included for free with all Net24 products.
The ability to choose your OS and the fact that Plesk is pre-installed as your hosting manager are already two great steps in the right direction regarding user-friendliness. You are also taken through a very easy step-by-step process with no upsells to signup and configure your hosting.
Pricing and Support
Net24 provides the full suite with web, cloud, VPS, and dedicated hosting plans. All plans except for their dedicated server plans are backed 30-day money back guarantee. You can cancel at any time, but it has to be submitted before an invoice is generated to avoid paying for another billing cycle.
With their web hosting plans, you can choose between Windows or Linux machines. The prices and configurations are the same and you get a free SSL certificate and unmetered data traffic. There are three web hosting products:
Lite: 1 GB storage,10 email accounts, 10 GB mail storage, 2 databases.
Plus: 10 GB storage, 25 email accounts, 25 GB mail storage, 5 databases.
Max: 50 GB storage, 50 email accounts, 50 GB mail storage, 10 databases.
The VPS plans look very similar but with more resources and data transfer limits:
Lite: 15 GB SSD storage, 1 GB RAM, 10 email accounts, 10 GB mail storage, 2 databases, 200 GB data transfer.
Plus: 145 GB storage, 2 GB RAM, 25 email accounts, 25 GB mail storage, 5 databases, 500 GB data transfer..
Max: 100 GB storage, 3 GB RAM, 50 email accounts, 50 GB mail storage, 10 databases, 1 TB data transfer.
Their dedicated servers run on Dell technology. These plans have an initial setup fee and it's not backed by their 30-day money back guarantee. There are four hardware configurations to choose from that differ in RAM and storage. Lastly, there are cloud server plans but you will need to contact them for a quote as there are no standard products.
Net24 only provides support through email and a toll-free (in New Zealand) phone line. All their support staff is from New Zealand itself with no outsourcing. They also have a very comprehensive knowledge base for those who like to do their own problem-solving. Their support staff is very friendly, professional, and helpful.