NeedaServer.Net is a Los Angeles-based web hosting company with their own 30,000 square foot data center. Their custom-built N+1 green facilities are cutting-edge and cool the center at significantly less cost than competitors. Founded in 1999, lower prices and the company's connection to One Wilshire make them a popular choice for organizations all around the world.
Features and Ease of Use
NeedaServer.Net specializes in dedicated server hosting, especially Linux and Windows-based options. They offer a range of services related to backend operations and maintenance including installation and configuration support, hardware, backups, and network design. However, NeedaServer.Net also offers cloud-based VPS hosting plans.
NeedaServer.Net doesn't offer as many value-added services for end-users like beginner-friendly tools, separate email functionality, and integrations as other companies. The Weebly website builder is available, but you won't find any of the most popular extensions like WordPress or Joomla offered natively. Security options are also mixed. DDoS protection is included, but you must purchase firewall plans and SSL certificates separately.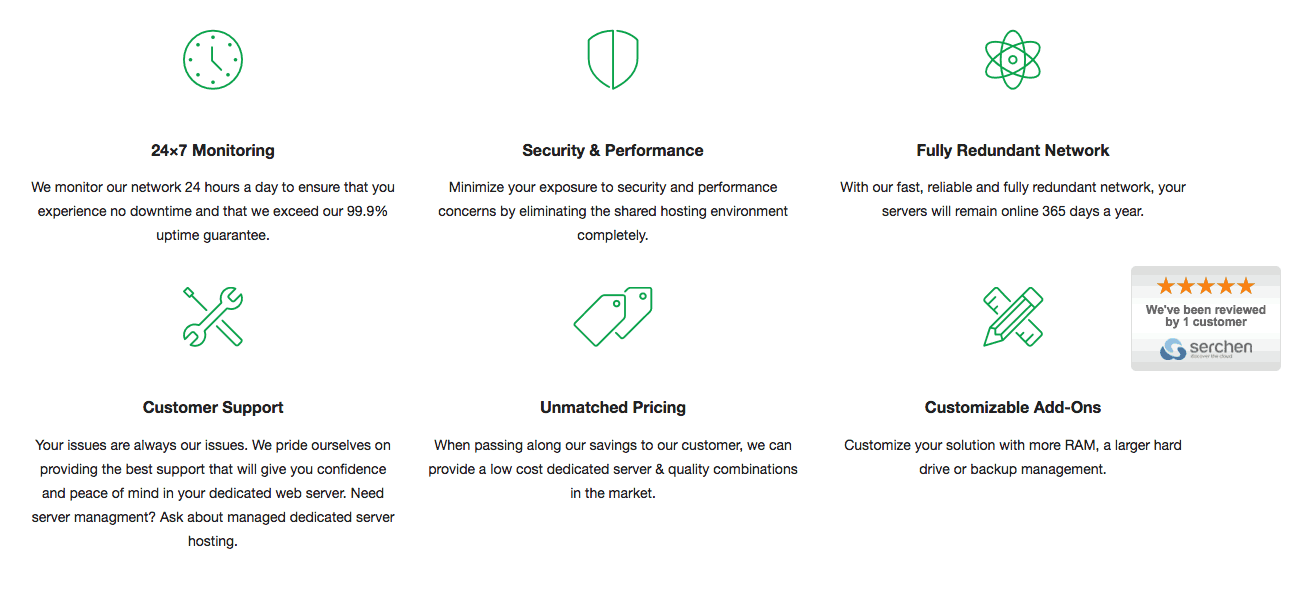 NeedaServer.Net's plans come with up to 1Gbps connections, making server speeds extremely quick. They also use optimized routing and multiple internet carriers so your traffic can be sent along the path of least resistance – increasing speeds even more.
NeedaServer.Net is known for their quick turnaround times and fast provisioning of servers, so they're an excellent option if you need a high-performing dedicated or cloud VPS server quickly. However, one downside I've noticed with them is that while they advertise unmetered bandwidth with their plans, this is slightly deceptive: closer investigation reveals that there's an unspecified bandwidth cap and that they'll charge you for exceeding this limit.
All plans supposedly come with a 100% uptime SLA — though a detailed copy of their SLA appears to be nowhere to be found on their website (that, or it's buried so deep as to be unhelpful). On top of that, all plans also only offer one /30 IP address subnet by default, which may prove to be a serious limitation that businesses running multiple websites should take note of. You can, however, always purchase more during the checkout process if need be.
Pricing and Support
Given the amount of backend power, NeedaServer.Net's pricing options are not bad. The entry-level, non-SSD cloud server plan is only slightly more expensive than leading competitors. The SSD entry-level plan is only 20% more expensive, a good value for the price increase. The company also frequently hosts promotions offering customers huge discounts on dedicated servers.
NeedaServer.Net does an excellent job of adding good value for minimal cost as their plans rise in price. There's only a 4x increase in price between the lowest and highest-tier plans, but an 8x increase in capacity and power. So while there are few value-added services, the backend power offered here is enough to justify the price.
Security feature pricing is disappointing. DDoS protection is included, and RapidSSL certificates are moderately priced, but there's only a one-size-fits-all firewall plan that costs the same to protect anywhere from one to five websites. The plan also costs as much as 30x the amount of the hosting plan itself — a major flaw.
Service is available 24/7 via an online ticketing system. Phone support is also available, including a dedicated toll-free number for customers outside the USA. In my experience, however, their support will occasionally lose tickets or emails: for the most part my tickets were responded to promptly, but once in a while I'd bring up an issue and it would never be answered.