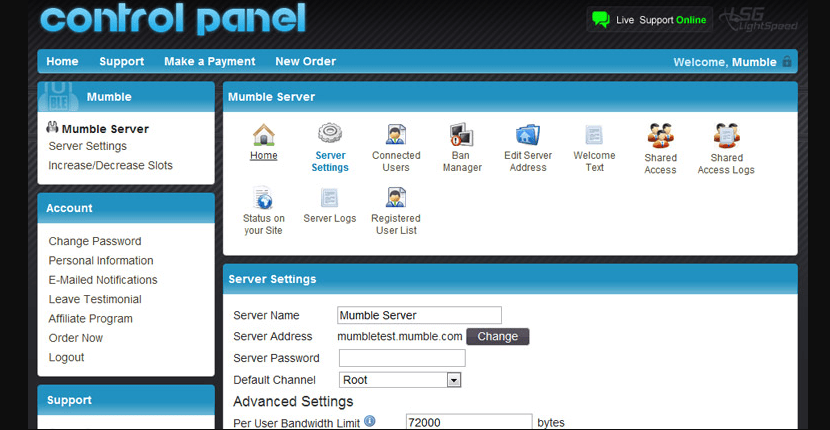 Part of the Trust Telecom SARL, Mumble.fr provides low latency servers that let you host a community of gamers online. Members enjoy premium voice communication and real time support via chat. Their servers are monitored round the clock.
Features and Ease of Use
Just looking at their features, you can tell Mumble.fr was designed for simplicity. Some of the key features include:
Custom host name
Simple admin panel
High quality audio
In-game overlay
Windows / Linux / Mac OS X
24/7 monitoring and support
Gaming forum
What I like about Mumble.fr is that server setup is instant. Simply create an account, load it with credit, and then order the Mumble pack that suits you best. They offer three options with Super Access and a varying number of slots. Server delivery takes less than one minute, and you don't need to wait for their administrators to install or configure it. Using JSON, you can also display server channels and all connected users on your website.
Once your server is up and running, you can proceed to create a custom hostname for your gaming community. It's simple as adding a prefix to mumble.fr. It could be avidgamersguild.mumble.com or any other name. If you'd like your friends to connect to your server quickly, go for a short and memorable hostname.
Mumble.fr's server control panel gives you advanced permissions and full control over the privileges of users. From the dashboard you can view connected users, update the welcome text, kick out users, update server settings, make a payment, and even place a new order. The best part is that you can personalize client settings, specifically the interface, transmission, audio processing, and compression quality.
Pricing and Support
Mumble.fr provides three billing cycles for you to choose from: monthly, semi-annually, and annually, all of which come with an easy cancellation option. They accept payments through American Express, echeck, Discover, MasterCard, VISA, and PayPal. If you order three months or more, you'll receive a 25% discount on your initial payment. They don't have any hidden fees. If you're not satisfied with their hosting service, you can cancel your plan within 30 days and receive a full refund.
Users can only contact Mumble.fr customer support via their online messaging form. It would be nice if they had phone support and live chat service. That notwithstanding, they do monitor their servers 24/7, which allows their network engineers to rectify server overload before it becomes a nuisance. I encourage you to check out their forum index which has tutorials and tips and a forum for general discussions. You can also reach out to their support from their forum.