MozDomains is a top web hosting vendor in Mozambique. It offers a wide range of hosting services including
shared hosting, VPS Hosting, wordpress hosting, cloud hosting, reseller hosting, and dedicated Servers
. The vendor targets businesses of all sizes in Mozambique, South Africa, Germany, and the U.S. It also offers SSL certificates, domain name registration, and web design services.
Features and Ease of Use
Some of the standard features you can expect to find from this vendor's hosting solutions are:
Unlimited disk space
Free SSL installation on request
Full root server access
cPanel control panel
Unlimited bandwidth
MySQL database
Free domain
Unlimited email
Website builders
Free daily redundancy backups
MozDomains' servers operate in five data centers across the globe. The primary services are hosted in Germany while redundant infrastructure services are in other data center locations, and the primary data center is in the Equinix SY3, located in Sydney, Australia.
It offers high-quality and scalable solutions with access to several carriers providing minimum N+1 standard for power supply and cooling systems. This ensures an optimal operating environment for high performance and reliability.
With MozDomains, you get high specs Linux virtual servers as well as complete control of these servers. The vendor's VPS solutions are great for fast growing websites that demand superfast and reliable infrastructure. Its VPS services are powered by lightning fast performance servers and high-end enterprise hardware with pure SSD storage.
Clients can choose to use their preferred control panel between cPanel, DirectAdmin, and Plesk. What's more, MozDomains allows users to select their prefered operating systems from a list that includes SuSE, Ubuntu, Debian, Fedora, and CentOS.
Pricing and Support
All MozDomains hosting plans are competitively priced and most features have no apparent restrictions. Prices are listed in dollars, euros, Mozambican metical, and South African rand. In addition, the vendor offers a stress free month-to-month billing cycle.
MozDomains makes contradictory statements in its website; on the one hand it states that it offers a 5-day money-back guarantee, yet its terms and conditions page suggests that the money-back guarantee is valid for 14 days. So, which is it? That said, the vendor also offers an uptime SLA of 99%.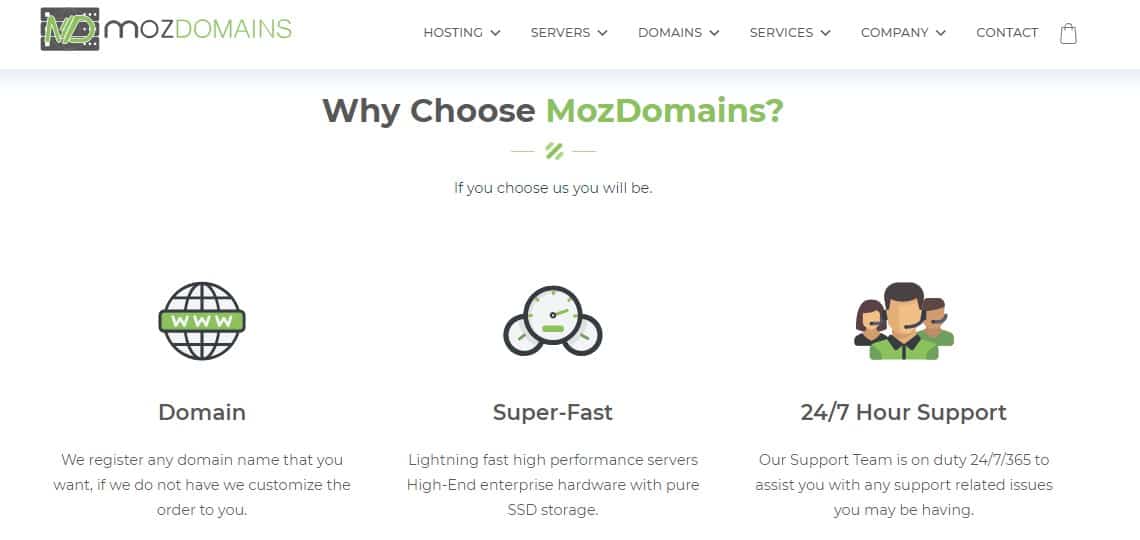 Users can contact the MozDomains support team via their U.S and Mozambique telephone line available between 10:00 a.m. and 5:00 p.m. CAT, from Monday to Friday. Alternatively, you can reach out to them using email, ticketing support, or live chat (though I did not see where this was located).
While MozDomains claims to have its customer support desk on duty 24/7/365, it's worth noting that I sent them a support email and never received a response. Furthermore, the vendor has a very limited knowledge base.