mindSHIFT is a reputable tech company that offers Microsoft Exchange Server hosting, Office 365, data backup & recovery, premium spam filtering, and ActiveSync for smartphones. Its services are geared towards enterprises and organizations that operate mission critical websites and emails. The company's servers are co-located in a Tier-4 facility.
Features and Ease of Use
mindShift has invested in enterprise-grade infrastructure and that's why it's able to provide a secure and stable environment plus a number of features. Here are some of the features:
Microsoft Office integration
Free SharePoint site
Enhanced compliance features
ActiveSync included
Mobile messaging
Business email with lists
McAfee spam filtering
Collaboration tools
999% uptime guarantee
Moving to a new shared exchange environment can be both daunting and strenuous for a beginner. Luckily for new customers, mindShift helps them to transition with its fast and seamless integration. It will move all your critical emails, tasks, and calendars to its secure online platform.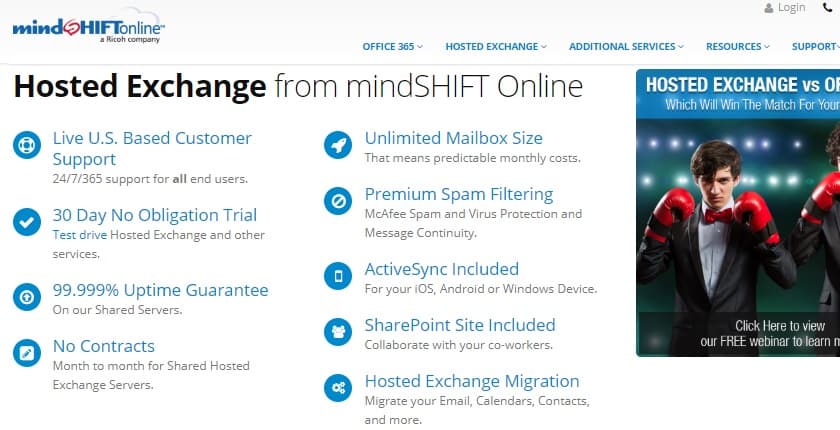 Not every day do you find hosting services that provide productivity tools like Office 365 or a collaboration hub like SharePoint. Add to that Hosted Exchange for managing your emails and contacts, and you'll appreciate how this company can transform a once dull or disjointed workplace into a place where your employees can work smarter, faster, and more efficiently.
Until you lose your critical business data or files, you may never really get to appreciate the importance of routine backups. mindShift carries out daily backups of all files, databases, emails, contacts, and notes. So in the event of accidental deletion or loss, you will be able to restore all data and continue with your business operations.
mindShift also provides round-the-clock server monitoring and robust security to customers. Its servers are located in a secure and modern Internap data center, a Tier-4 data hosting facility with hardened physical security and biometric authorization. With an impressive 99.999% uptime guarantee, the company's servers ensure high availability of customers' websites and apps.
If you're looking to cut overhead costs and still get full control over your apps databases or new website, you should consider mindShift's on-demand Cloud VPS servers. They're cheaper than physical servers and scalable too, meaning you can add more resources or decommission any that you feel are underused. All of your resources can be accessed 24/7 via your smartphone, tablet, or PC.
Pricing and Support
mindShift offers affordable hosted exchange, but their VPS service can be expensive as it charges per user. However, the company does not impose a setup fee for their hosted email service. Customers who opt for monthly subscriptions are not obligated to sign a contract or make any long-term commitment. mindShift's solutions are scalable, and they offer a 30-day trial with no obligation.
Mindshift provides live technical support to its customers. Its US-based technical support team can help you with website migration and server configuration, among other things. Jean, one of the live chat specialists, shared a link to their IT managed services, which included the option to install Linux or any other OS, just what I had in mind. My only concern is that the knowledge base, which should be an open resource, is locked.