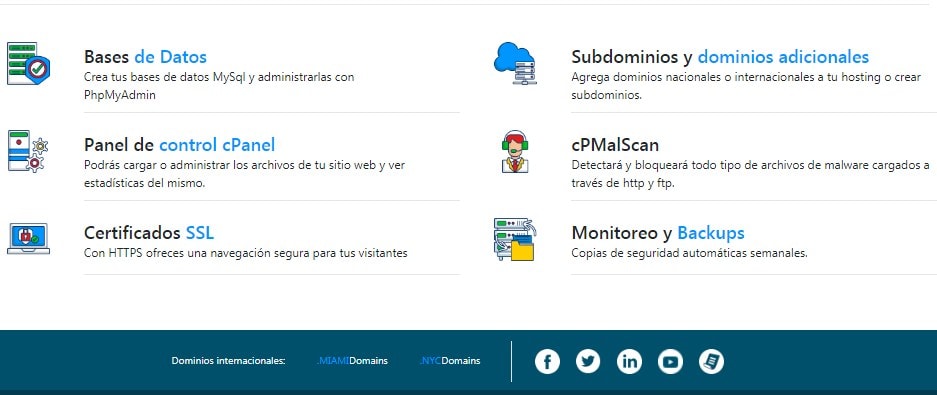 MI.COM.CO is a small hosting company based in Colombia. Founded in February 2010, the hosting provider prides itself on being the first company to offer 100% Colombian corporate email services. Moreover, it offers web hosting solutions, SSL certificates, and domain name registration services targeting business enterprises in Colombia and beyond. The MI.COM.CO website is only available in Spanish.
Features and Ease of Use
MI.COM.CO web hosting solutions include the following standard features:
cPanel control panel
MySQL databases
phpMyAdmin support
SSL Certificates
Automatic weekly backups
Website statistics
cPMalScan
Unlike other hosting providers that offer a choice of multiple OS platforms, MI.COM.CO web hosting solutions only run on the Linux OS platform. Its shared web hosting plans offer customers a chance to customize their preferred hosting resources. The plans include disk space ranging between 500MB to 5GB and clients can host from one to an unlimited number of website accounts.
The MI.COM.CO hosting services are compatible with phpMyAdmin and MySQL databases, and also come with a user-friendly cPanel control panel to help users upload and manage their data files. Moreover, the hosting vendor performs weekly automatic backup services that users can easily download on their cPanel accounts.
It is worth noting that MI.COM.CO web hosting services also include free digital SSL certificates. With these certificates, customers are able to offer safe web browsing for their website visitors. In addition, the vendor offers cPMalScan, which has the highest detection rate, to help detect and block malware files loaded via FTP and HTTP.
The MI.COM.CO website offers minimal information about its web hosting solutions, lacking detailed descriptions of the included features in its hosting plans. When you click on the links for hosting services, the provided information is not very informative.
Pricing and Support
MI.COM.CO web hosting solutions are fairly priced, although the features included are quite basic. The prices of these hosting plans are listed in Colombian pesos. And unfortunately, the hosting plans do not have any billing cycles.
MI.COM.CO hosting solutions offer no free trial period or money-back guarantee. What's more, although the vendor promises to always keep your website running, it seems to shy away from committing to an uptime guarantee.
Customers can get in touch with MI.COM.CO technical support staff only via email, and I was only able to locate the vendor's email address on its Facebook page. Additionally, I did not find a telephone number, ticketing system, or live chat support. My email query to this support team went unanswered as well.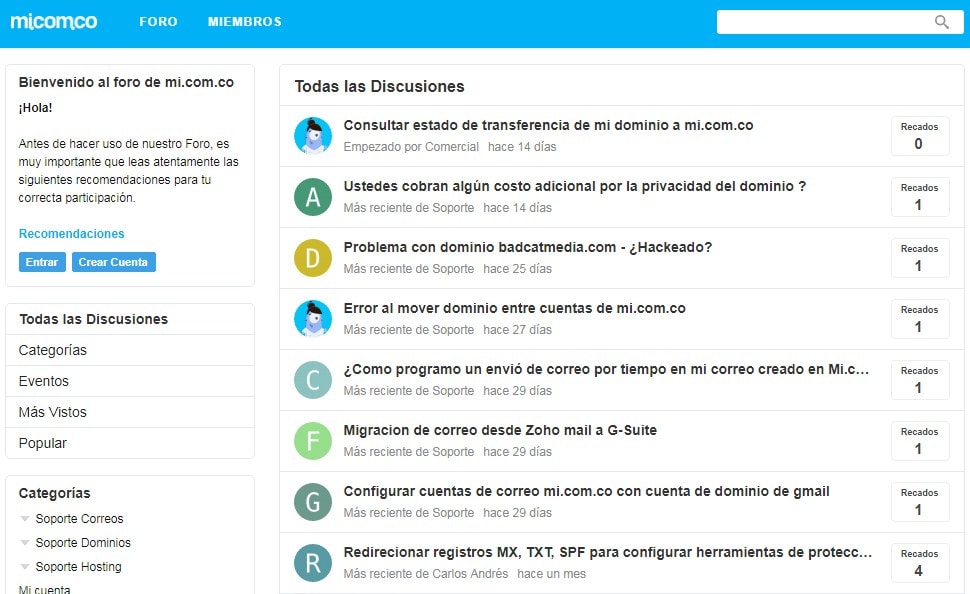 MI.COM.CO has a fairly detailed knowledge base with quite a number of articles and tutorials.