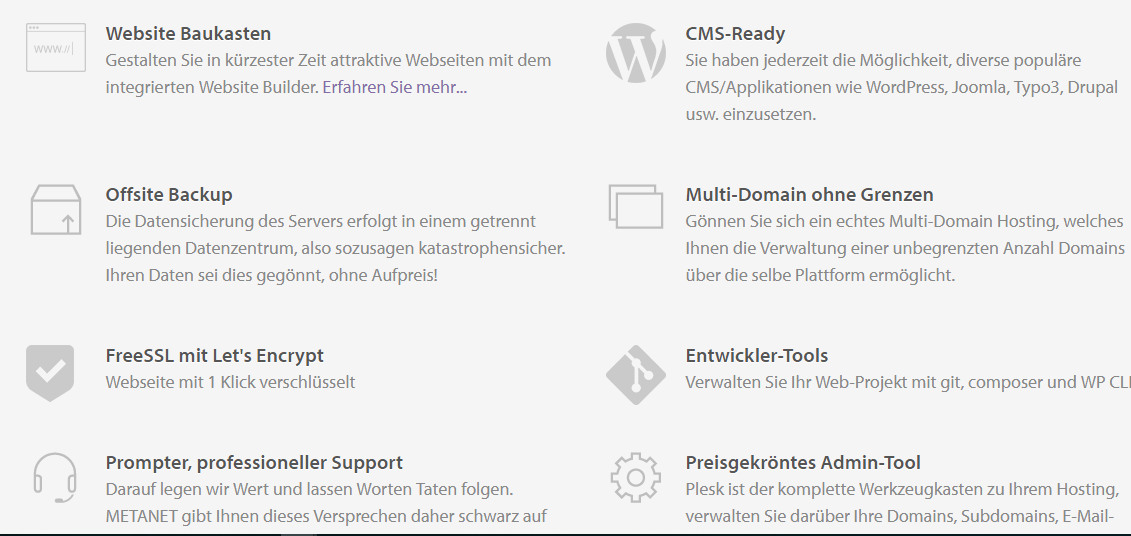 METANET is a Switzerland-based web hosting company that began operations over 19 years ago. The vendor is one of the biggest hosting companies in Switzerland. It's on the list of the top five hosting companies in Switzerland with a market share of 10.18% and over 50,000 customers. Some of its solutions include shared web hosting, domain registration for SMEs, web servers, and reseller hosting. The METANET website is only available in German.
Features and Ease of Use
METANET is a hosting company of choice for many people in Switzerland. Its hosting solutions come with the following standard features:
Award-winning admin tool

Multi-domain without limits

Unlimited domain and email aliases/redirects

Unlimited subdomains, databases, and traffic

Unlimited mailboxes (POP3/IMAP4)

Email autoresponder

Webmail access via browser

Excellent spam protection

PHP 7.3, PHP 7.2, PHP 7.1, PHP 5.6

MariaDB 10.2/MySQL

Powerful developer tools

SSH access

Speed ​​with 100% SSD disks and HTTP/2

Free SSL with Let's Encrypt

Offsite Backup and Backup Manager
This hosting firm has a commitment to offer reliable hosting solutions backed by a robust infrastructure and an irresistible price-performance ratio. The vendor uses 100% SSD disks and HTTP2 to ensure that the dynamic websites it hosts record optimal performance through faster data transmission and faster website loading.
METANET uses advanced geo-redundancy protocols where users' data is regularly mirrored in its second data center in Oberengstringen. As a result, the vendor's platform is more secure and downtime becomes rare even during emergencies. The offsite backups do not incur additional costs.
This vendor has invested substantially in an email spam protection system that involves system analysis and real-time creation of a list of blacklisted email addresses that send unwanted advertising emails.
METANET promises to set up new user accounts in minutes but assures that even in cases where a few minutes might be unrealistic, they will ensure that the entire setup process does not take more than 24 hours.
Pricing and Support
While METANET offers web hosting solutions with a long list of features, its hosting packages are quite expensive. All the same, the vendor offers flexible monthly payment plans. The prices are listed in Swiss francs, and you can pay your subscriptions through bank transfer, e-bill, Visa, MasterCard, American Express, Postcard, Twint, and PayPal.
METANET offers a 99.9% network availability guarantee measured in six-month intervals. It also provides a 30-day money-back guarantee.
To contact this vendor, you can call its support team, send them an email, or open a ticket. The vendor expressly states that all of its customers receive personalized responses to any technical query they make.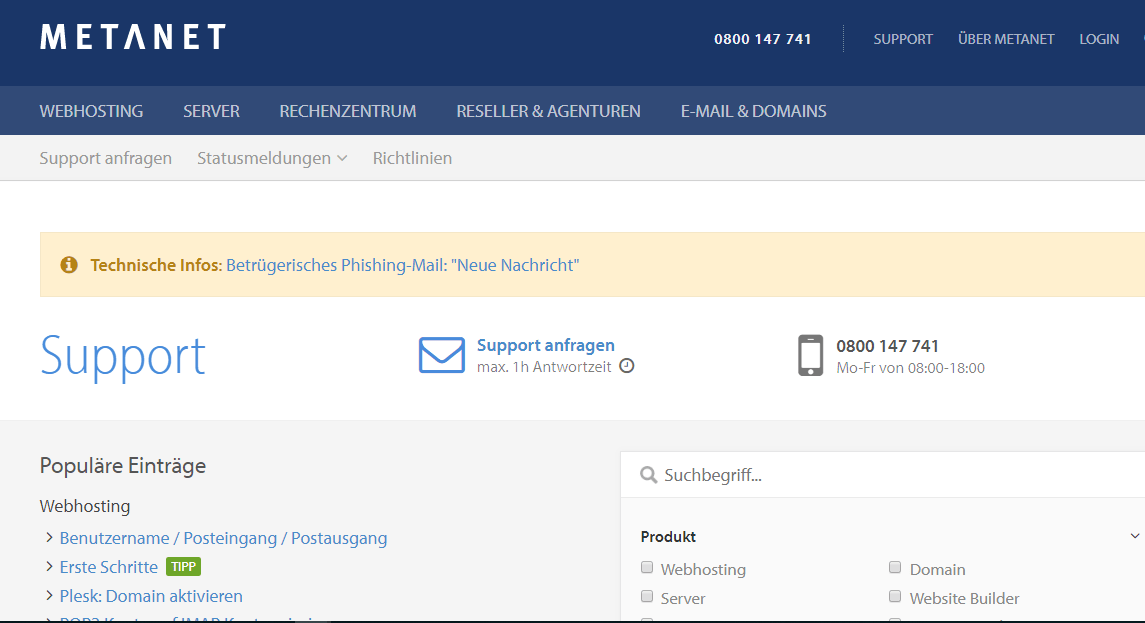 The vendor commits to respond within an hour during business hours and within 10 hours during out of office hours. It also offers remote support via TeamViewer. I opened a ticket and got back a thorough reply.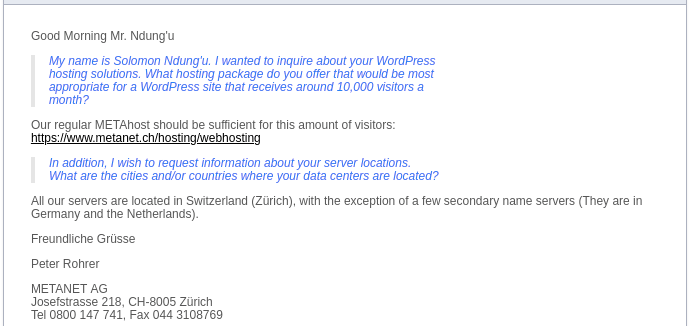 The METANET website does not have a knowledge base.