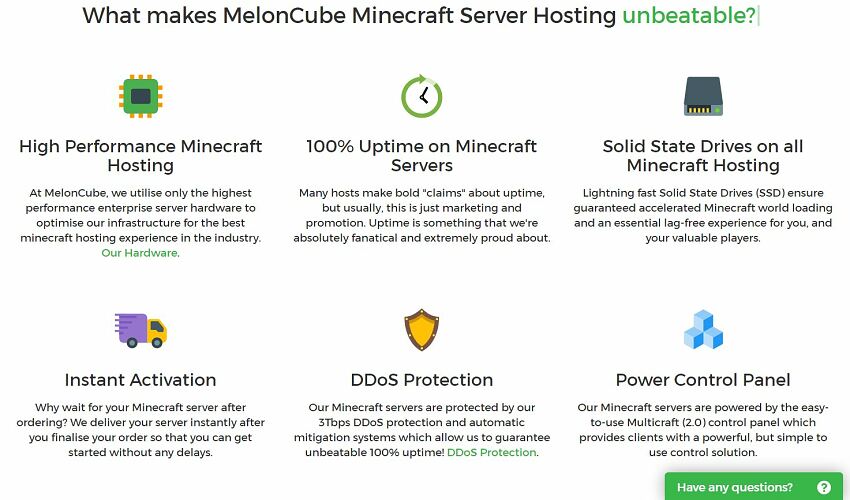 In this review, I'll focus on MelonCube's Minecraft hosting since it's the most popular product with MelonCube users. Minecraft is a resource-hungry 3D game, which is why your hosting service must provide powerful hardware to feed this beast.
Features and Ease of Use
When it comes to MelonCube, the server specs are pretty standard and don't differ from most Minecraft hosts. You won't get a dedicated Minecraft server – you'll share it with other players. The server specifications include:
DDR4 ECC RAM

SSD or NVMe drives

1Gbps fiber uplink and downlink

DDoS Protection (480Gbps)

Support for Linux OS
With all Minecraft hosting plans, you'll get the following key features as standard:
Intel and AMD CPUs (minimum 3.4 GHz and 3.7 GHz turbo per core)

100% network uptime SLA

Daily remote backups

Instant activation

Restart on crash

Modpack support

Multicraft 2.0 control panel

Support for multiple users

Unlimited slots/ MySQL databases/ SSD storage

PHPmyAdmin tool

Java 8 support

Full FTP access
MelonCube supports various Minecraft versions and jars like Vanilla, CraftBukkit, BungeeCord, Spigot, ATLauncher, and more. Its servers also support custom jar enabling you to use snapshots and other modpacks that aren't supported, such as Twitch, FTB (Feed-The-Beast), Resonant Rise, etc.
The included Multicraft control panel has a built-in configuration editor, single-click plugin installer, and full FTP access. It also allows you to change slots, create multiple users, and schedule tasks/backups.
Even though MelonCube promises a 100% network uptime, many users have reported lags and downtimes. It's also important to choose the right server location – the closer you are to the server, the faster loading speeds you'll get.
If you find that MelonCube isn't quite right for your Minecraft server hosting needs, check out more reliable options in this top web hosting comparison.
Pricing and Support
MelonCube has an amazing range of Minecraft hosting plans – around 22 packages. The difference between these packages is the allocated amount of RAM – from 1 GB to 48 GB. Its prices range from cheap to chewing a hole in your wallet. Luckily, the prices are the same regardless of the server location.
MelonCube also offers some freebies (or free trials) for Buycraft Ultimate (30 days), Enjin Advanced (45 days), and Minetrends Lite (30 days). You only get a 3-day money-back guarantee, which isn't impressive at all.
There's a good knowledgebase and FAQ section on the website that contains several tutorials related to Minecraft and other topics. Unfortunately, MelonCube doesn't have a live chat option. If you want to contact customer support, you can do so through a ticket system (available 24/7). I opened a ticket asking about its Minecraft servers and received a helpful response within 10 minutes.