MegaHosting.cl was formed by a group of young IT engineers who shared the same vision and love for technology. Their main aim was to provide powerful hosting solutions for personal, business, and high traffic websites to customers across Chile and beyond.
The company was started more than 15 years, and over the years, it has become a force to be reckoned with. Today, it has over 15,000 customers. The MegaHosting.cl website is only available in Spanish.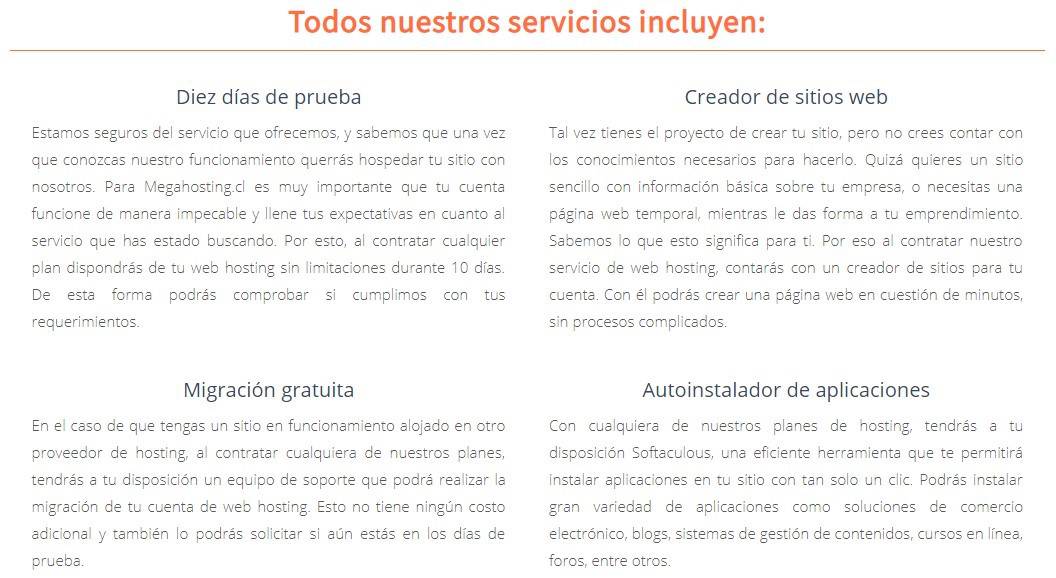 Features and Ease of Use
MegaHosting.cl offers a wide range of hosting solutions including shared web hosting, VPS, reseller hosting, and WordPress hosting. The hosting solutions includes the following standard features:
SSL Certificate
CloudLinux
Web SitePro Creator
Softaculous
SSD disks
Unlimited MYSQL databases
Unlimited FTP accounts
Unlimited Subdomains
MegaHosting.cl keeps a sharp eye on the changes taking place in the technology space, incorporating emerging technologies to provide better hosting solutions to its clientele in Chile and beyond.
The vendor regularly updates and improves its server configurations for continued optimal performance. It uses powerful Dell servers which operate under Raid hardware and solid state disks (SSD) for faster loading websites.
MegaHosting.cl hosting plans are designed for all types of customers including those with resource-intensive websites. They come with lots of space, significant data transfer bandwidths, and corporate email accounts among other features.
This hosting provider's shared web hosting solution comes in three packages: Initial Hosting, Business Hosting, and Premium Hosting. Initial hosting is further divided into nine plans, including M-Personal Hosting, Hosting M-inicial, M-economic Hosting, and Hosting M-Diamont.
The most basic package offered by M-economic hosting is the M-economic plan, which provides 2GB of disk space, 20 email accounts, two MySQL databases, and the ability to send 100 emails every hour. On the other hand, the most advanced plan is the Hosting M-Diamont, which offers 80GB of disk space, unlimited email accounts, unlimited websites, unlimited MySQL databases, and the capability to send 1,000 emails every hour.
MegaHosting.cl performs offers backup services to its customers. The vendor performs these backups on a daily, weekly, and monthly basis, ensuring the safety of its customers' files following a data loss event.
Pricing and Support
MegaHosting.cl hosting plans are quite affordable and prices are listed on the vendor's website in Chilean pesos. The vendor charges its clients' accounts on a biannual or annual basis. The vendor offers free migration and a ten-day free trial instead of a money-back guarantee. The hosting provider also offers a 99.99% uptime guarantee.
You can reach out to the MegaHosting.cl technical support team via live chat or ticketing system. Although this vendor has not made available a support phone number, its support team is still available 24/7.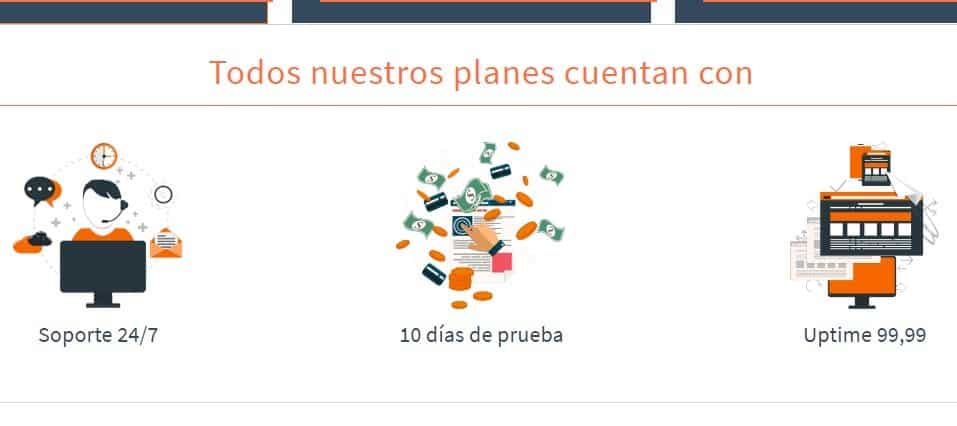 I contacted this vendor's support team via live chat but received no response. So, I tried getting in touch with them via ticketing system, and they responded to my queries after just under six hours from the time I opened a ticket.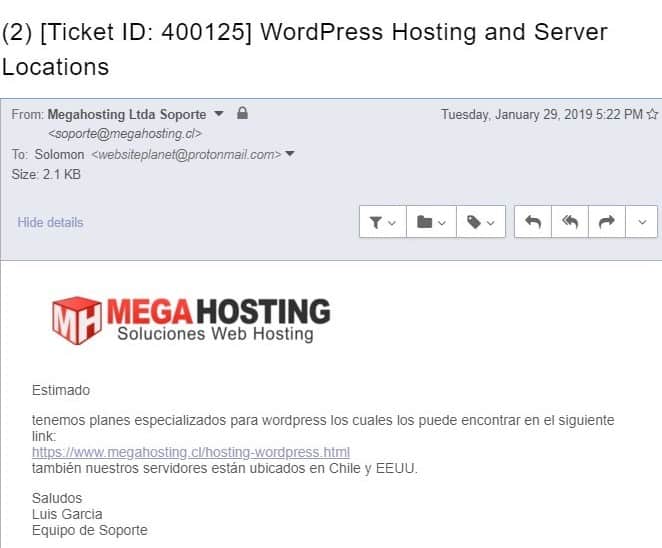 MegaHosting.cl knowledge base is practically empty. The hosting company has a video tutorials section but it does not contain any videos. Instead, the vendor has put up a "we will be back soon" sign.