Korean company Korea Center, the maker of 'MakeShop', was founded in 2000. Rather than being a pure website hosting provider, their focus is much more on the provision of online e-commerce stores. This company has grown from serving just Korea in 2000, to incorporating Japan and America by 2009, and then adding Germany and China by 2013. They have 500 local staff, 300 international staff, and multiple worldwide locations. Their website is in Korean.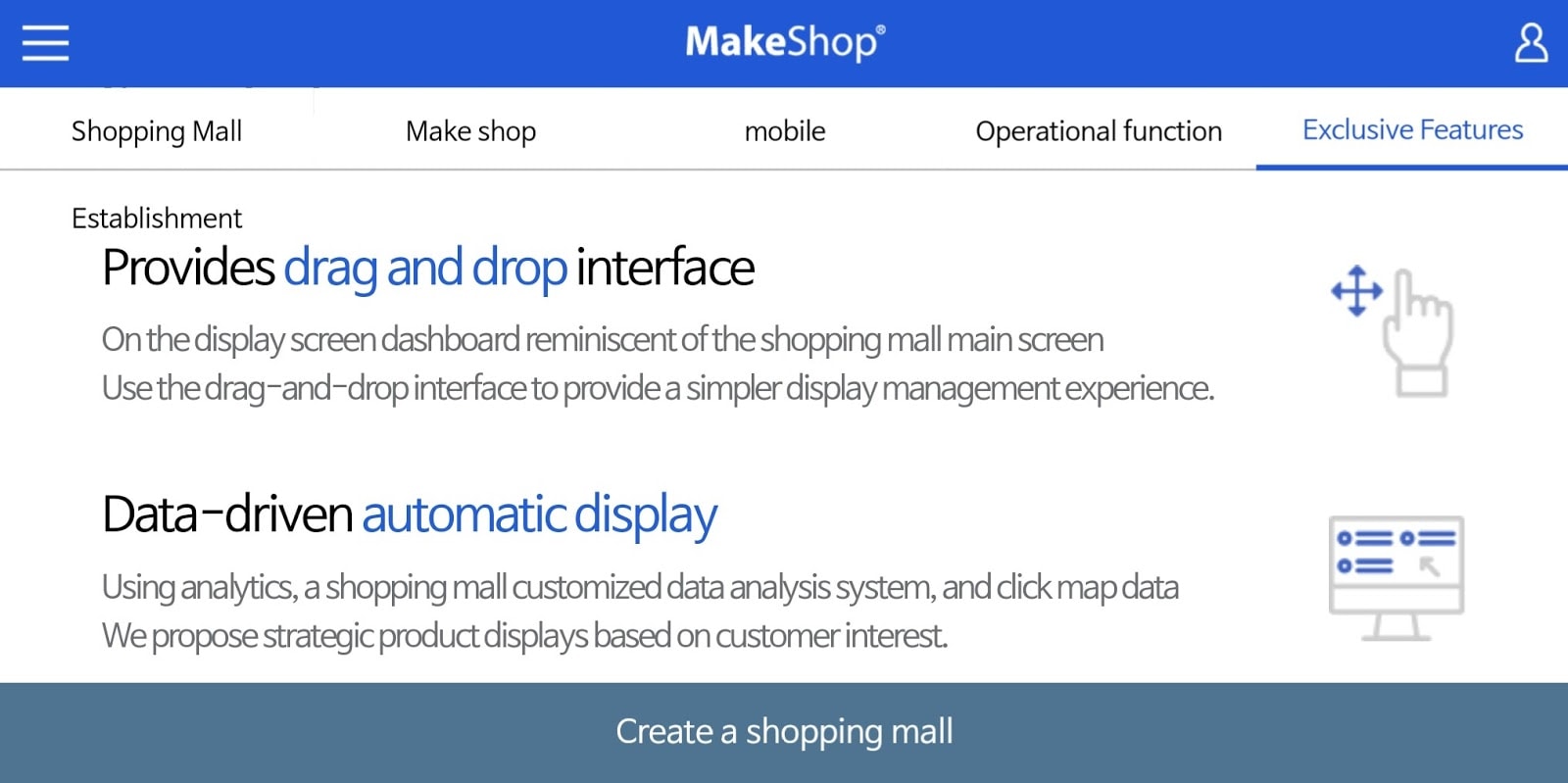 Features and Ease of Use
MakeShop is one of the many brands of parent company Korea Center, with this particular brand being described as "Korea's leading online shopping mall startup solution that provides everything you need to start an online shopping mall."
MakeShop's e-commerce packages include the following core features:
Responsive mobile-specific themes
Three months free support for new online stores
Free website design templates
Cheap domains available
Easy-to-generate reports for e-commerce order returns/exchanges/cancellations
As will already be apparent, MakeShop's unique selling proposition is their total dedication to e-commerce. They offer readymade store templates, an integrated checkout, reports for order analytics, mobile shopping functionality, and e-commerce marketing services.
While it's not so easy for me to dig down into the details of this company's data centers and servers, I have been able to deduce the following facts:
They use high-spec servers to guarantee a fast and secure operating environment
Servers are managed 24/7 by the IDC data center and are connected directly to the country's fast backbone network
Servers are replaced every two years
They have a 24/7 system to defend against distributed denial of service (DDoS) attacks
Pricing and Support
If you're looking to do e-commerce in Korea or from Korea, MakeShop may fit your brief exactly. If you're looking for more general web hosting, this is probably not the provider you're looking for.
Before you make a decision, we highly recommend you check out some alternative hosting companies, which we highly recommend.
Pros
Mobile-friendly e-commerce store creation
24/7 DDoS protection system
E-commerce education
Cons
Slightly overpriced
Limited customer support options
MakeShop's prices seem quite expensive when compared to regular hosting companies, but they're not a regular hosting company. For example, they shout about the fact that they provide for free what other companies charge for: an e-commerce payments system, mobile shop apps, and e-commerce consultancy/education. You need to add the cost of a domain onto their prices, but as you might expect from a company focused on e-commerce: SSL certificates are free. They offer a 30-day free trial on some packages, and three months free trial of their store templates.
The checkout process is quite confusing if (like me) you're not Korean, but it begins by first asking you choose whether you are an individual, business, or bigger enterprise. You are then presented with their terms and conditions, which you must accept before moving on.
You can reach the MakeShop Customer Center by phone on weekdays from 9.30am to 6.30pm, excluding weekends and holidays. Surprisingly, they even accept faxes, if you still happen to have this old technology lying around somewhere. MakeShop also appears to be dedicated to educating its e-commerce customers through various initiatives.