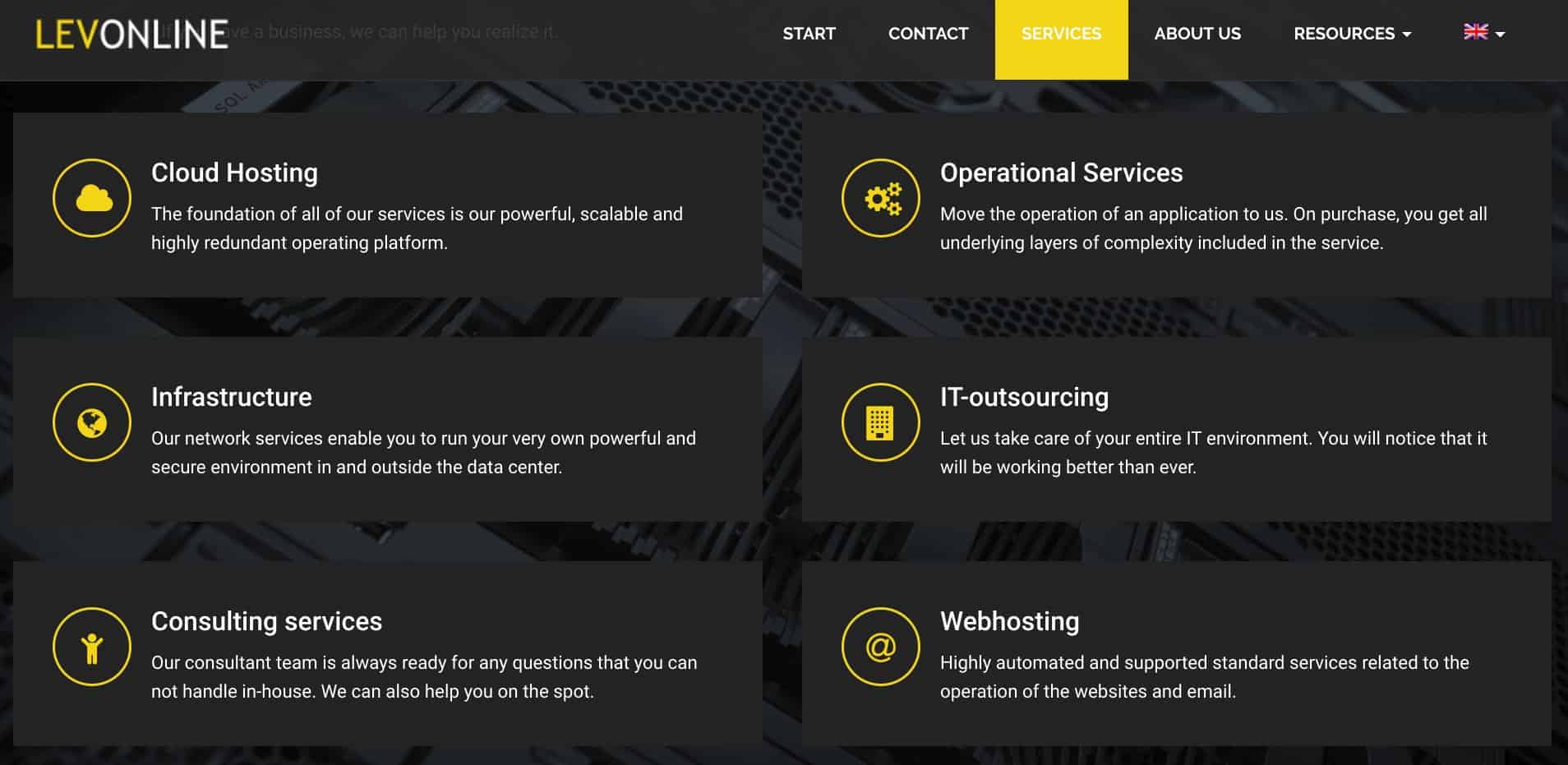 Swedish website hosting company Levonline has a simple responsive website that doesn't offer up too much information about the business itself. However, they are clearly a professional provider of customized web hosting packages. Their website homepage can be switched between the Swedish and English languages, but all of the other support and resources pages seem to be available only in Swedish.
Features and Ease of Use
Levonline's services include virtual private servers, managed servers, I.T. consulting, and regular shared hosting. The shared website hosting packages come with the following core features:
Daily, automatic off-site backups
From 20 to 200 add-on domains
Between 20 GB and 200 GB disk space
Between 20 GB and 400 GB traffic per month
FTP and SSH access
Free SSL certificate
Shared hosting plans come in four flavors: Economy, Business, First and Royal class. The Economy plan includes 20 domains, 20 GB of disk space, and 20 GB of traffic per month, so it's not such a small plan. Each subsequent plan gives you additional resource allocations of up to 200 domains, 200 GB of disk space, and 400 GB traffic on the flagship Royal plan.
Whilst beginners may miss a one-click installer and website building tool, experts will be pleased to see the following features aimed at them:
FTP access
SSH access on all but the most basic plan
PHP, Perl, Python, and Bash
Levonline doesn't clearly state an uptime guarantee, but it is mentioned that they aim for 100% uptime (who doesn't?) and that their own data center is fully redundant with two computer halls 40 miles apart. To top it off, they are ISO27001 certified.
Pricing and Support
Levonline does not display prices on its website, which is quite unusual for a shared website hosting provider, so you have to contact them via email or live chat to get a price. That's exactly what I did, to discover that their prices compare quite well with local companies (if not with international competitors) when you consider the inclusions and support for advanced features.
I love live chat, but Levonline hasn't always accepted my connection requests right away. However, they've always followed up with a quick and friendly email response. You can also reach out to the company via email, telephone, and tickets. My only concern is that their business hours from 8 am to 6 pm on weekdays might be limiting if you encounter a technical issue.
Levonline's website provides several resources sections including guides and FAQs, but it looks like you can't read these in English unless you let your browser do the translation for you.