Layer Next is an Indian website hosting provider with more than 3000 domains hosted on its platform. It operates out of multiple data centers in India and across six major cities in the United States, including New York, Chicago, Dallas, Orlando, Atlanta, and Los Angeles. The website is available in English.
Features and Ease of Use
Layer Next sells a wide range of services from hosting to website design and development. As standard, its shared hosting plans come with these common features:
99% uptime guarantee
Free weekly server backups
Domain registration available for purchase
Up to ten add-on domains
Free SSL certificates
Up to 10 GB storage space
Unlimited bandwidth
Weekly server backups are included in your plan. Alternatively, if you'd like them to be more regular, you can purchase daily backups as an optional add-on. You also have the ability to configure manual backups from your control panel.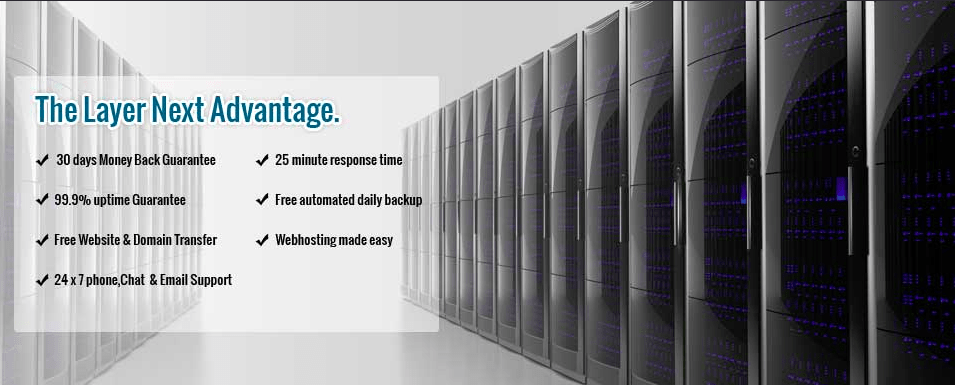 In terms of programming and databases, as you can choose between Windows or Linux operating systems. Correspondingly, the plans come with both Microsoft SQL and / or MySQL databases, and support for ASP, ASP.NET, PHP, HTML, Perl, Ruby on Rails, and Python. You can also use FTP and SFTP, along with SSH access.
To help beginners get started quickly, there's a website building tool with more than 700 templates and a one-click installer for around 50 programs. While the number of supported programs is rather limited, all the popular programs are included, such as WordPress, Joomla, Drupal, OS Commerce, and Zen Cart.
Layer Next offers some great flexibility. In addition to being able to choose between a Windows or Linux operating system, Layer Next gives you the choice of server location from the U.S. (New York, Chicago, Dallas, Orlando, Los Angeles, and Atlanta) and India (Noida, Mumbai, and Hyderabad).
You can also configure the base plans as needed during the checkout flow by adding more web space, mailboxes, MySQL databases, and so on. This makes Layer Next more flexible than most shared hosting providers.
Pricing and Support
The plans are well-priced, in line with similar companies both in India and abroad. This is especially so when you consider the customization options available.
There's a free SSL certificate with certain plans, but domain registration is always an added cost. You'll be limited to only one-year billing terms, though the 30-day money back guarantee reduces some of the risk of the lengthy contract.
The existing customer service operates 24/7 and can be reached by phone (an Indian number), email, and live chat. Additionally, you have the option to submit a ticket or request a call back. If you prefer to find solutions on your own, there is a small knowledge base available for reference.
Sales support is only available from 9:00 AM to 7:00 PM IST Monday to Saturday. I contacted Layer Next via live chat at noon on a weekday. Unfortunately, it was offline, so I needed to send an email via the chat window. I was pleased to receive an email response within one hour, answering my question in full.