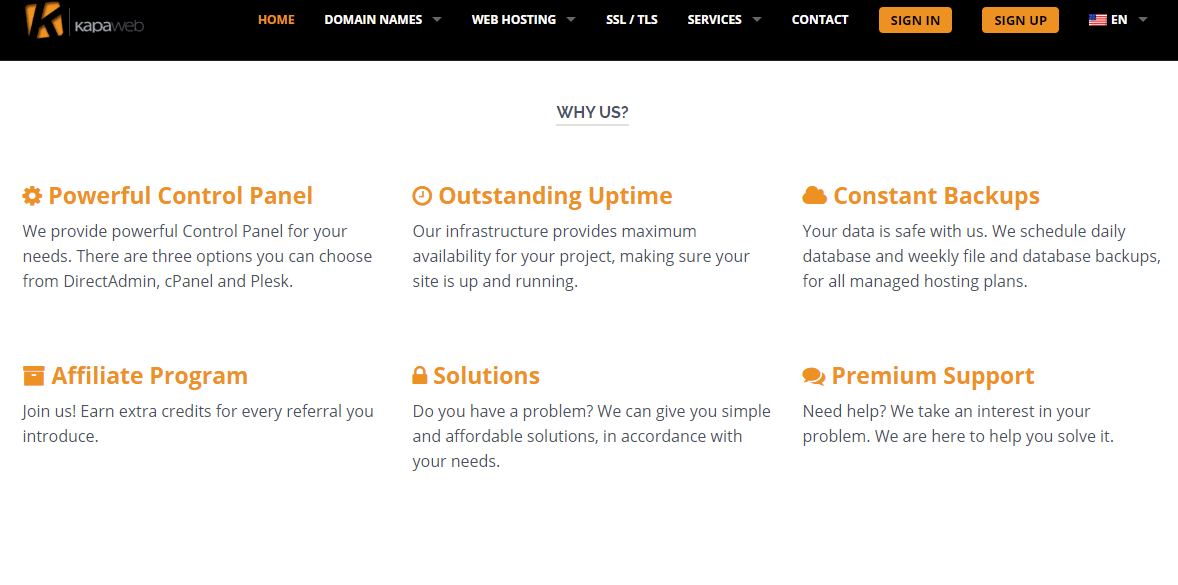 Founded in March 2009, kapaweb is a web hosting company that's based in Athens, Greece. It offers shared hosting, Virtual Private Servers (VPS), dedicated servers, and related products and services.
kapaweb's servers are located in Germany, Singapore, Finland, and other countries. Its website is available in English and Greek.
Features and Ease of Use
kapaweb offers shared hosting with servers in Germany and Singapore. These are suitable for small businesses and personal blogs. Here are the features that customers get:
99.9% uptime guarantee
Automatic weekly offsite backups
Let's Encrypt SSL
Anywhere from one to ten domains
2GB, 5GB, or 10GB storage
Don't you just hate to see unlimited bandwidth that ends up being truly limited? Doesn't everyone? The truth is that there's nothing like unlimited resources with hosting; there's always a limit documented in the terms and conditions or somewhere else. kapaweb understands this and is transparent with all resources on offer. That's why customers get up to 60GB bandwidth.
With regards to backups, while they are taken weekly, you can't restore them by yourself. If you need the backups, you'll have to contact support and pay a fee to have them restored for you. As such, you should always take manual backups.
kapaweb's shared hosting allows customers to pick the features they want, to an extent. You can pick your preferred control panel, operating system, and storage disk. HDD, DirectAdmin, and Linux are offered out of the box, but if you want cPanel/Plesk, Windows, or SSD, you can choose those before checkout.
The vendor provides MySQL databases with PHPMyAdmin access to all customers. Those on Windows OS get MSSQL and Access, as well. The programming language that it supports is PHP and you can switch between different versions.
Creating and hosting a website is one thing. Advertising it to get revenue is another, and something that many businesses struggle with. kapaweb tries to smooth that process a bit for shared hosting customers with a Google Ads coupon.
Large businesses and international E-commerce stores that need more resources and custom configurations can take any of its dedicated servers or VPS plans. The dedicated servers are housed in Germany and Finland, while customers can get VPS in more countries based on their request.
Pricing and Support
kapaweb doesn't offer cheap hosting, but its prices aren't unreasonably expensive either; they lean more towards the middle range. There's no setup fee for shared hosting, but you will be charged one for VPS.
Also, if you choose Windows OS, cPanel/Plesk, or SSD, you'll be charged more. The shortest duration for shared hosting is six months and there's no discount if you take a longer duration. There's no money-back guarantee, as well.
Payment options are bank transfer, debit/credit card, and PayPal.
I liked the fast customer support response. I sent an email and received a response in less than three minutes.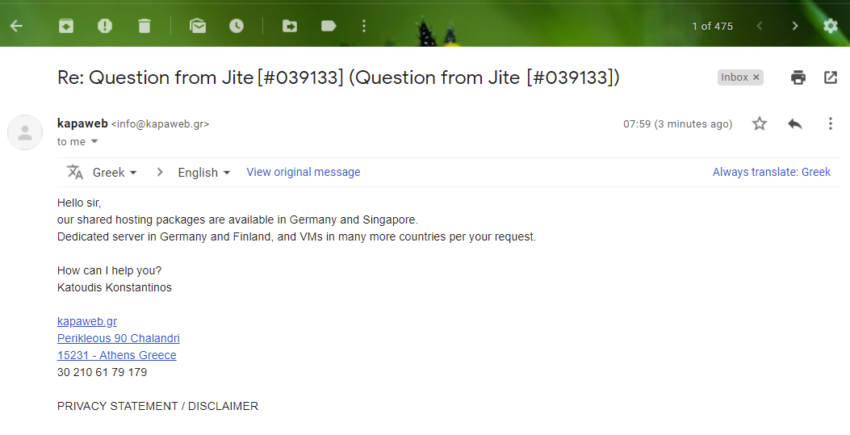 The other customer support options include live chat and phone. The one downside I noticed is that they don't have a knowledge base.