Russia-based Jino, also known as Gino, is a hosting provider that's been in operation since 2002. Jino boasts a large client base of 300,000 customers and offers a wide range of hosting solutions including shared hosting, VPS as well as CMS cloud hosting. It also sells a website builder (Jino Landing) and domain registration services separately. All servers are located in a data center in Moscow, Russia.
Although Jino has an information-packed website, it's a bit messy and entirely in Russian. All prices are displayed in Russian rubles.
Features and Ease of Use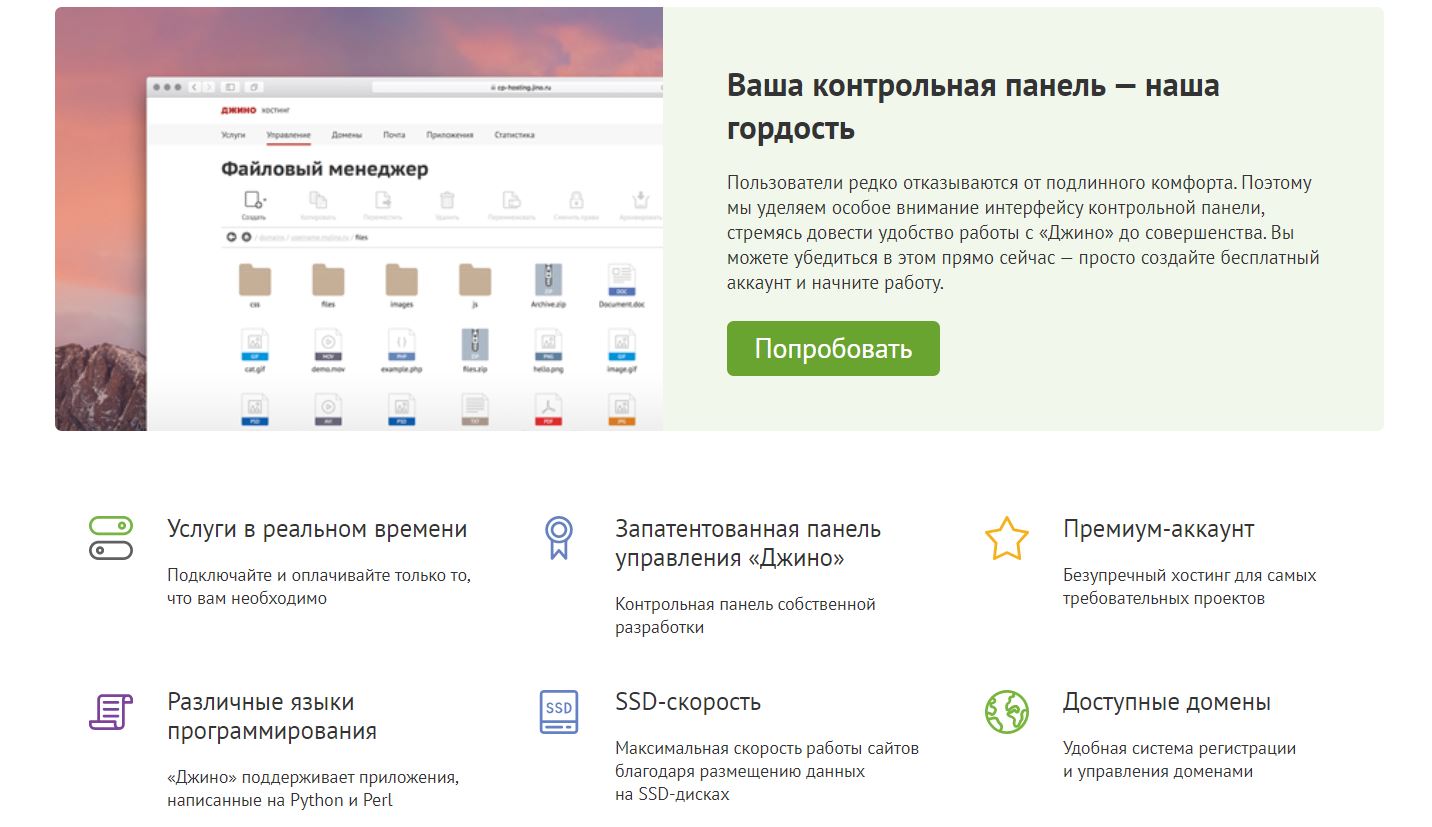 For the sake of this review, I'll focus mainly on Jino's shared hosting service. It comes in three main categories – Minimum site, Standard site, and Corporate website. 
As the name suggests, the Minimum plan comes with bare bone features limited to your choice of the number of domains, FTP accounts, and disk space. On the other hand, the Corporate package gives you the ability to have more options such as PHP support, MySQL databases, mail service, SMTPservice, and dedicated IP.
The good news, you can customize any plan by adding only the services you need for your website.
Here are some key shared hosting features you can look forward to:
99.98% uptime
SSD storage
PHP, MySQL, and SSH support support
Custom control panel
1C-Bitrix
phpMyAdmin, CGI, SSI, Python, and Django
Dedicated IP address
PostgreSQL DBMS
Cron Jobs
With a disk space ranging between 100 GB and 500 GB, 100 to 1000 domains, and 100 to 500 FTP accounts, Jino's shared hosting options are ideal for users who have heavily trafficked websites or those who need large space for their videos and photos. The SSD powered disk space is also great for faster loading speeds.
While Jino doesn't provide well-known control panels such as cPanel or Plesk, it does offer its own developed, user-friendly, and comfortable control panel. The good thing, I didn't find any negative user reviews or complaints about this panel.
Jino also offers free Let's Encrypt SSL certificate through the control panel and you're free to install your own – if you want.
Pricing and Support
Compared to its international competitors, I generally find Jino's prices, which already include VAT, quite satisfactory. Even when factoring in some addons, the total cost won't burden your finances, especially since you have the autonomy to select what enhancements to include in your plan.
This vendor also offers a 10-day free trial and discounts. It also offers multiple payment options including WebMoney, Qiwi, Yandex Money, RBK money, bank transfer, credit cards (Visa, MasterCard, Maestro, and Mir), and SMS.
Support is really good with this hoster, from a comprehensive help center and FAQ section to a responsive, English spoken email customer service. I sent some general questions and received a response within less than one hour: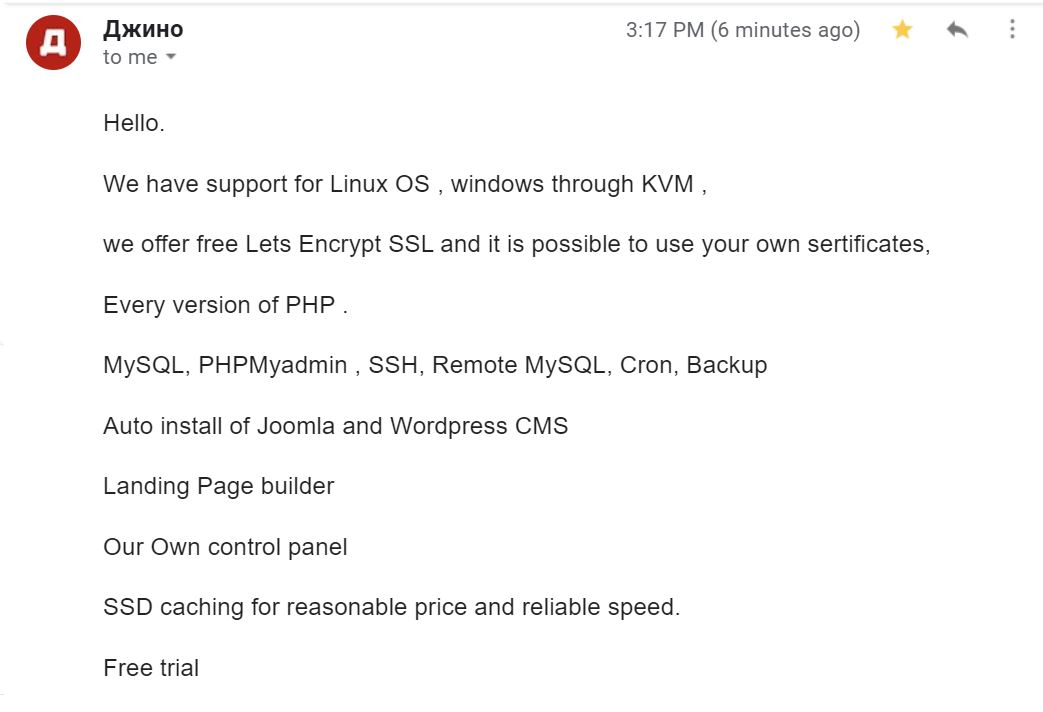 There's also a live chat channel for technical issues, but sadly, the live chat team speaks Russian only, which isn't convenient if you aren't familiar with the language. Phone support is also available.