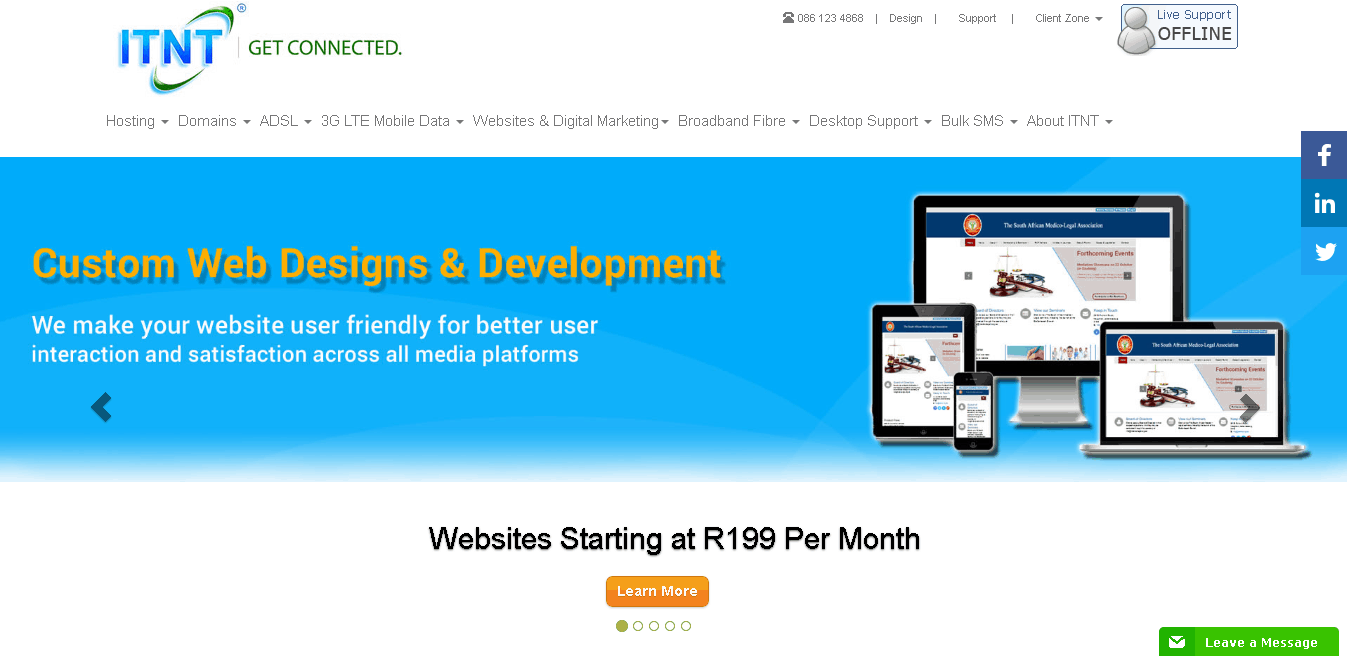 InTheNet Technologies (ITNT) has been in business since 1999 and has been providing versatile Internet solutions in South Africa. It has its headquarters in Johannesburg and the website is available in English.
Features and Ease of Use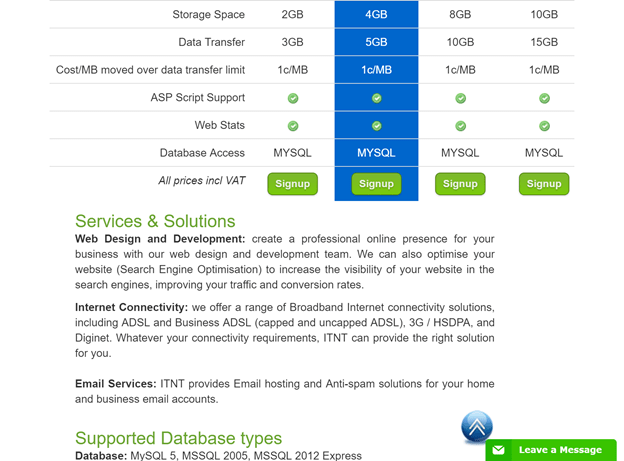 ITNT hosting services include website hosting, rank hosting, dedicated servers, virtual cloud hosting, small business servers, and site builder. The website hosting includes both Linux and Windows hosting packages.
Here is a quick list of value-added features that you will get when hosting with ITNT:
PHP 5.3 support
Pre-installed applications in your hosting account
ITNT control interface with website analytics
High-speed internet bandwidth for your website
Weekly and monthly website backups
All web hosting is done on servers with a fully managed firewall and features 99.9% uptime guarantee, free .co.za domain names for every new hosting plan, and weekly and monthly backups. You also get a free website building platform to create a website at your own convenience.
The Linux web hosting package has nine plans, all of which come with free setup. The most popular plan from this lot comes with 3GB hosting storage space and unlimited monthly web traffic. This is enough to comfortably host a high demanding website.
The Windows web hosting package doesn't come with free setup and has four plans. It starts out with 2GB storage space and 3GB data transfer, and can later be upgraded to 10GB storage space and 15GB bandwidth. This package supports MySQL 5, MSSQL 2012 Express, MSSQL 2005, ASP, and ASP.NET extensions.
This vendor isn't exactly a beginner-friendly web hosting provider. Apart from the free website builder, it doesn't offer any free SSL certificates, free website migration services, easy-to-use control panel, or one-click script installer.
Pricing and Support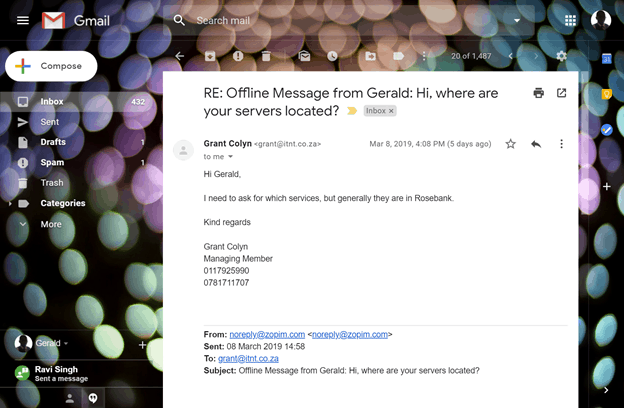 ITNT offers slightly expensive prices, but they attempt to make it more appealing by offering promotions for longer contracts. The Linux package includes free setup, whereas the Windows package does not. However, neither of these packages supports multi-domain hosting on their entry-level plans.
Sadly, it also doesn't offer any money-back guarantee and the SSL certificates can be bought separately from the likes of GeoTrust and Symantec Secure Site. If you have no technical background, you might find this to be daunting plus transferring your website from another vendor might cost you too.
The Linux hosting package comes with monthly, quarterly, semi-annual, and annual billing terms whereas the Windows one only has a month-to-month contract. In addition, the payment options are limited to credit or debit card payments.
For a vendor whose website doesn't provide much information on the hosting features, it would be helpful if there was a detailed knowledge base for customers to find information. This is, unfortunately, not the case here as the knowledge base only contains few hosting items and won't be of much help.
Customer support channels include live chat, pre-sale tickets, and phone. I tested this out by submitting a question via live chat but unfortunately, they were offline. To my surprise, one hour later, they answered my question via email. You don't need to worry about live chat being offline, just submit your question and wait as I did.