The vision behind itITCH is based upon security and the right to have your personal information stored safely. They have opposed governments asking for access to their servers and have set up three secret locations around the world for their secret servers. By accepting Bitcoins, they ensure people can own websites without giving away any personal information.
Features and Ease of Use
The feature I love most is the website builder they offer. They call it an 'idiot-proof' website builder that promises to turn you into a professional website designer, irrespective of whether you have any website programming experience or not. They offer over eighty-five-thousand pictures in their databases which is staggering. Additionally, they offer over 180 themes, more than 30 dynamic components, SEO, built-in statistics, and blog portability. You can try the demo version on their website. As far as I can tell, it is the perfect tool to create your own website without worrying about the technical details. It also comes with its own website and email hosting package.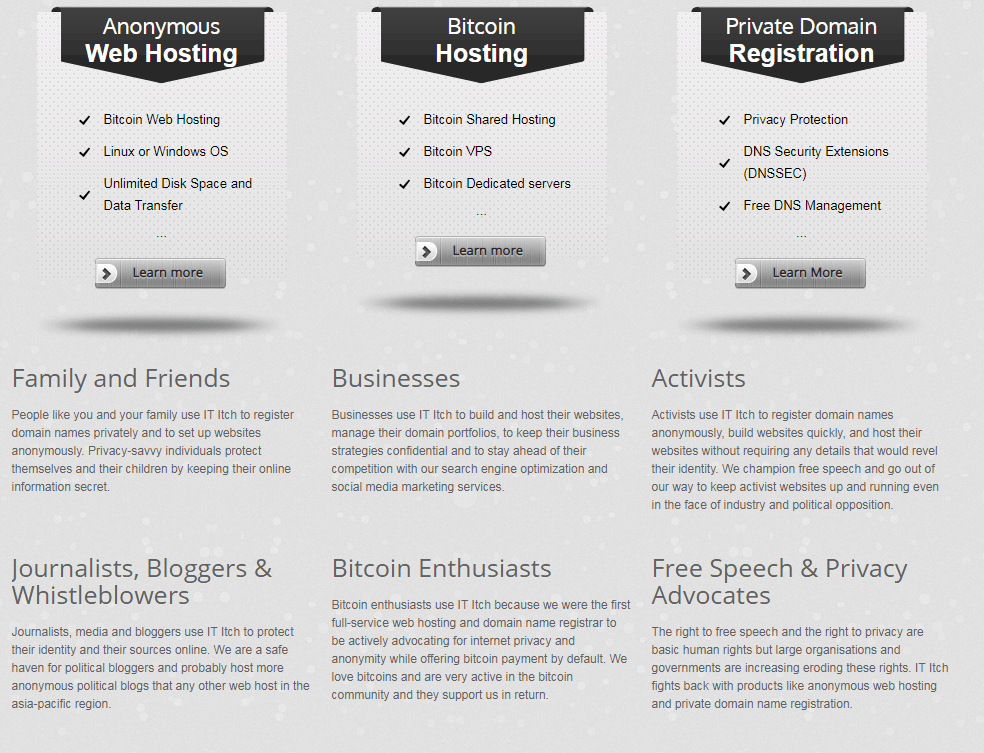 cPanel/WHM control panel is included in your hosting package which makes managing websites easier with its user-friendly and intuitive interface. Your server comes installed with CentOS6.5 which is the latest version of the enterprise-grade Linux operating system. It also includes a pair of 1TB SATA drives(7200 RPM) in RAID 1.
You can use SSL certificates, add a dedicated IP as well as use Secure Shell to further secure your website. All these services can be easily managed from the control panel. To manage your FTP accounts, you can access the data from the management dashboard and stay in control of your website at all times by monitoring who accesses your website data. All these features ensure your websites stay safe both for you and your visitors.
Pricing and Support
There are three packages and all of them are explained in simple language. You receive unlimited bandwidth and unlimited disk space for all the packages. These three packages are differentiated by the place of hosting. The servers for each of these packages are hosted in Asia-Pacific, North America, and Europe respectively. Unfortunately, their website doesn't give other information about the individual packages, but my impression is that they offer all the regular features you would expect from a hosting company. What makes them special is that they also accept Bitcoins. This means you can host websites anonymously!
You can reach them through the toll-free telephone number or by submitting a ticket. They have a knowledgeable section that answers most of the questions you may have. In fact, if you go to that section, you will realize they do offer the usual hosting features that they haven't displayed on the packages page. There's no live chat but you can easily get in touch with them through email to ask for packages detail.