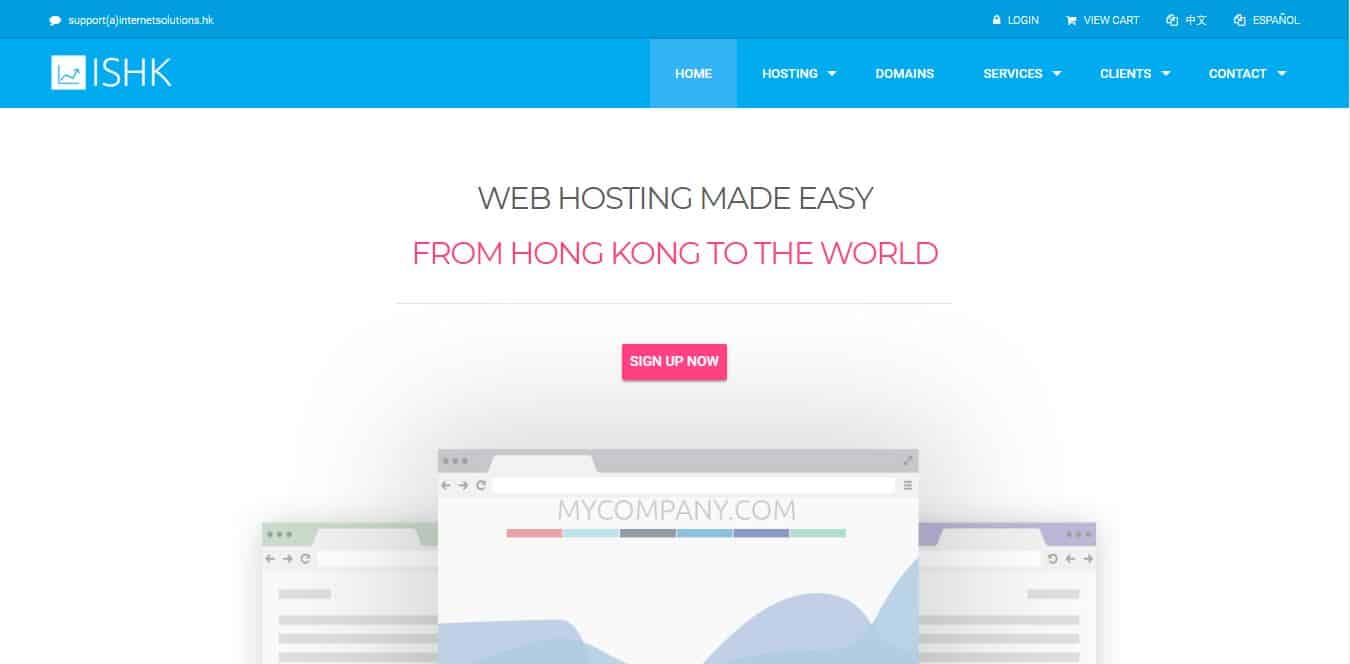 Internet Solutions Hong Kong (ISHK) has been a 100% Hong Kong owned and operated hosting service provider since 2009. One of their chief selling points – which could be a game changer for your business – is that they provide
servers open to China with no extra Internet Content Provider (ICP) requirements
. Their website can be switched between English, Spanish and Chinese.
Features and Ease of Use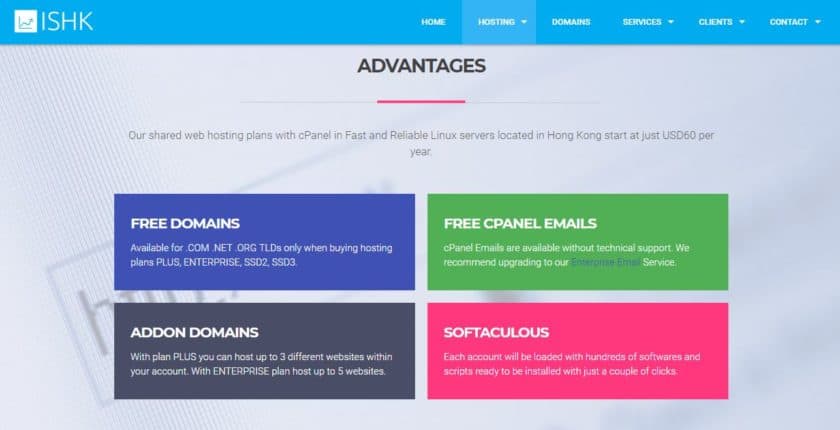 ISHK is a very complete hosting service provider that offers:
99.9% uptime guarantee with all plans
Automatic weekly backups to a remote facility
Domain registration for .com, .net, and .org domains included free with web hosting
Single and multisite hosting plans available
Free SSL certificates provided with most plans
15 to 60 GB of bandwidth for shared web hosting, and unmetered bandwidth for VPS
Relatively low storage limits for web hosting, but SSD options are available
DNS management, ID Protection, and email forwarding as paid extras.
All ISHK's products support the latest PHP, Apache 2.4, LiteSpeed, MySQL, and .htaccess. Further proof of their quality is that they partner with huge names like IBM, Aliyun, Intel, and Amazon for their facilities and technologies.
With a cPanel and Softaculous license, you'll be able to install WordPress or any other apps you need. You can also set up a free email service with cPanel but bear in mind that ISHK provides more reliable enterprise email packages with their own dedicated storage. They don't provide any application-specific hosting, so you'll need to set this up yourself.
Although it costs more, it's great to have the option of SSD hosting for superior performance. SSD shared hosting comes with CloudFlare CDN for even better speed-to-market. For VPS plans, you can get huge resources of up to 500 GB SSD storage, 128 GB RAM, 32 CPU cores (Intel Xeon), and 5 Mbps network connections. You can also choose from a number of OS distributions including Windows. You can make your VPS experience even more hands-off and convenient by signing up for their extended management services.
ISHK's unique selling point is that they provide servers that are visible to the Chinese market with no additional Internet Content Provider (ICP) certification being necessary.
Pricing and Support
From the very start, ISHK wants you to feel reassured when choosing their platform. They offer both a 7-day web hosting trial (which you have to contact them for) and 30-day money-back guarantee. Note, however, that VPS only has a 1-day money back guarantee.
Shared web hosting products have pretty standard pricing and are good value for money considering the features, freebies, and Chinese location. The lowest 'Regular' shared hosting plan is a little less worth it (than the higher plans) because it does not include an SSL certificate. Some of the freebies you do get with all shared hosting plans are the cPanel license and weekly backups. If you choose annual billing for shared hosting, you also get a free domain name for .com, .net, or .org top-level domains.
VPS plans are pared back to the bone; they don't come with a free domain and you'll have to purchase a cPanel license. However, you can opt for a Windows VPS at no extra cost, and there is unlimited bandwidth. They also provide server management for a price that's comparatively low.
For their shared hosting, you can choose between annual and biennial billing, while VPS hosting provides monthly, semi-annual, and annual billing.
All ISHK hosting products come with 24/7 customer support via a ticketing system only. The support staff can be a bit slow to respond, and it usually takes a few hours. But it can be well worth the wait because they are super-helpful and knowledgeable. You can also support yourself thanks to the knowledge base that contains self-help guides on all the most important aspects of your hosting solution.