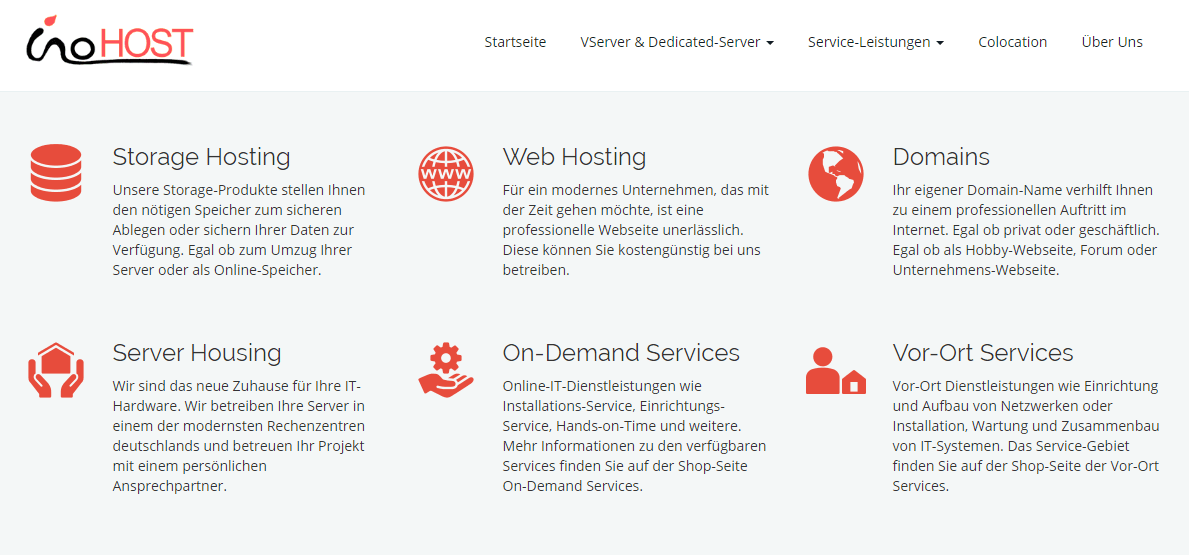 InoHost is a new hosting provider operating out of its offices in Germany. The company's website footer text suggests that the brand was launched in 2018.  Its primary service is the delivery of virtual private server solutions, but it also offers domain hosting, web hosting, storage hosting, and cloud hosting. InoHost has
five data centers
in
three countries
.
Features and Ease of Use
InoHost has dedicated servers for all categories of customers ranging from private customers to companies. Customers that purchase a virtual server plan from this provider can expect the following features:
Intel processors
64bit operating system optimization
Full access
Deployment within 72 hours
 Fixed traffic per rate
Gigabit uplink for each server 
Linux and Windows Compatibility
24/7 monitoring by InoHost NOC
Reverse DNS 
Depending on your needs, you can book backup storage, additional IPs, higher traffic allowance, and a complete managed VPS service separately.  You can also choose between HDD and SSD storage options. A hardware firewall protects the entire server environment, as well.
InoHost mentions on its front page that it offers web hosting and domain hosting services. However, there are no specific pages where these services are discussed.
The brand offers an on-demand IT solution service where it provides IT infrastructure relocation services and a sys-admin solution. It claims a quick response for all installation, backup, maintenance, and system expansion call outs. The company sends only highly qualified technicians and system administrators with knowledge of all advanced practices of network technology.
Pricing and Support
InoHost VPS server solutions are averagely priced. There is, however, only a monthly billing cycle and users can only pay in euros.
There is no subscription fee data on the website for other services the company offers. Customers have to send an email and wait for a quote. Similarly, there is no provision for adding items to the shopping cart, making it a chore to complete the checkout process. The inability to checkout also makes it hard to assess possible add-ons or modes of payment available at a glance.
InoHost does not offer any server uptime guarantees, but claims that servers are monitored round the clock to ensure availability.  There is no refund policy or any test-period.

To contact InoHost, you can call their German office, send an email, create a support ticket, or use the contact form.  There is no live chat function or a knowledge base section.