InfoBoxCloud is a very well established Russian company. Founded in 2002, they now have more than 300,000 customers and 500,000 websites that are served out of three Russian data centers. Their website is available only in Russian unless translated by your browser.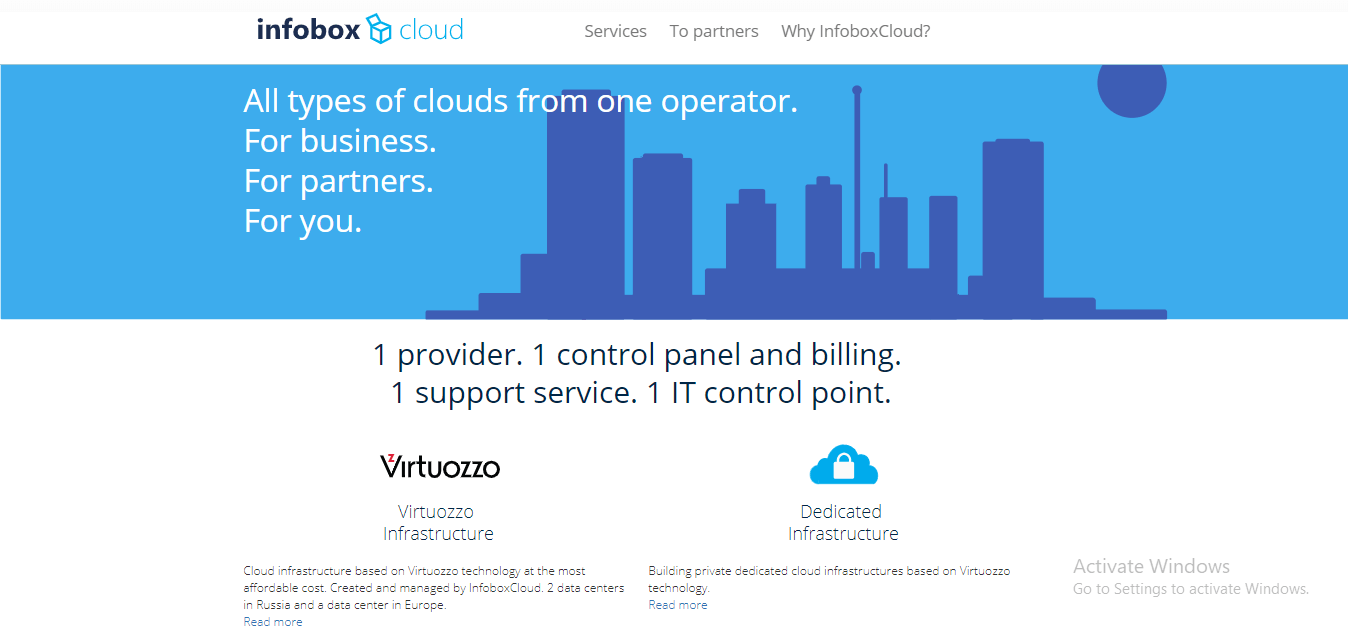 Features and Ease of Use
InfoBoxCloud only offers cloud services: virtual private cloud servers and dedicated cloud servers. As standard, their plans include:
Guarantee 100% uninterrupted data centers
Russian or European data centers
Free Let's Encrypt SSL certificate
Linux or Windows support
High-speed solid state drive (SSD) storage
Ability to Increase or decrease the resources at anytime
This company has its own data center located in St. Petersburg, Russia, and it makes use of a second EvoSwitch data center in Amsterdam, Netherlands. The Amsterdam data center, which they describe as one of the largest and most reliable data centers in Europe, guarantees uptime performance of 99.999% backed by SLA. The Russian data center doesn't offer an explicit uptime guarantee, but they do state that they aim to guarantee 100% uninterrupted work. They use SSD storage for faster disk read speeds than traditional disk drives.
This company's two main offerings are their Virtuozzo Infrastructure and their Private Cloud (aka Dedicated Infrastructure):
The Virtuozzo Infrastructure is powered by intuitive Odin Automation for cloud infrastructure, and it uses Virtuozzo's virtualization technology for virtual machines and containers. InfoBoxCloud in a Odin Platinum Partner.
The Private Cloud solutions are based on Virtuozzo technology and the Windows Azure Pack that is aimed at enterprise data centers and applications. InfoBoxCloud is a Microsoft Gold Partner.
Pricing and Support
Each of the InfoBoxCloud service pages includes a "Calculate the Cost" button, which unfortunately doesn't seem to be working. To give this apparently well-established company the benefit of the doubt, I checked their prices on some third-party websites where the prices seemed to be in line with – if not a little lower than – similar hosts.
Their customer service provision is commendable, and they promptly responded to my request(s). You can access their 24/7/365 support through telephone and ticket, and they have a comprehensive help center on their website, along with numerous social media channels.