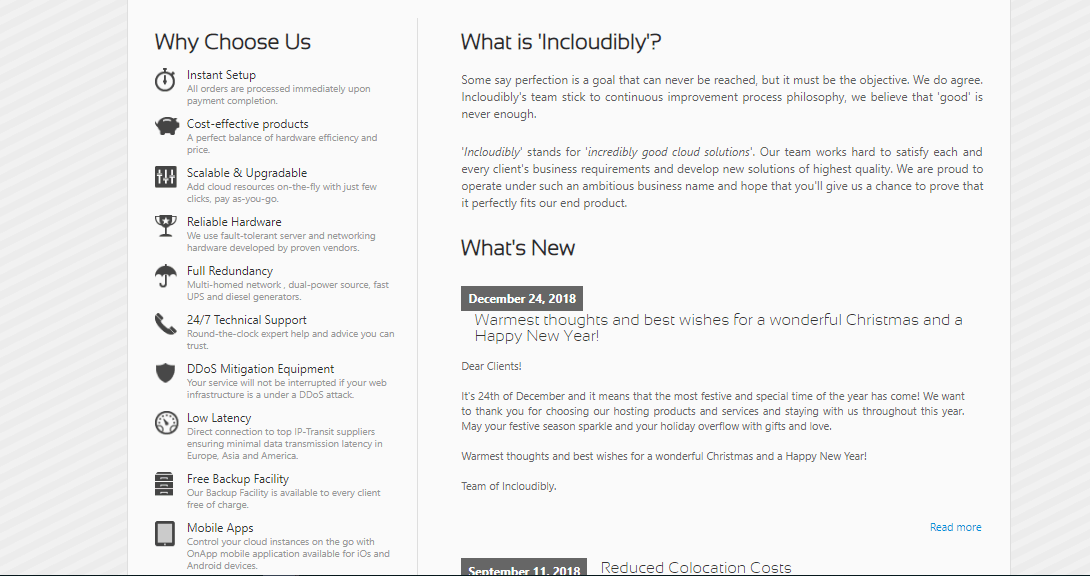 Incloudibly is a Switzerland-based web hosting company that began operations in 2012. This vendor is privately owned and delivers its solutions in partnership with Solar Communications Gmbh. Its hosting services include both preconfigured and customizable offerings. The solutions include dedicated servers, VPS hosting, cloud solutions, colocation services, remote DDoS protection, and Minecraft servers.
Features and Ease of Use
Incloudibly hosting packages come with the following standard features:
Instant setup upon completion of payment

Scalability and upgradability

Full redundancy and fault-tolerance

DDoS mitigation

Low latency

Free backup services

OnApp mobile application
Incloudibly has invested in high-end hardware with multiple redundant connections to ensure that it consistently delivers on its promise of a 99.9% uptime guarantee. Its data center is located in Zurich, Switzerland, the geographical center of Europe.
This hosting firm leverages this location to make a case for itself as the perfect hosting company to host businesses that want to be readily available to people across Europe. What's more, the exceptional stability of Switzerland and its position as a noteworthy financial and technological hub of Europe further helps the hosting company convince potential customers to try out its solutions.
Incloudibly has made efforts to ensure that all the equipment, software, and network that it uses are self-owned to avoid the risks associated with leasing equipment from a third party. In addition, this serves as an extra layer of security to the hosting solutions it provides.
As a customer-oriented company, Incloudibly offers its customers free technical assistance, including installing operating systems. The vendor has a free backup system that goes a long way in establishing business continuity for all of the websites it hosts.
All of its hosting packages come with free 10Gb/s DDoS protection that defends a user's cloud infrastructure and dedicated servers from TCP/UDP-based attacks, essentially mitigating the website against up to 90% of all known attacks.
Pricing and Support
The prices of Incloudibly hosting solutions align with what you would expect from a hosting vendor of its caliber. The prices are listed in Swiss francs, euros, and U.S. dollars. The vendor includes a billing cycle scale where users can adjust their preferred billing cycle. However, the bar seems static; I tried unsuccessfully to adjust the billing cycle from the default 12 months.
Incloudibly does not appear to have a money-back guarantee.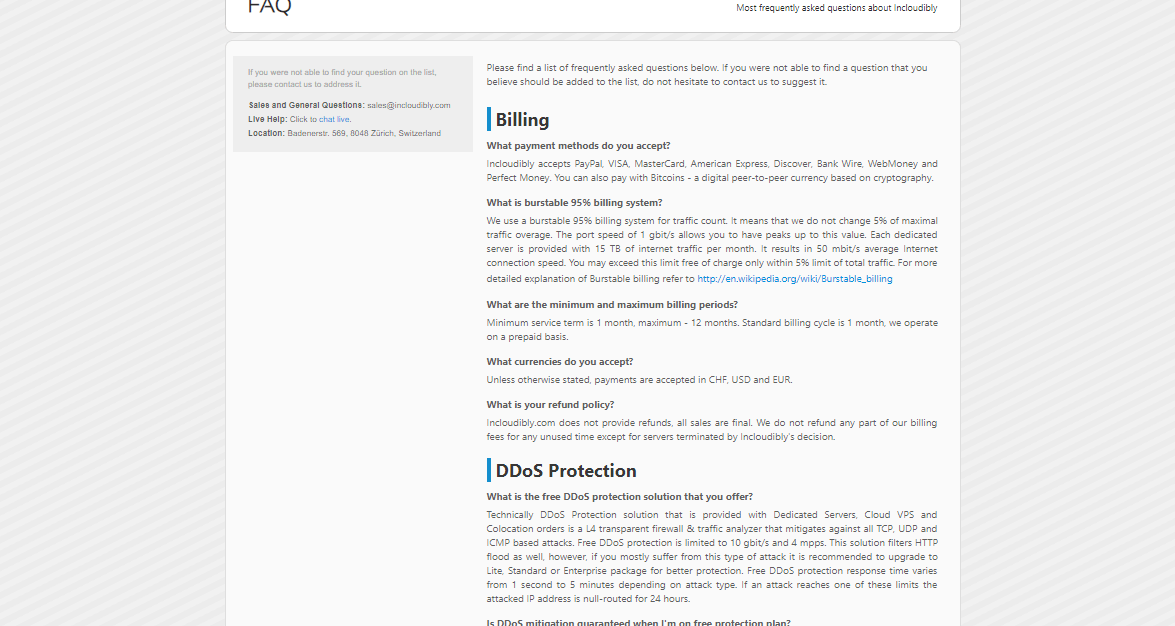 To contact this vendor, you can send them an email, start a conversation via live chat, open a support ticket, or send them a message via their website contact form. I sent a query to their support email address and received an extremely brief response in eight hours. The vendor hardly addressed the issues I had raised in my query email.

Incloudibly does not have a knowledge base section, but its blog has many articles that can serve as guides to most of the common issues webmasters will face when using its hosting solutions.