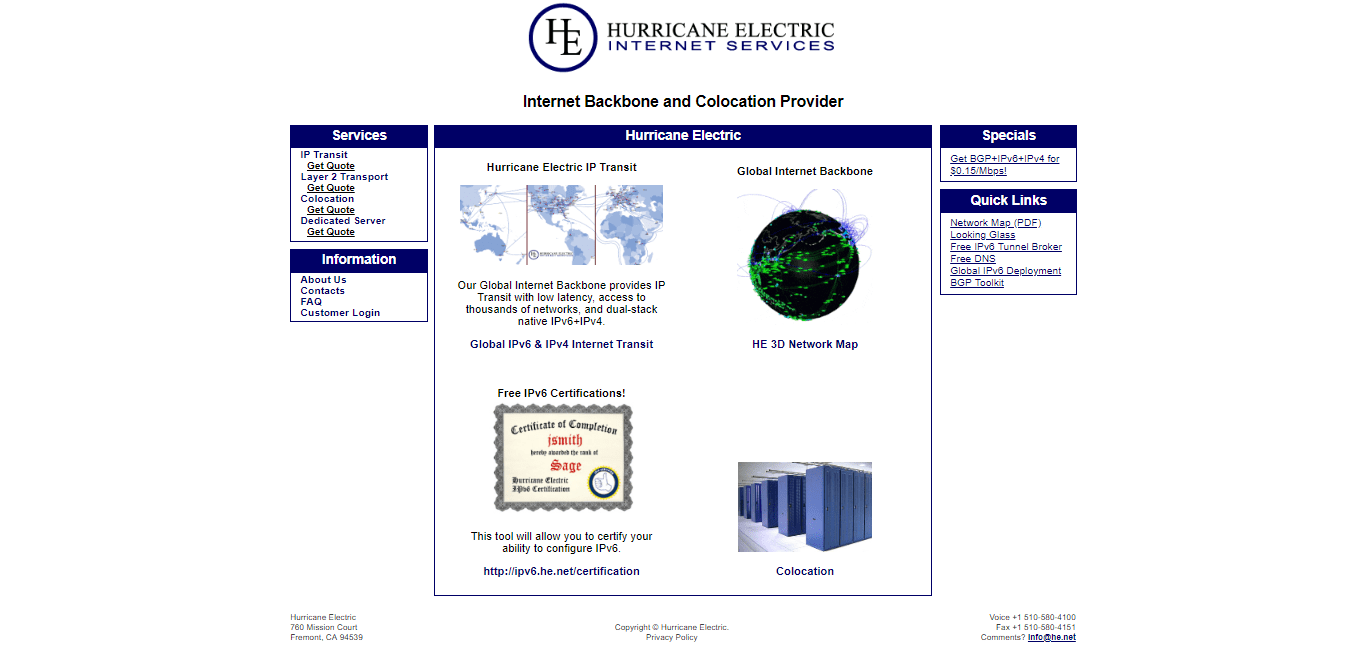 Hurricane Electric was founded in 1994 at the birth of the internet, and has been a provider of related services since. Their main headquarters are based in Fremont, California and they operate in three U.S. data center facilities with two in Fremont and 1 in San Jose. The HE.net global internet backbone has a presence on four continents with over 80 "Points of Presence" in the U.S., over 60 in Europe, ten in Asia, and two in Africa. While they don't offer web, VPS, or cloud hosting, they specialize in dedicated server resources as well as global IP transit infrastructure.
Features and Ease of Use
What Hurricane Electric does and doesn't offer:
No domain registration
No SSL certificates
Backups are provided with dedicated servers
Since Hurricane Electric focuses on providing server resources as well as global IP transport services, they don't really offer anything to do with standard web hosting. You'll need to go elsewhere for SSL certificates, domains, and handle your own migration. However, they provide top-notch facilities and infrastructure.
All of HE.net's dedicated servers are monitored and managed 24/7, which means you'll have much more ease of mind opting for their products. Their facilities have backup energy and are climate controlled, and they have plenty of proprietary security of modifications to protect their facilities as well as their customers' solutions from an outside attack. You can also upgrade your resources at any time with just a request. The best feature is the fact that you'll have access to HE.net's global internet backbone with up to 1000 Gbps connections. You can opt for Linux, Windows, or FreeBSD distributions.
Their global internet backbone not only gives an advantage to their hosting customers, but also allows you to set up IP transport services across the globe. This can help you connect different business locations as well as gain greater speed to market wherever your visitors are. All core nodes have at least 100 Gbps or multiple 10 Gbps core connections, and can support IPv4 or IPv6 on the same connection.
Pricing and Support
Unfortunately, it's hard to get a good idea of HE.net's prices as almost all of their prices are determined on an individual basis by requesting a quote based on your needs. They offer dedicated server rental, colocation services, Layer 2 Transport, and IP Transit services.
You don't need to pay any monthly fees to telecommunication service providers or buy your own router or switch with their dedicated server plans. Your price will be affected by the OS of your choice combined with your backup needs and whether or not you select root access, usage stats, monitoring, and offsite storage servers as extra features.
They also offer a range of options if you're in need of server colocation. Prices start at $400 per month for a single (42U) cabinet and 1 Gbps connection. You can upgrade this connection to 100 Gbps and select as much rack space as they have available.
Lastly, they have an IP Transit service between their "Points of Presence" in data centers located around the globe.
HE.net operates its main offices in Fremont, where they offer technical support services. They also have technicians available 24/7 at their data center facilities. You can contact their technical support through email or the provided phone lines. While they may not be the most easily accessible or prompt in their replies, their staff is evidently knowledgeable and capable of swiftly resolving issues with the assistance of their on-site technicians.