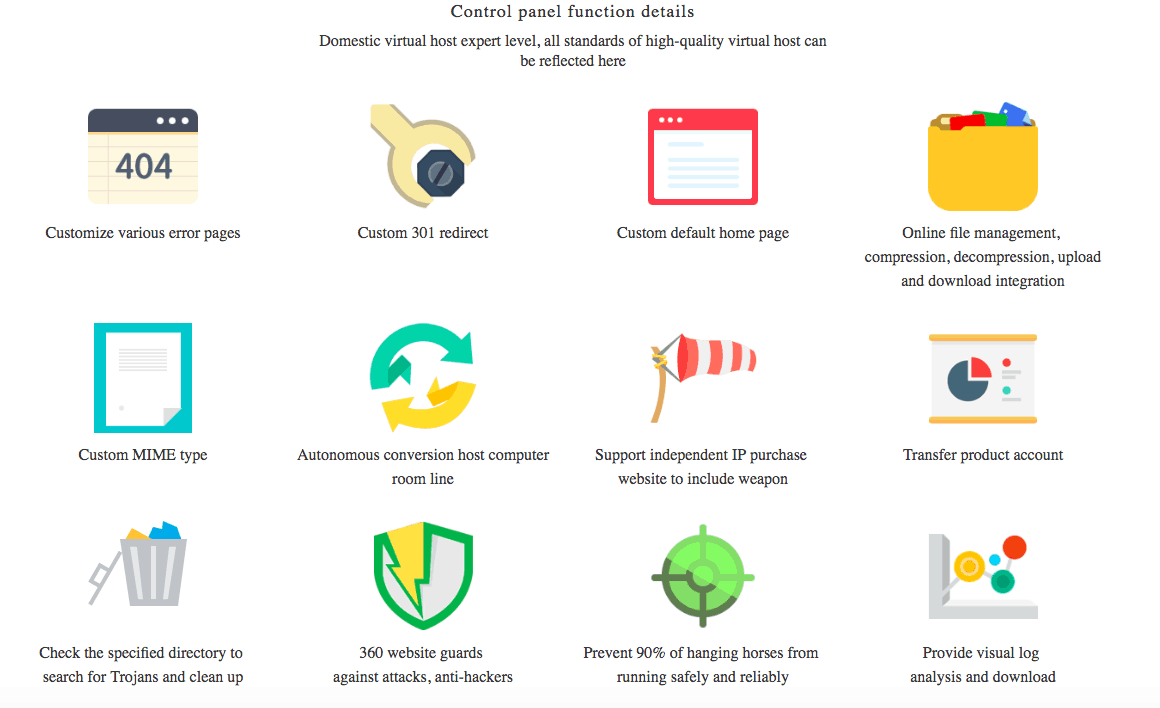 Huaxia Mingwang has been providing Chinese hosting services since 2002. Its
tens of thousands of customers come from 31 provinces, cities, and regions across China including Hong Kong, Macao, and Taiwan, as well as Europe, the U.S., and Russia
. The website is provided in Chinese.
Features and Ease of Use
Huaxia Mingwang offers lots of different hosting services, however, its standard shared hosting plans come with these features:
99.99% service availability (VPS)
Offsite backup and management
Domain registration available
SSL certificates available
From 200MB to 4GB disk space
Unlimited bandwidth
There's quite a lot of choice when it comes to the shared hosting plans. First, you can choose between Windows 2003, 2008, or 2012, and Linux operating systems. Second, if you select one of the "Overseas" plans, you can choose to host your data on Hong Kong or Silicon Valley based servers.
Both the Linux and Windows plans support PHP versions 5 through 7, while the Windows plan also supports ASP and ASP.NET. There's FTP access and you can schedule specific tasks to run on your website. For ease of use, there is a one-click installer for 300 programs including WordPress, Joomla!, and Drupal, as well as a custom home page to get you started.
There's plenty of security features which come as standard with the virtual hosting plans e.g., protection against attacks and hackers, a specified directory to quarantine and clean up Trojans, and offsite backup and management.
Pricing and Support
The prices listed are in Chinese Yuan and for one year. Given the level of resources and features, the plans are reasonably priced. Take note that you'll still need to buy an SSL certificate and domain name on top of the hosting plan. However, unlike lots of companies, Huaxia Mingwang does not overwhelm you with masses of add-ons in the checkout flow.
You can purchase plans in one, two, three, five, or ten year increments. Unusually, whatever term you opt for (except for ten years, in which you need to send the full amount of money) you only pay for one year upfront and there's no reduction in price.
I was impressed with the customer service. As well as having a large help center (although there was a problem with the search function when I visited), you can contact the team by phone, email, and live chat 24/7.
I have chatted with them on live chat in English and as you can see from the time stamp on the screenshot, the operator responded straight away. The operator advised they did not have perfect English and could not answer all of my questions – of course, not a problem for Chinese customers.