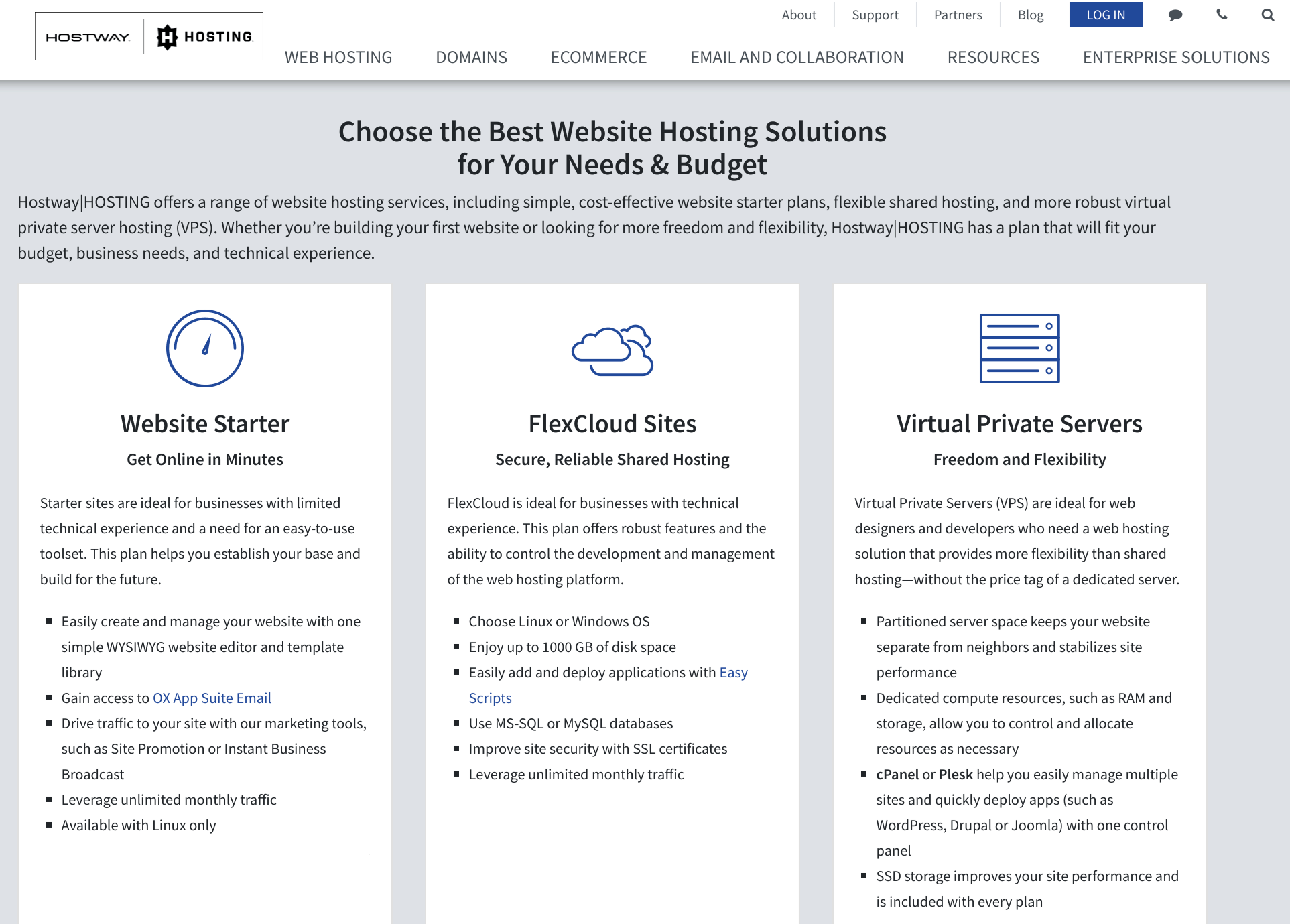 Bulgaria-based web hosting company
Hostway was founded back in 1998. It now has offices in Europe and the United States, and it operates data centers in Europe, the U.S.A., and Canada.
This host's professionally designed English-language website offers shared hosting, cloud hosting, VPS hosting, domain registration, and related products and services. All prices are displayed in U.S. dollars.
Features and Ease of Use
Unlike many, if not most hosting providers, Hostway offers only one shared hosting plan — Website Starter — which comes with almost everything you need to run a small to medium-sized website. And if you ever need to scale up, you could switch to a VPS or cloud solution.
The principal shared hosting features are:
Free website builder

Custom control panel

100% uptime guarantee

EasyScripts installer

SSH access-ready

Cron jobs-ready

SSL support
Like the popular control panels such as cPanel and Plesk, this host's SiteControl control panel provides a very user-friendly interface for managing your website files, FTP accounts, email accounts, domains, and more.
The EasyScripts installer lets you install a plethora of popular programs — such as WordPress, Joomla, Drupal, phpBB, and more — with just a few clicks. The only downside is that the installed versions are old versions, but you can update them yourself or ask the support team to do so.
You can create a professional-looking web presence using the Website Builder if you prefer not to have a CMS-backed website and are not comfortable with coding. The Website Builder offers several site templates that you can customize through a drag-and-drop interface. However, please note that the supplied version has some limitations. In case you encounter any challenges, feel free to reach out to our support team or consider using WordPress as an alternative option.
Pricing and Support
Compared with international competitors, Hostway's hosting prices are reasonable, and you can pay using a major debit/credit card. Available billing cycles (for shared hosting and VPS plans) are monthly, annual, biennial, or triennial, and the 30-day money-back guarantee should make to feel better about making a major commitment (because you can get out early if anything goes wrong).
For self-support, the comprehensive knowledge base and frequently asked questions cover most major topics. If those don't answer all your questions, you can contact the customer support team via telephone, ticket, or live chat. I got quick answers to my questions via the email and live chat channels:
How much does Hostway cost?
Hostway offers plans from $6.95 to $19.95. The price depends on which type of hosting plan you choose. You can see the updated pricing table (updated weekly) below.

Which Hostway plan should I get?
My recommendation is to start with a cheaper plan. You can always upgrade later on. Hostway can help you with the migration to a more expensive plan. The increase in visitors many times takes longer than expected and you shouldn't pay a lot of money until the need arises. Of course, your needs may vary, and you can consult with a hosting expert from Hostway here.

How good is Hostway's customer support?
Hostway is not ranked as one of our top web hosts. But that can also be a result of Hostway being a small, under the radar, hosting provider. There are advantages to a small hosting company – as a customer, you are more important to them. You can also check out our comparison of the most popular web hosting services here.