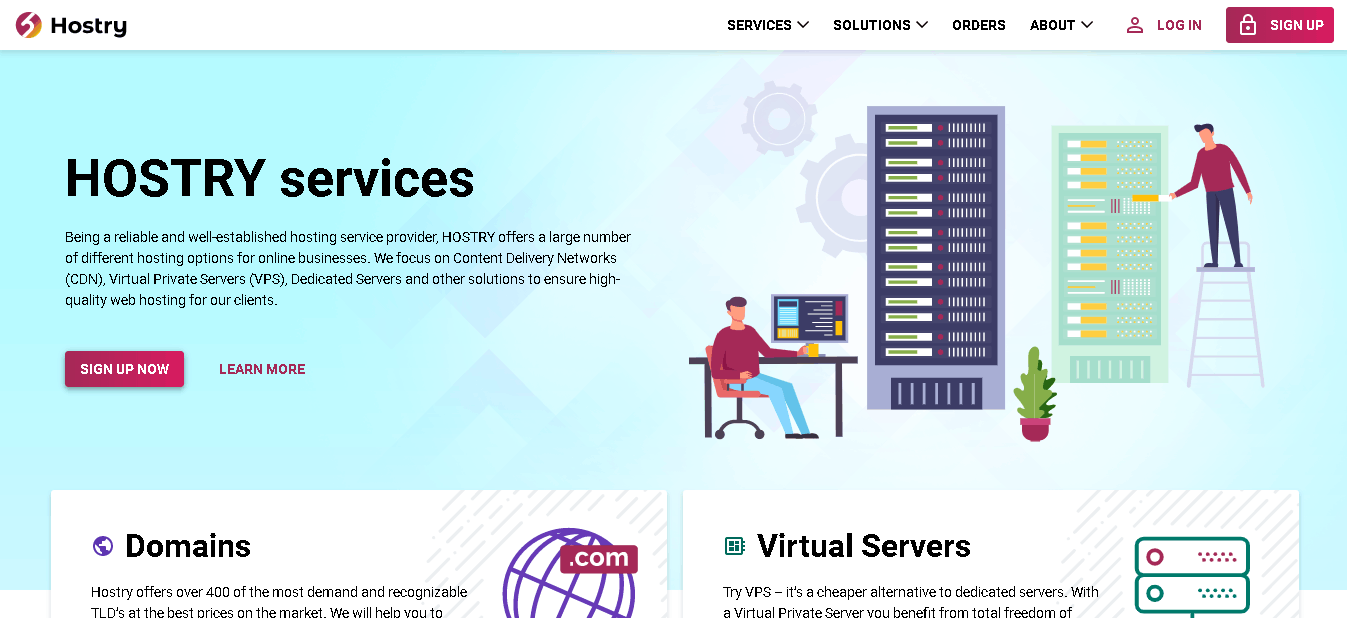 The history of HOSTRY dates back to 2006 when the company wanted to find new ways to automate complex infrastructure, while at the same time giving customers more control and efficiency when managing their resources.
Today, the hosting firm is now a well-established service provider in Cyprus with at least 35 employees, over five data center locations, and more than 5,000 servers. It boasts of a large number of customers and offers a range of products, including Content Delivery Networks (CDN), VPS servers, and dedicated servers, among others.
Features and Ease of Use

HOSTRY's main website offerings are virtual and dedicated servers, and they include the following standard features:
Unlimited monthly bandwidth

Public IPv4 addresses

Hard disk drive: SATA, SSD, and SAS

Free SSL certificates

One-click app installer

KVM virtualization technology
In the setup process, users can choose a variety of HOSTRY CMS solutions to help create, manage, and promote your website. This, however, only includes about 50 pre-installed scripts (WordPress, Drupal, Joomla, Magento, etc.) as opposed to some of its competitors that provide hundreds of CMS tools to their customers.
This vendor uses state-of-art servers with enough processing power to help accelerate even the most resource-intensive websites. You get the best server specs with ultra-fast SSD disks from some of the leading brands: Dell, Supermicro, HP, Intel, and Hewlett-Packard. This way, you never have to worry about your server experiencing regular failures that delay your hosting services.
With HOSTRY hosting services, users get the freedom to choose where they want to host their resources. Its VPS servers are offered in the Netherlands, the United States, Latvia, Bulgaria, Ukraine, Singapore, Czech Republic, and Poland. However, dedicated servers are only available in two locations: the U.S. and Netherlands.
To conveniently offer reliable cloud storage, CDN, and colocation services, the hosting company has enough network coverage from a local IP internet backbone that spans multiple POPs across three continents. The network is designed to offer the lowest latency, fewest hops, but with the highest performance.
Pricing and Support
Users can easily set up and configure their server resources, including CPU, RAM, and disk capacity so that you only pay for what you use. With that in mind, the monthly prices compare favorably with the resources you get. Prices are listed in U.S. dollars.
With HOSTRY secured systems, your hardware is guaranteed 99.9% uptime availability, and if the vendor fails to meet the promised uptime, customers can always ask for a refund. The hosting provider also offers a three-day money-back guarantee, upon request, to new customers.
The HOSTRY support team welcomes contacts from existing and potential customers through telephone, email, or the contact form. Regrettably, the hosting provider lacks a ticketing system or live chat support. Nonetheless, we are here to assist you in any way we can through the available channels. Feel free to reach out to us, and we'll be glad to help.
I sent them a query via email and they replied in just 10 minutes.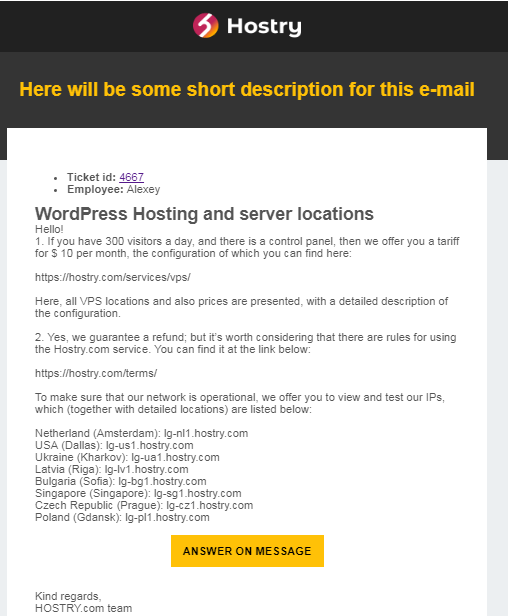 Moreover, DIY customers can access this vendor's help center that is equipped with knowledge base articles, forums, and a news column.