HostOne.lt purports to provide everyone with professional hosting services. Its Lithuanian-language website sells feature-rich shared hosting and domain solutions to diverse international customers.
Features and Ease of Use
HostOne.lt offers four Linux website hosting packages and five Linux SMS hosting packages. The SMS hosting packages — which you pay for quickly and easily from your mobile phone — provide you with:
200 MB to 3,500 MB storage space
Unlimited traffic
Unlimited mailboxes
SMTP/POP3/IMAP
Unlimited MySQL databases
Support for multiple PHP versions
OpenSSL
Backups
The CloudLinux OS enhances stability, security, and efficiency. It can also shield you from any negative impacts stemming from other hosted users. In addition, the ClamAV antivirus ensures the safety of your email communications.
The hosting plans are managed using the DirectAdmin control panel, and you can use Cron jobs to schedule tasks to run regularly rather than having to execute them manually every time.
Pricing and Support
HostOne.lt's hosting packages are extremely cheap and can be paid for on a monthly to biennial basis via SMS or in euros through a bank account. Whereas bank funds can be used to purchase any services, SMS funds can only be used for hosting, but you can transfer SMS funds to bank funds at a rate of 40% (i.e., you get only 40% of your SMS funds in your bank balance).
A 7-day free trial gives you a week to test the SMS hosting services before you buy them.
The customer support team can be contacted by telephone, email, contact form, or live chat, but I failed to summon any pre-sales support response. Unfortunately, self-support resources also seem to be scarce apart from a limited list of frequently asked questions: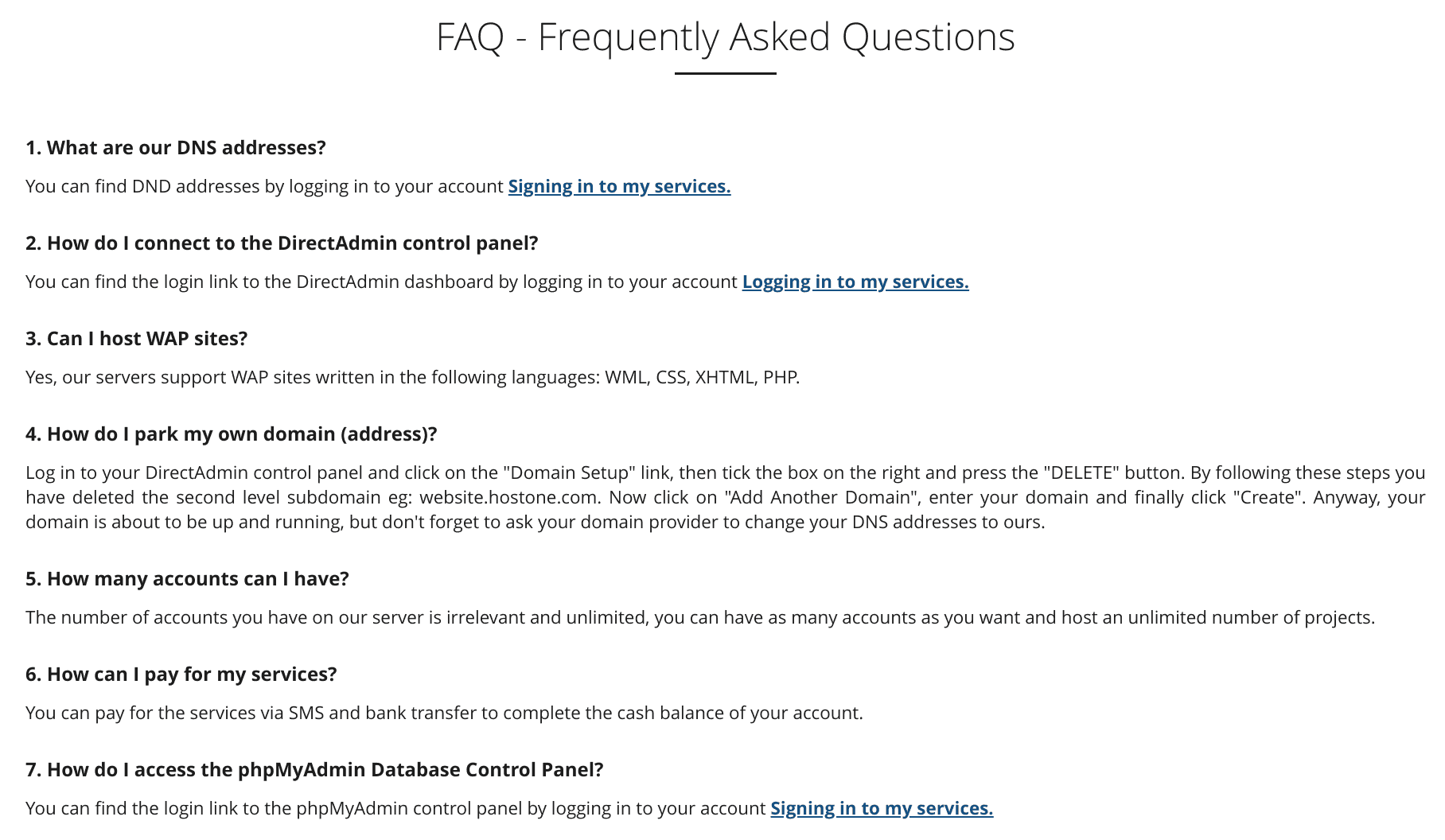 A free domain name is included with some hosting plans from HostOne.lt