HostLabs started its journey in 1998. From email hosting and scalable cloud VPS to private and dedicated cloud servers, dedicated servers, and custom hosting solutions, you'll get them all at HostLabs. It also offers business solutions to handle IT-related business challenges together with business intelligence and Big Data services, professional web design, domain services, and SSL certificates, among others. 350,000 websites and business applications have been launched with HostLabs since its inception. The website of HostLabs supports English.
Features and Ease of Use
HostLabs offers email hosting, scalable cloud VPS, private cloud servers, dedicated cloud servers, dedicated servers, and custom hosting solutions. With the starting plan of its scalable cloud VPS, you'll get
Linux/Windows OS
Free domain (with an annual business hosting plan)
2 vCPU cores
50 GB disk space
2 GB RAM
1000 GB bandwidth
HostLabsPanel is made available for free with Linux OS though you can also opt for paid cPanel or Plesk Onyx versions. Paid Plesk Onyx control panel is available for Windows OS. The RAM of the starting plan is scalable up to 12 GB per day (in 1 GB increments) while the CPU can be scaled up to 8 cores per day. Depending on your needs, you can also scale up bandwidth and disk space. This gives you the flexibility to choose the resources you need and only pay for them.
With its Baruwa spam filtering service, HostLabs ensures your email always stays protected against unwanted spam. To protect your WordPress CMS, SecureLive (as a paid add-on) is on offer. You'll just have to install a simple plugin and activate it to block hackers and any malicious activity, thus ensuring the safety of your website and customers. Additional paid add-ons on offer include R1Soft managed backup (for continuous and speedy backups) and standard SSL certificate.
From data security and server hardening to meeting HIPAA and PCI compliance needs, HostLabs employs some of the most efficient security systems to protect your data. With its dedicated servers, the company offers business-grade SSD storage (to deliver high performance), Cloudflare CDN (for faster content delivery), and root access (to give you better control on your hosting environment).
Pricing and Support
Scalable cloud VPS of HostLabs may appear pricey at first glance. However, when you consider that you'll get the control benefits of a dedicated server with it while avoiding costs associated with hardware and maintenance, the price would seem competitive. To pay for these plans in USD, you can use PayPal, check, or credit card. Available billing periods are monthly, quarterly, semi-annual, annual, biennial, triennial, quinquennial (5 years), and decennial (10 years). Sadly, no price discounts are on offer for longer terms. Surprisingly, the displayed price of quarterly and semi-annual terms is more than what it should actually have been considering the monthly price shown.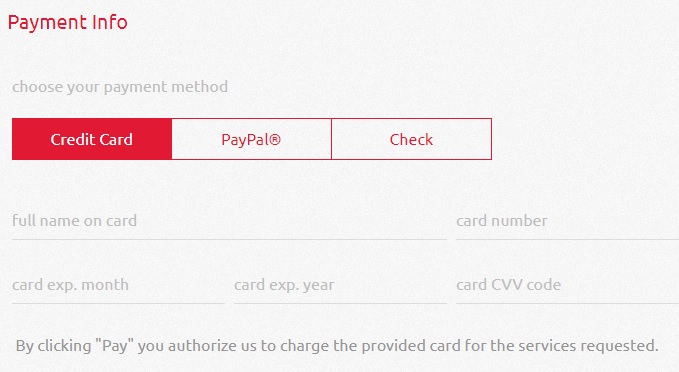 HostLabs offers a thirty-day money-back guarantee for a new account and a seven-day money-back guarantee on the renewal of an existing account.
You can reach HostLabs' 24/7 US-based customer support via phone, live chat, email, and support tickets (available only for logged-in customers). I used their live chat to get an answer to my query and got a quick reply.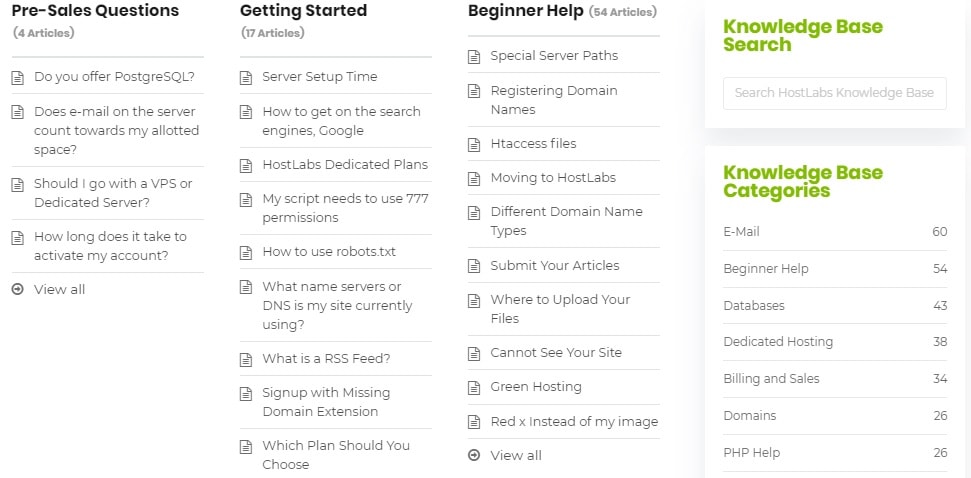 From a blog and several useful articles to "getting started" guides and tutorials, a knowledge base, FAQs, and podcasts, HostLabs offers multiple self-help tools and resources. There's a community forum too though it doesn't offer much help with just a single post.