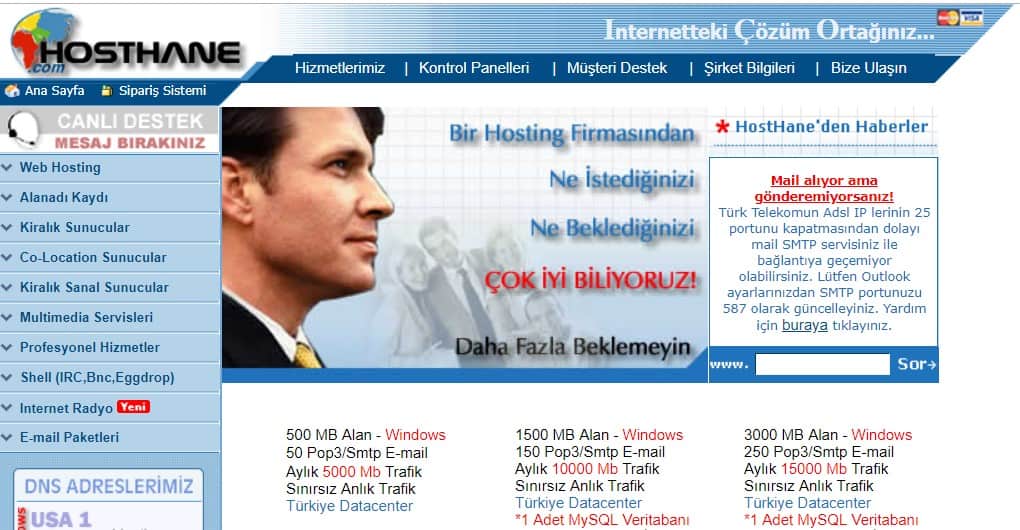 Hosthane is a Turkish hosting company with a reputation for affordable website hosting services. The company has been operational since 2003. With
a market share of 0.13% in the Turkish hosting space
, the vendor is among the top 30 largest hosting companies in Turkey. It provides website hosting, server rental, cloud hosting, and domain name registration solutions. The Hosthane website is only available in Turkish.
Features and Ease of Use
Hosthane has its servers located in both Turkey and the U.S. Its hosting solutions come with these standard features:
PHP 5.2.x, Perl 5.8, CGI support
Unlimited instant traffic
MySQL 4.x / 5.x database support
SSL certificates
cPanel/Plesk control panel
Hosthane houses servers that support all kinds of websites and programming languages. Its hosting solutions are powered by both Linux and Windows operating systems. While their Windows hosting solutions offer ASP and ASP.net support, the vendor encourages its customers to use the more stable, Linux-based PHP and MySQL databases.
Hosthane's single packages are specially crafted for customers to host a single domain. The hosting plans included here have very slight differences,and the multiple merchant hosting packages are designed for customers with multiple websites. Whether you choose Windows or Linux servers, the packages come with a separate, easy-to-use control panel.
While Hosthane says it offers instant emergency backups, it also states categorically that it does not store or keep backups of customer files. These two seemingly contradictory statements are the perfect representation of the disorganization and the apparent chaos that is the Hosthane website.
As you can imagine, I had quite a hard time navigating this vendor's website. Not only is the website poorly designed, everything is cramped on the left side of the website. Furthermore, the website is unappealing and hard to navigate for users who'd visit it via their mobile devices.
Pricing and Support
Although Hosthane hosting plans are quite cheap, the payment plan available is quite inflexible, with only annual subscriptions allowed. The vendor does not offer a money back guarantee, nor does it have any refund policy. It does offer a 99.9% uptime guarantee.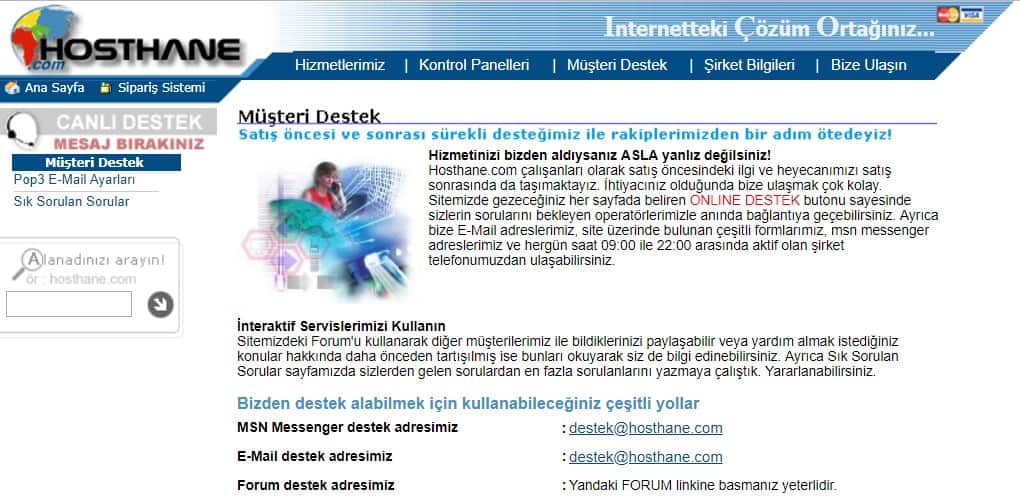 You can contact the Hosthane support team via telephone, email, or the contact form on its website. The hosting provider, however, doesn't have a ticketing system or live chat available.
The vendor promises to give you excellent customer support, yet when I contacted them I received no response. What's more, the vendor hasn't set up a knowledge base either, so there is no option to resolve issues on your own.