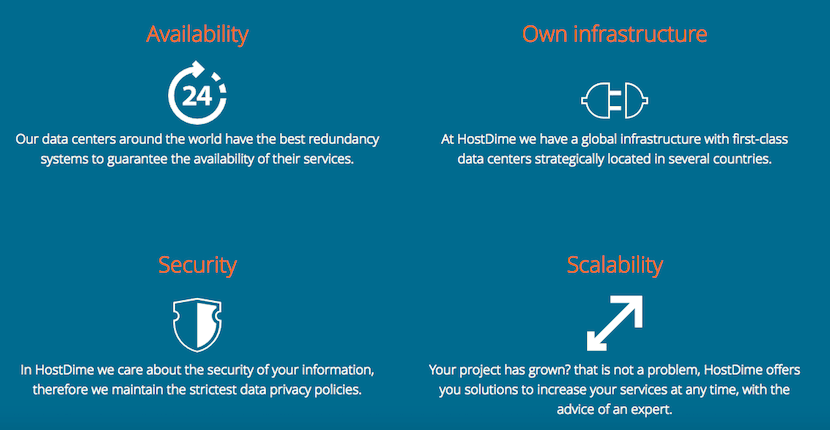 Founded in 2001, HostDime is a leading web hosting provider based in Mexico. The company is ranked among the
top 50 cloud hosting providers in the world
. They have over 250 employees and
own their own data centers, which are located in Mexico and America
. Their website and support are in Spanish and English. The majority of their customer base is located in Mexico; however, they also serve customers from countries such as France, Israel, Colombia, and Bangladesh.
Features and Ease of Use
HostDime is an enterprise-level website hosting provider that offers dedicated servers, cloud-based virtual private servers, managed and unmanaged servers, SSL certificates, and domain registration. Some of their standard features include:
9% availability SLA (but with a goal to hit 100% availability)
Configurable backup disks available at additional cost
Domain registration available at additional cost
Fully managed or unmanaged server options
SSL certificates available at additional cost
The most notable feature of HostDime is their global infrastructure. They own and manage their own data centers with 24/7 on and off-site engineers. Both their American and Mexican data centers utilize fully-redundant power systems and networks, and they're protected by comprehensive fire suppression protocols and a high level of security.
Ideally, HostDime aims to have 100% availability, but they've also backed up their commitment to the customer with a 99.9% availability SLA. To be honest, this is a tad low for the enterprise-class solutions they're offering. Moreover, the small print indicates that you need to provide a written request within seven days of the downtime to receive any credit.
Pricing and Support
HostDime's prices are very affordable, if a little confusing. Though their website displays a dollar sign, the prices listed are actually in Mexican Pesos. However, when you perform a quick currency conversion, you'll discover that the prices are highly competitive in both the local and international market.
You can pay for the server rentals on a monthly basis. If you prepay for a year's worth of hosting though, you'll get one month of hosting fees off your total price. This offer is only applicable for new customers, so the discount will no longer be applicable upon renewal. There is no free trial or free version, but that's to be expected for hosting solutions of their level.
HostDime does offer a money back guarantee; however, it's a little strict. For example, you can request a refund if you didn't receive any features listed in the package you bought. You cannot request a refund for any other reason. What's more, they will only refund the fees for the current month and future months, and not the previous months you've paid for.
HostDime really excels at customer service. They have a variety of ways for customers to get in touch with them: email, telephone, ticket, and live chat. For technical support, assistance is available 24/7; for sales inquiries, they are available from Monday to Friday 8:00 a.m. to 6:00 p.m.  and Saturdays from 10:00 a.m. to 3:00 p.m.
I've contacted them many times via live chat and have always been very impressed with their customer service. Not only do they always answer within seconds, but they've also always been polite and well-informed. In the one event they were unable to answer my question, they submitted a support ticket on my behalf and asked the relevant team member to follow up. I was slightly disappointed with their help documentation, however; there are only a few available on each topic.