With over 20 years of shared hosting and dedicated hosting experience, Home.pl remains a top choice for small businesses and large corporations in Poland. They serve 375,000+ customers and power over 50% of the websites in the country.
Features and Ease of Use
Home.pl hosting packages come with a good number of features. When you sign up, here is what you will get with your standard hosting account:
Dedicated IP address
MySQL, PostgreSQL and MSSQL databases
PHP, Perl, and Python scripting languages
Data restore
Email accounts
FTP access
Managed backup
Day-to-day support
In the admin panel, you will find the latest version of scripting languages such as PHP 5+, Perl, and Python. You will also get access to the Auto-installer software that lets you install and configure popular web apps such as WordPress or an e-store built on PrestaShop within minutes.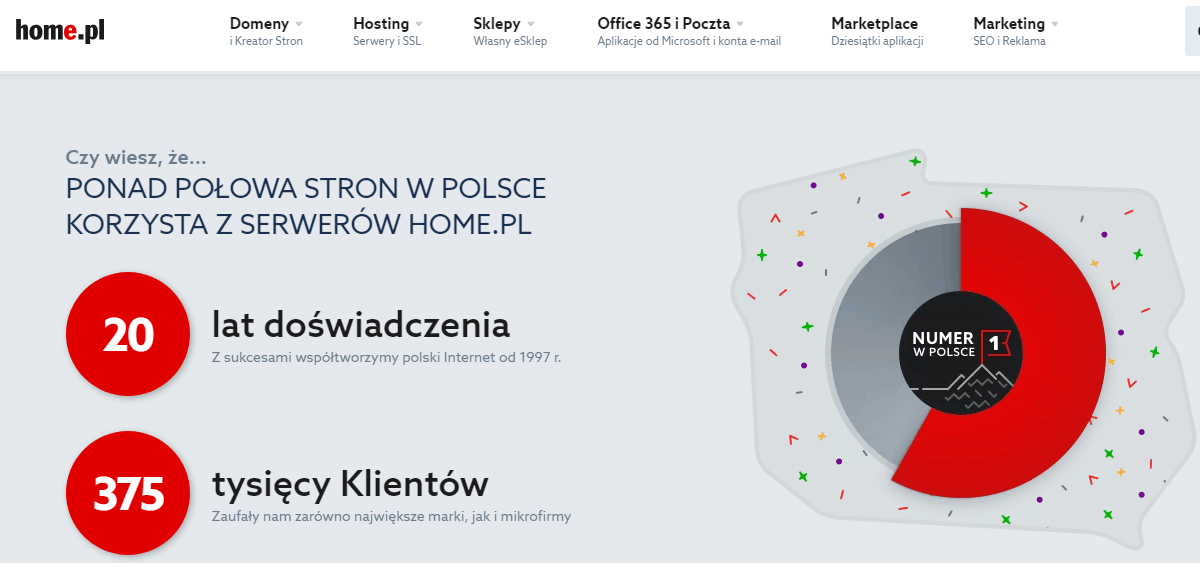 I know how it feels like to lose key files and customer data. It's a nightmare that could make or break your business. With Home.pl, that's not going to happen as you have the opportunity to roll back modified files and restore any that you have deleted up to 3 days back.
Home.pl takes user-security seriously and that's why they provide 24/7 protection for your website, email anti-spam, PC, and customer data. You can scan email servers for potentially harmful messages and remove any suspicious ones.
Home.pl has a modern panel that's both clean and easy to navigate. Once you log in, you can access all the key web, domain, and email functionalities quickly. The site is mobile-friendly meaning you can manage different aspects of your account on your smartphone or tablet.  From setting up a new website and new email accounts to redirecting a domain, you can do so much on the go.
Pricing and Support
Home.pl offers three plans with a variety of features. Starter Hosting – the basic plan – comes with 50GB storage, 25 databases, email accounts, a CMS installer, and unlimited transfer. If you want more storage space and databases, you can try out Business Hosting. It comes with twice the storage space and databases of the basic plan in addition to the CMS installer, unlimited transfer, and email accounts.
The other plans Professional Hosting and Premium Hosting come with 500GB and 2TB storage space respectively in addition to SSH and all the features of the first two plans. The price is fair considering that the packages come with a range of features. You can upgrade or downgrade plans depending on your needs. All plans include 24/7 support and data backups.
It's evident that Home.pl recognizes the responsibility that comes with being the largest web hosting service in Poland. They have a team of over 200 specialists, including sales advisors, technicians, and admins, who handle sales, server issues, and hosting administration.
However, it is difficult to understand how a company that has diligently served customers for eight to ten years has no capacity to meet their support demands. I have a feeling they have invested more in infrastructure – which is a good thing – and forgotten the needs of existing customers.  Home.pl management seriously needs to re-think support and improve on service delivery if they want to compete with the big names in the industry.
I am not sure the 24-hour telephone support is guaranteed. You may find yourself waiting longer to get someone on the other end of the line. Some customers also complain that email response takes days. Seriously, no one should have to wait 2-5 days to get a response via email. If you need help urgently, I'd advise you to call the support team and not write them via email as it is the better support option.