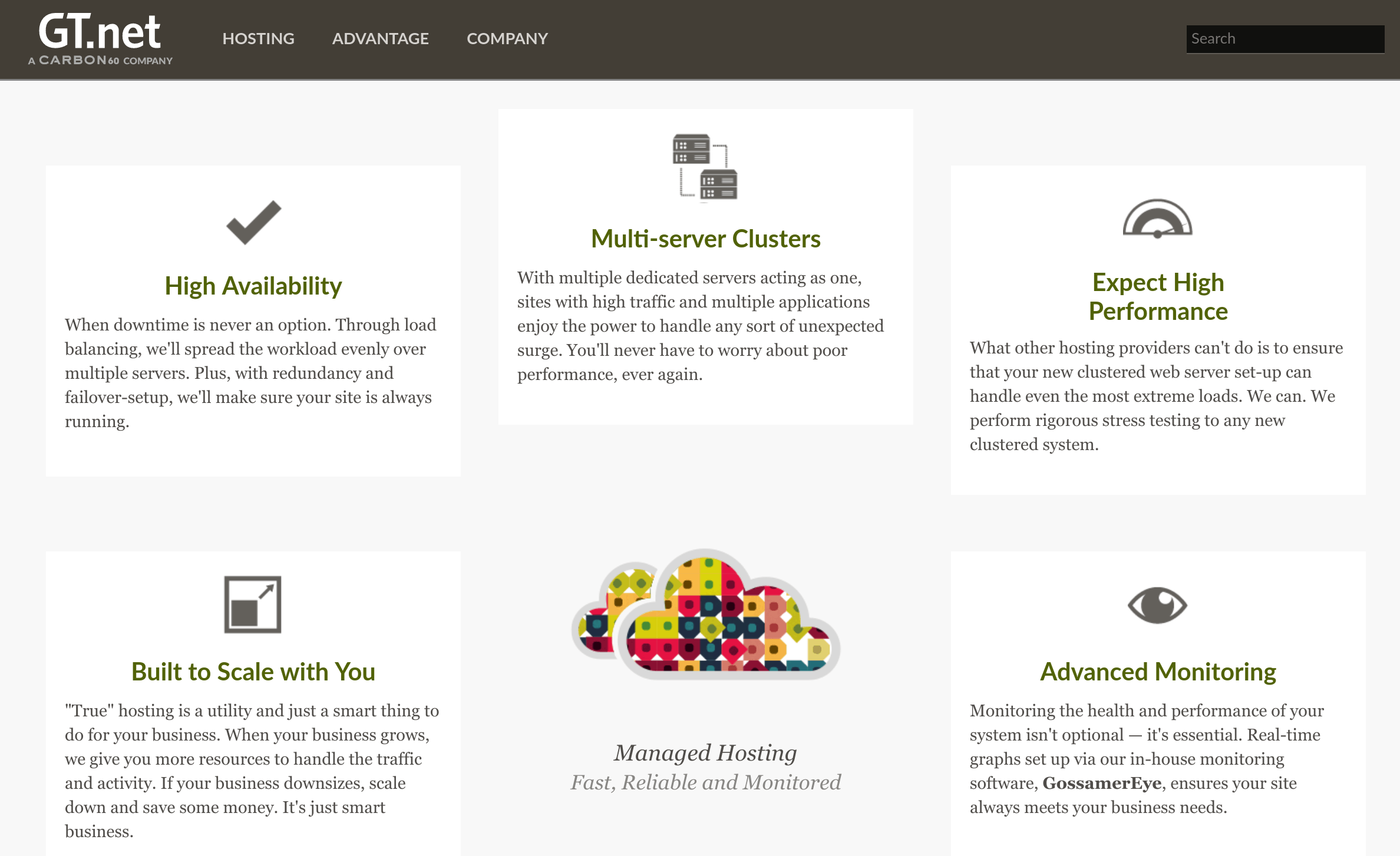 GT.net is a web hosting arm of the Canadian Gossamer Threads company that was incorporated in 1996, and which in turn is a CARBON60 company. This multi-million dollar company serves hundreds of satisfied customers in more than sixty countries.
GT.net's modern website is in English, as is its support.
Features and Ease of Use
GT.net is backed by robust infrastructure. It has four world-class data centers located in Vancouver, Toronto, New York, and London, plus a content delivery network (CDN) distributed across Brazil, India, Hong Kong, and Australia. This means you get an impressive 100% network uptime guarantee.
GT.net markets itself as "not your typical hosting company," and this couldn't be truer. It focuses on high-performance hosting services including dedicated hosting, clustered hosting, and private cloud hosting. It also provides CDN services and hosted applications such as Request Tracker (RT), WordPress, and Zimbra. You can expect to find the following key features in GT.net's dedicated hosting packages:
SSD storage

Support for Linux and Windows

Load-balancer

4 GB to 256 GB RAM

100% uptime guarantee

Backups
GT.net also provides additional features that tech-savvy users will appreciate, such as support for multiple databases including MySQL, Microsoft SQL, PostgreSQL, and Oracle. They also offer services for Perl, PHP, firewall management, and the option to choose between 2 to 12 CPU cores.
Pricing and Support
I was somewhat surprised to find that GT.net doesn't advertise its hosting prices except for the "starting price," but this is not necessarily that unusual for this type of hosting. The starting prices for dedicated and cloud hosting services are very expensive compared with competitor companies. You can pay for plans by credit card or check, but there is no refund policy or free trial for you to try before you buy, but again this is not too unusual for this kind of hosting.
One thing I find just a tad aggressive is the fact that GT.net reserves its "right to suspend the service on account of any overdue payments and you will be required to pay any fees before and during the suspension."
This assertion is not particularly customer-friendly for a company that claims to put customer satisfaction above everything else. Other unfriendly features include the lack of live chat, a help center, or any other kinds of self-support resources. But you can contact the company via telephone, email, or website contact form, and – to be fair – my exploratory email received a satisfactory response in less than 20 minutes: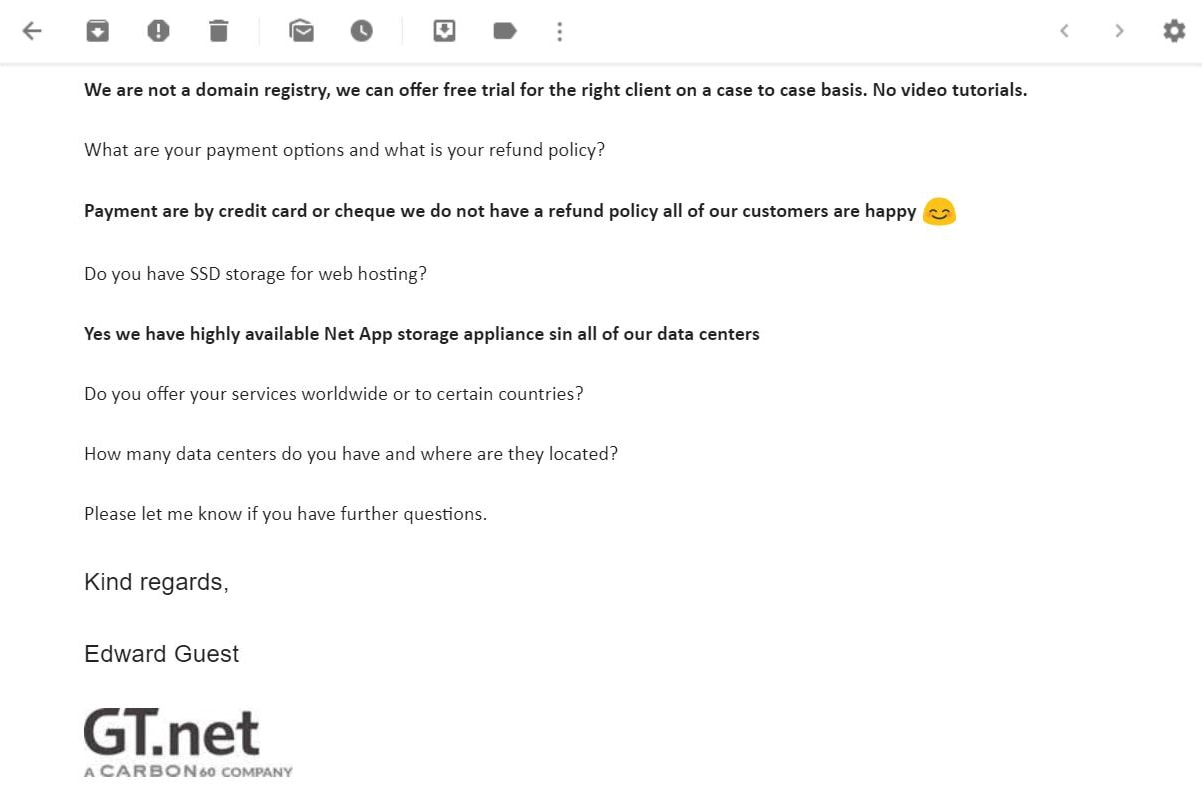 How much does GT.net cost?
GT.net offers multiple plans priced highest to lowest. The price depends on which type of hosting plan you choose. You can see the updated pricing table (updated weekly) below.

Which GT.net plan should I get?
My recommendation is to start with a cheaper plan. You can always upgrade later on. GT.net can help you with the migration to a more expensive plan. The increase in visitors many times takes longer than expected and you shouldn't pay a lot of money until the need arises. Of course, your needs may vary, and you can consult with a hosting expert from GT.net here.

How good is GT.net's customer support?
GT.net is not ranked as one of our top web hosts. But that can also be a result of GT.net being a small, under the radar, hosting provider. There are advantages to a small hosting company – as a customer, you are more important to them. You can also check out our comparison of the most popular web hosting services here.